KAI continues to widen his musical spectrum
"You can call me a jack-of-all-trades kind of musician who always ventures out to seek things new and curious."
So said Chung Ki-yeol, the singer and actor who goes by the stage name of KAI. The musician has so far released two full-length albums. Those albums are seen as crossovers combining two different genres: classical music and pop music.
KAI has followed the traditional course toward a career in classical music, attending the Seoul Arts High School where he graduated at the top of his class. He then obtained his bachelor's and master's degrees and holds a doctorate in vocal music, all from Seoul National University.
Rounding out his resume, he has won a series of awards. First, in 2002 he won the International Schubert Competition, followed by the Dong-A Music Competition in 2007 where he came in third. In 2009, he came in third in the Osaka International Music Competition.
He signed an exclusive contract with the America-based Universal Music Group. KAI has continued to develop his musical career in earnest, holding solo concerts, releasing singles and accompanying the world-class soprano Sumi Jo on her nationwide tour.
Although his specialty is European classical music and opera, his desire to broaden his musical spectrum never ceased and he has now branched out into musicals and musical theater.
He made his debut as a stage actor in the 2012 production of "The Story of My Life." Following that, he starred in the hit musical "A Tale of Two Cities." He is currently singing with singer Ock Joo-hyun in the musical "Marie Antoinette," underway at the Charlotte Theater in Jamsil, southeastern Seoul.
The musical tells the dramatic story of Marie Antoinette, the unfortunate queen of France from 1774 to 1792 who ended up at the guillotine after the French Revolution.
In the production, KAI plays the Swedish Count Hans Axel von Fersen who feels pure and genuine love for the queen.
Recently, he released a new full-length album, "KAI in Italy," that features songs he describes as easy to listen to and comprehend. The album, about country life in Italy, features many Italian pieces, including "O Sole Mio," "Non Ti Scordar Di Me" and "Fenesta Che Lucivi," as well as well-known familiar songs like "Time to Say Goodbye" and songs from the soundtrack to the film "Notting Hill."
KAI also works as a DJ for the KBS Classic FM radio program "All the Music From the World" (unofficial translation), where he plays and comments on all kinds of music, including classical music.
"If you don't feel happy at this point, you will not be able to feel happy at any time in your life," he says. "I wish that music from around the world and, of course, my music, will bring you some smiles."
* Interview with KAI
Please tell us what your stage name, "KAI," means. How did you come up with that name?
I started with "Kyul," which sounds similar to my real name Chung Ki-yeol. When I signed with the Universal Music Group, I thought I needed to start over with a new stage name. At first, I thought about "KY," taking each initial from Ki-yeol. When I joined soprano Sumi Jo's tour running through eight major cities across Korea, she had strong opinions about my new name. She told me that "KAI" would sound better and would be easier for domestic and global fans alike to remember. Actually, my fans and the foreign staff with whom I've worked all remembered it after only hearing the new name once.
– You have a traditional, high-level classical music education. What caused you to expand your musical range into pop music and musicals?
I've always looked for something fun, ever since I was a kid. I even appeared in a commercial for the Hanaro Club, a supermarket chain, when they needed someone who could sing. I did it not because I had a dream to become an actor or something, but because I just wanted to do something new and fun.
The reason why I keep setting foot into new territory is not because I'm sick of my major, or of classical music, or that I think the genre has no future. Instead, classical music has been and always will be the basis of my music and, personally, my favorite type of music.
Actually, I've been running a classical music program on radio for many years now and often go to classical music concerts, which is my hobby. What I want to do and keep doing as a musician, though, is to find something new and something that not many musicians have chosen to do. That's how I've come this far.
– You've released several albums. Most recently, you unveiled the new album "KAI in Italy." Did you have any specific criteria in choosing the featured songs? What message would you like to give with those songs?

Over the past six or seven years, I've so far released two full-length albums and some soundtracks and singles in between. Before I started hosting the KBS radio program, I would usually listen to classical music all the time. I've — literally — listened to all kinds of music while running the show. I've found that there are many great songs from around the world and every musical style has its own charms.
I wanted to make a new album to help expose listeners to a wider variety of international songs and help them to easily understand the new music. Then, suddenly, Rhie Won-bok's cartoon series "Far and Near Countries," that I enjoyed reading when I was young, flashed through my head.
As I was able to easily learn about a lot of other countries from all around the world while reading those comic strips, I hoped that people could easily learn and listen to songs from other countries through my new album.
I chose Italy as the first country because I believe it to be where many European classical music songs originate. I selected a set of Italian songs that I often sang in middle and high school, songs that are a little bit harder for the general public to listen to.
When I announced that I was going to make this album, many people around me, including producers and TV personnel, gave unfavorable comments, saying that the album would not make any money. Yes, money is very important in this business. However, I don't think that making money is the biggest part of this business.
I might sound boring, but I've always dreamed of becoming a musician that brings peace of mind to his listeners. For me, too, music has helped heal wounds in both my body and my soul, sometimes even a broken heart. Just as a writer needs books to read and write and an artist needs drawing tools to create a work of art, I need music to sing my mind and my story.
I hope that the new album will be something that gives commuters, either in the morning or in the evening, some pause, allowing them to relax in their seat and listen to the songs without any worries on their mind.
Also, it would be great if anyone who listens to this album sees it as the best gift to give to someone special, a gift in which both the giver and receiver feel as if their dignity has been upgraded.
At one point in my career, I was confused about my identity, asking myself, "Am I a singer or an actor?" The most important thing to do, however, is to play the music at which I'm really great, let my voice call out and sing about the genuine thoughts and feelings that I, KAI, have in mind.
The "KAI in Italy" album is all that I can do.
– Please tell us more about the role you play in the musical "Marie Antoinette."
"Marie Antoinette" is like a romantic comic strip that can bring out the innocence of childhood from deep within our hearts. I play the lead male, the Swedish Count Hans Axel, who is deeply in love with Marie Antoinette. The count is a man who cannot express his feelings for the queen, being self-conscious that he might be caught falling in love with the woman who sits atop the very pinnacle of power.
Marie Antoinette is remembered as an extravagant woman who didn't care at all about the poverty of her people. However, the musical focuses on the queen as a human being and on what brought her to such a tragic death.
– You juggle both operas and musicals. What're the differences between the two genres and what're the charms of both?
Many people say that classical music has lost its ground, but I do not think so. Classical music is a genre that has been kept alive for a very long time. When I play a piece that has been around for over one hundred or one thousand years, I feel like I am traveling in a time machine. I can feel my heart racing whenever I sing it.
Musicals are a bit different from classical music. I think that the genre creates something new from nothing. I don't think that it is a completely new genre, but I think that it is basically a continuation of traditional music. I would say that when I sing opera or classical music, I bring to life again something that has been around for many years, whereas when I sing and act in a musical, I bring out something new from a long-existing form of music.
– What has been one of your most memorable shows, concerts or roles?
There is nothing like one most memorable moment for me. Each and every show, concert and role means a lot to me. Sometimes, my albums fail to make it big and sometimes I'm criticized for not being a good singer. I believe, however, that this series of failures has brought me to where I am now. Thanks to these ordeals, I always feel grateful and honored on any form of stage.
I've usually played rich, lofty roles, such as a lawyer, an aristocrat or a son of a noble family. Some people say that my acting range is too standardized, but I am simply thankful for getting the opportunity. No matter what role I play, I am thankful to those who think of me as the right actor for the role. As I said, I've hosted a radio program for many years, from Monday to Friday. Hosting a program on-air, I've had to learn a lot of things. I feel happy every single day doing that job.
– What is it that drives you to keep trying new, challenging things, such as singing and acting on the stage?
It's my die-hard curiosity. I never asked myself, "How can I become a star?" I just thought, "What if I could work with that actor or actress? What kind of things could I learn from taking that role?" I am a person full of curiosity. If I find a certain role that excites me, I will immediately rush to it. If the role doesn't move me, I don't want to do it, no matter whether it's a big deal or if it's a great scenario they offer.
– How do you see yourself as an artist?
I don't think I need to define my music. I think all music is intimately connected to each other. It's music that naturally comes to the ears of listeners and drives musicians to try something new. Some genres come and go. Drawing a distinction between the genres is a meaningless thing to do.
– Who has been the best teacher throughout your musical life?
All the people around me and my co-workers are my best teachers. Those who treat their younger colleagues and staff badly don't look good, even though they may be great actors or actresses. Taking a lesson from those people, I try to mind my behavior and language. I always carry a small notebook in which I write down how I feel and what I've learned. I learn lessons from everyone around me, whether they be rookie actors or my seniors.
– What are some new challenges you would want to take on?
I have two dreams. First, I want to make a Christmas carol album. I love Christmas. I always look forward to the season and the mere thought of the atmosphere on Christmas Day brings me a thrill. Even if I can't spend the day with my date, I love the atmosphere, full of love and warmth, that I can feel on and around the holiday. Last year, I released a Christmas single at my own expense. I paid for it because I wanted to make my own Christmas album. Making a full-length carol album that everyone slides into the CD player on Christmas Day, so to speak, is my goal.
Second, I'd like to make a duet album. My favorites, like Tony Bennett, came out with a duet album with world-class singers later in their musical careers. It would be great to collaborate with someone who has talents and charms that I don't have.
– What does music mean to you?
For me, music is just "being me." Music is not a tool to which I try to add more beautiful color or which I use to show a better side of me. It's the thing that represents my view of life, love, the way in which I look at the world and myself. That's my music.
As I realize that all the words I speak and everything I do are subconsciously expressed in my music, I always try to be careful in the way in which I speak and behave. My music mirrors myself at this very moment.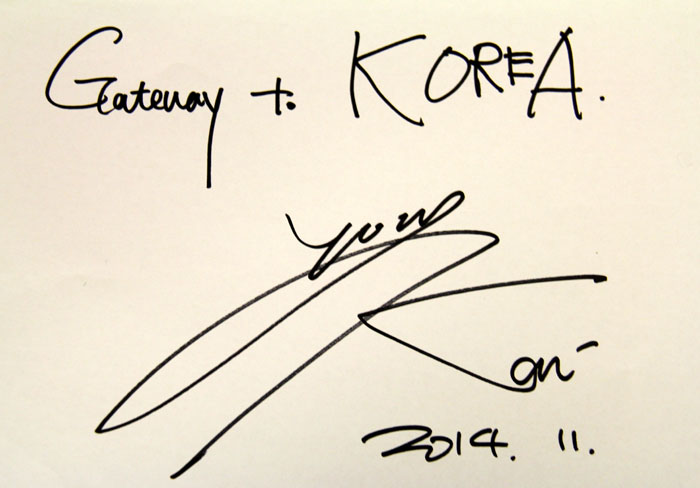 By Sohn JiAe
Korea.net Staff Writer
Photos: EA&C
jiae5853@korea.kr