Traditional, modern and contemporary art as one: exhibition by three artists
Art that combines the traditional, the modern and the contemporary is currently on display in the mainland Chinese capital.The late Paik Nam June, representing contemporary Korean art, Lee Wal Chong characterizing the modern, and Kim Hyun Jung the traditional, all have works in the current "One Divided Into Three: An Exhibition of Three Korean Artists" show, or the "一分爲三: 韓國藝術家三人展" show, which opened on November 8 at Beijing's Today Art Museum, or the 今日美術館. This exhibit was planned and executed with the collaboration of exhibit planners in both countries and is jointly hosted by Korea's Segye Ilbo newspaper and China's Today Art Museum. The exhibit will run until November 19.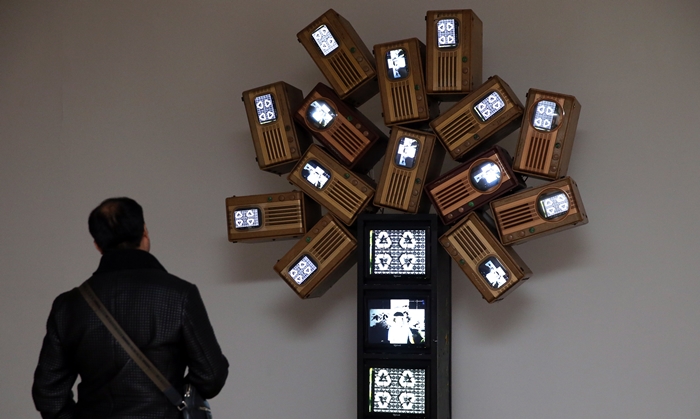 Participating dignitaries, including Kwon Young-se, the Korean ambassador to China, Alex Gao (高鵬), director of the Today Art Museum, and Jo Han-gyu, CEO at the Segye Ilbo newspaper, were among the key figures from both countries attending the exhibit's opening ceremony.
A total of 33 works of art have been brought together for this show. Representative pieces from Paik Nam June's oeuvre include "Internet Dweller wol. five. Ydpb," or, "互联网居住者 wol. 5. Ydpb," "Do Not Watch TV," or, "别看电视," and "I Never Read Wittgenstein," or, "我永不读维特根斯坦," which has caused a sensation worldwide. "The Middle Way of the Jeju life," or, "济州生活的中道," by Lee Wal Chong pertains to modernism and has an eye-catching innocence and grace.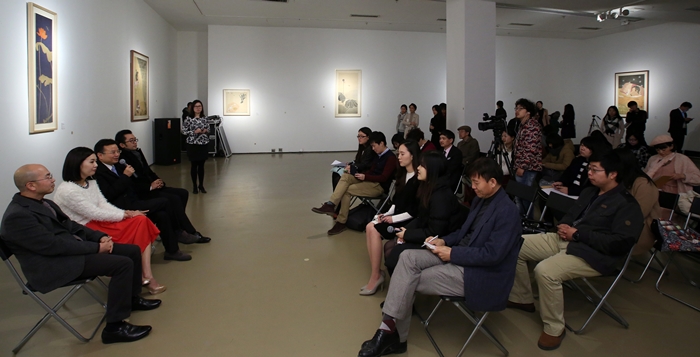 In particular, young artist Kim Hyun Jung, who takes after traditions of both Korea and China, creates her gongpil-hwa, or 工笔画, paintings very carefully and precisely with the utmost care for detail. Gongpil-hwa paintings are drawings derived from traditional Chinese hwajohwa, or 花鳥画, paintings of birds and flowers. They are made using fine fur-hair brushes, or 毛筆, on paper or silk and are generally quite intricate. Developed during the Five Dynasties and Ten Kingdoms Period (907-979), or 五代十国, it peaked during the Song Dynasty (960-1279), or 宋代. It's known for its fine and realistic colors.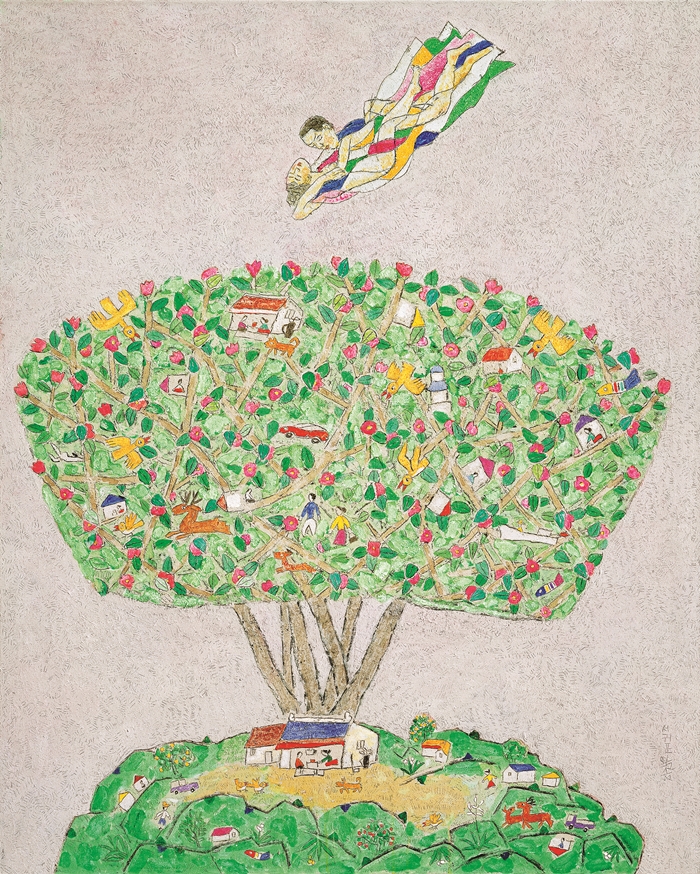 At first, Kim's artwork, being of a familiar gongpil-hwa style, was easily accepted by Chinese audiences. Furthermore, it was seen as a new type of hybrid pop art due to the addition of herself into the works of art. She portrayed her inner child on the canvas in the form of a rabbit.
Alex Gao, the director of the Today Art Museum, said, "The special meaning of this exhibit lies in the fact that one can see three different artists with different forms and content in one place. In particular, it's an honor to be able to host some of Paik Nam June's works, despite the difficult conditions surrounding his artwork."
Peng Feng (彭鋒), a professor at the Peking University School of Art and curator of the Chinese exhibition, said, "Showcasing the diversity of Korean art was a focus of this exhibit. The richness derived from traditional, modern and contemporary art shows the openness and development of Korean society".
He added that, "Kim Hyun Jung's works show the utility of art. It's a great accomplishment when an artist is able to heal one's injured soul though art."
Lee Dong-chun (李東泉), former Myongji University professor and curator of the Korean side, said, "Kim Hyun Jung has actualized the current mind of the intellectual with detailed and brilliant gongpil-hwa using embroidery (刺繡) to supplement important parts which couldn't be described by pigments and ink alone. The artist's psychological essay takes the form of the image, making it a 21st century neo (新)-literary painting."
By Wi Tack-whan on location, Paik Hyun
Korea.net Staff Writers
whan23@korea.kr
Photos from Jeon Han, the Segye Ilbo and the Today Art Museum.
More details are available at the Today Art Museum website (https://www.todayartmuseum.com/).
"One Divided Into Three: An Exhibition of Three Korean Artists" and their connection with an actress
Actress Jang Seo-hee (張瑞希), renown for her starring roles in the soap operas "Miss Mermaid (人魚小姐)," "Temptation of a Wife (妻子的誘惑)" and "Heroes of the Sui and Tang Dynasties (隋唐英雄)," took part in the opening ceremony. A portrait of herself by Kim Hyun Jung was hanging in the exhibit. The media's eye focused on Jang. She smiled as she described her feelings for the work.

"When I first saw the portrait, my mind became peaceful as my face gradually appears in a warm light. I was envious of she who possessed such an artistic ability. I heard her technique combines ink wash painting withgongpil-hwa. It's a form of 'neo-gongpil-hwa,' you could say, currently widely popular in the Chinese art market. Through Kim Hyun Jung's painting, I realized the beauty of art and I am happy to be able to be a part of this meaningful occasion," said the actress.
After the exhibit, proceeds of the sold works were donated to charitable organizations that focus on those marginalized from society.
The painter Kim Hyun Jung said, "My heart swells at the thought of my work being used to do good deeds."
By Wi Tack-whan on location, Paik Hyun
Korea.net Staff Writers
whan23@korea.kr

※ Attachment: a guide to the artwork on display at the "One Divided Into Three: An Exhibition of Three Korean Artists" exhibition currently underway in Beijing.