Joseon white porcelain found underwater off west coast
Some 111 pieces of white porcelain have been discovered underwater off the west coast near Taean County, Chungcheongnam-do (South Chungcheong Province).
The collection of white porcelain is believed to be from late Joseon times (1392-1910), produced sometime between the late 18th century and the early 19th century, said the National Research Institute of Maritime Cultural Heritage on November 5. Different sets of 10 porcelain pieces each were boxed together, and a stack of rice straw, presumably used as buffer material to prevent the porcelain from breaking, was found underneath the ceramics.
The porcelain works seem to have been household goods. There are cups with a small base, small plates, large plates, cups and candlesticks. The discovery of a candlestick is unprecedented, as it is a particularly rare piece of porcelain from those times. Commoners during early Joseon times were unable to use candles and a candlestick made of ceramic is very uncommon.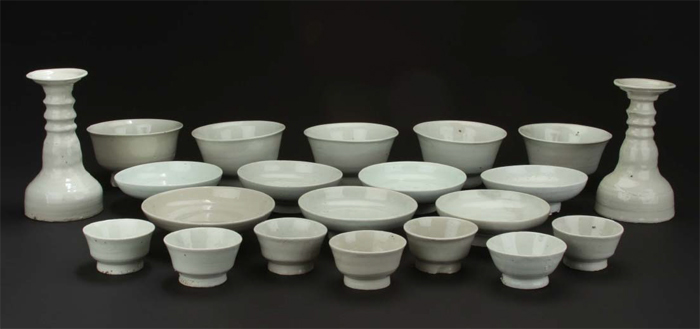 In addition, a Joseon ship was found near the crate of porcelain. The ship was `11.5 meters long and 6 meters wide. In the decayed hull, researchers came across four stories of wooden boards and round logs that were used to support cargo, preventing them from getting wet. The ship seems to have been constructed during early Joseon times, as there were two pieces of grayish-blue-powdered celadon produced in late 15th century found amongst the remains.
The waters off Taean County are notorious for fast tidal currents, rocks and thick fog that have historically caused many ships to flounder. The National Research Institute of Maritime Cultural Heritage started exploring under water in 2007 and has so far recovered 30,000 artifacts and have come across the wrecks of four Goryeo (918-1392)ships.
It was a common belief that, unlike blue celadon which was distributed via sea routes during the late Joseon period, there was no need to ship white porcelain because there were kilns across the country that could produce white porcelain. However, this recent discovery led to findings that white porcelain was also shipped via sea routes during late Joseon times.
The National Research Institute of Maritime Cultural Heritage said that its underwater exploration came to an end for the year and that it will restart its explorations in April 2015.
By Limb Jae-un
Korea.net Staff Writer
Photos courtesy of the Cultural Heritage Administration
jun2@korea.kr