The world of robots showcased at 2014 Robot World
The 2014 Robot World convention has shown off the present and future of the robotic industries, ranging from industrial robots to household machines.
A wide variety of robots were on exhibit at the automaton show, held at the KINTEX convention center in Ilsan, Gyeonggi-do (Gyeonggi Province), from October 22 to 26. Manufacturing and service robots, as well as related components, produced by 176 companies from nine nations had booths at the show. Corporate and government officials from many countries, including China, Singapore and Malaysia, also took part in the robot fair.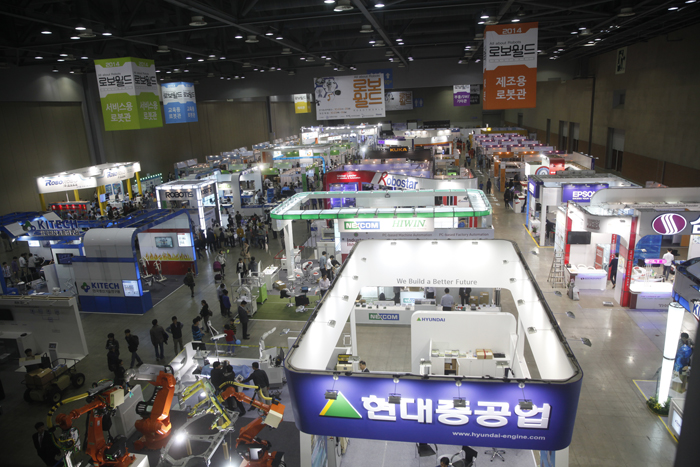 One company, LIG Nex1, was promoting its unmanned flying robots, portable unmanned ground vehicles (PUGV) and "wearable robots," a type of lower extremity exoskeleton that helps humans move heavy equipment. The company also showcased how such wearable exoskeletons actually operate.
Another firm, Yujin Robot, unveiled its GoCart, a food delivery robot. This robot is based on the Internet of Things (IoT) and is designed to carry food around nursing homes, food courts and hospitals. Equipped with various sensors and cameras, it can navigate through corridors and avoid running into people or other obstacles.
Other robot manufacturers, including Kuka Robotics from Germany, Universal Robots from Denmark, Aldebaran Robotics from France, Hiwin Technologies Corp. from Taiwan and Keba from Austria, were also taking part in the exhibit.
The RobotPlex exhibition hall allowed visitors to interact with robots and tried to raise awareness of the usefulness of household robots. There were also component displays, software, 3-D printers and medical robots, all showing the future of the robotic industries.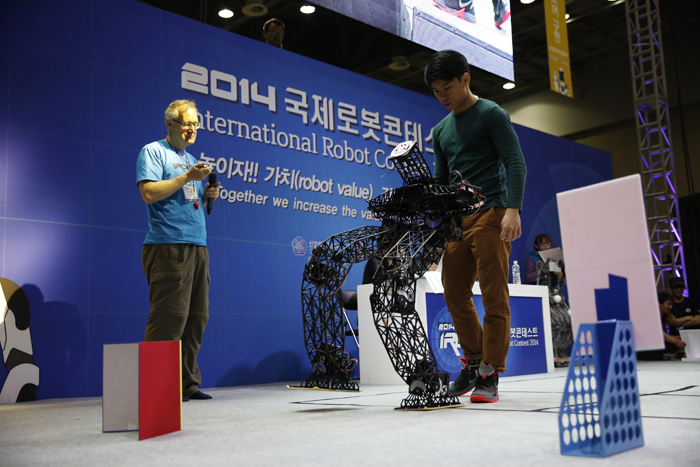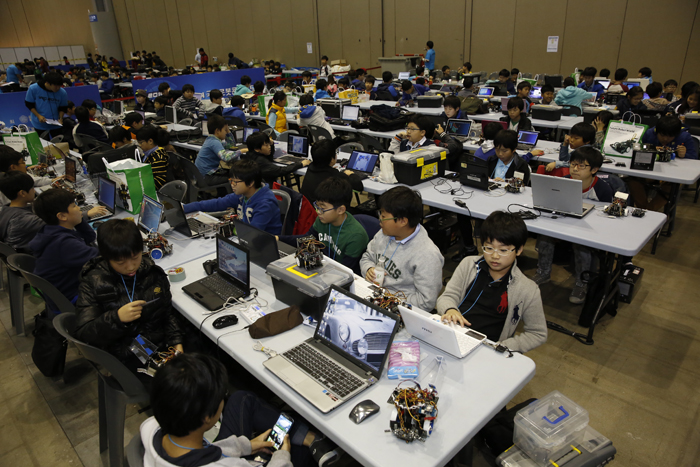 In the International Robot Contest, 5,000 teams from 18 nations took part in 32 events covering 14 games, contending with each other for first place.
Household robots were also on display in a multi-mission challenge. It was designed to promote the development of robot components and the potential use of robots in the home.
Finally, an open robot marathon took place to encourage even more advancements in the technology.
By Limb Jae-un
Korea.net Staff Writer
Photos courtesy of the Ministry of Trade, Industry and Energy
jun2@korea.kr