Here comes the sun
With 2011 now more than a month old, it's time to ring in the New Year — the Lunar New Year, that is. From February 3, Koreans will be celebrating what they call "seollal" with three days of rest, family reunions and a celebration of Korea's wonderful traditions. And as Steven E Athay, an American teaching English in Busan, discovered, those traditions remain vibrant and alive — even among the country's younger residents.
Imagine, for a moment, darkness. You're sitting on the beach, holding hot chocolate or coffee between knitted gloves. The smell of the sea drifts faintly toward you like an apparition weary from endless motion. Or perhaps in the darkness you're walking among trees on the slope of a mountain, your breath puffs in front of you, warm from your upward trek. Choose a place of your own liking, but wherever it is, you must have a clear view of the eastern horizon.
Now, looking out through the morning mist, you wait, perhaps telling stories or sitting in silence. The crease along the skyline begins to glow, first deep orange, then radiating yellow, becoming brighter as the minutes tick by, giving credence to Korea's nickname: The Land of the Morning Calm. The sun peaks up over the ocean, or tree-lined horizon, and the morning chill is warmed by the sun's rays. You've just participated in a Korean custom, watching the first light of the New Year. Or at least, the Solar New Year.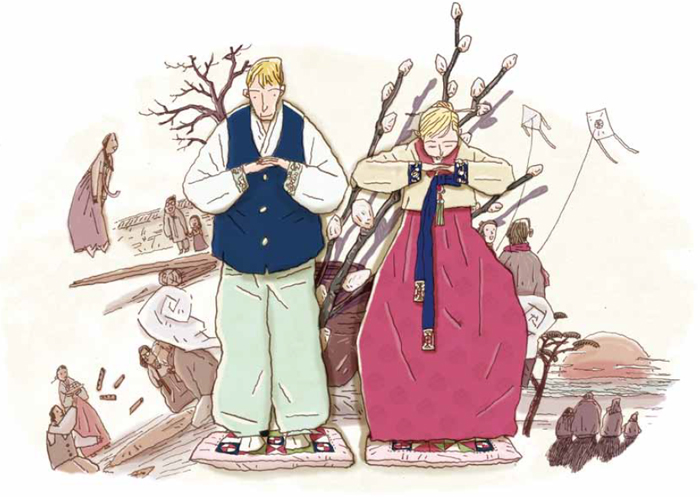 Korea also celebrates the Lunar New Year, which they call "seollal." Though it takes place on the first day of the lunar calendar, the date changes every year because it is based on the phases of the moon. This year, for example, it falls on February 3, whereas next year it will be celebrated on January 23. And celebrated it will be! A full three days are set aside for seollal, which is often time spent to reflect with family and partake in traditional Korean activities and ceremonies.
Since soellal is a traditional holiday, it is far more significant in Korea than the Solar New Year. Indeed, Korea's strong sense of tradition really becomes evident during its two major holidays, chuseok and seollal, which are both based on the lunar calendar. The holidays consist of eating traditional food, and often include visiting the graves of relatives while dressed in traditional Korean clothing, called hanbok .
I teach at Kwangmu Girl's Middle School in Busan, so I discussed seollal and its accompanying traditions and customs with my students and co-teachers. We were having class at an English library. The sun prodded at the blinds, leaving streaks of sunlight stretched across the table. A handful of students sat quietly at their tables with my co-teachers and me, working on book and movie reports.
"Kyung-ju," I said to another teacher, "Do men wear [the traditional Korean dress] hanbok?" Replying in the positive, Kyung-ju explained, "Men will wear blue or red, and women wear bright colors, like yellow, orange or pink." During some traditional holidays, Koreans travel all over the country to see family and visit ancestral graves, and wearing hanbok is a sign of respect. They offer food and give a deep bow, and then they pray to the deceased, asking for blessings in the new year. "It is typically a happy time, celebrating their memory," said Kyung-ju. "We tell stories and try to enjoy the memories we have of them."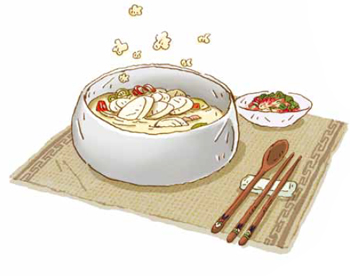 These bowing rituals are known as sebae. Starting in the morning, after dressing up in hanbok, children will bow to their elders and say (in Korean, of course), "Please receive many blessings in the new year."
I asked Hee-won, one of my most outgoing students, if she'd show me how to perform sebae correctly. But asking middle school girls to do something out of the ordinary is like ramping up production at the local giggle factory.
"How much will you give me?" Hee-won asked.
"What do you mean?"
Hee-won explained, "You get money. Sebaedon." Don, with a long "o" sound, is the Korean word for money, and after the bow is performed, relatives, such as parents and grandparents, give the children money.
"How much do you usually get?" I asked.
By this time everyone was listening in on the conversation, so I sat at a table surrounded by seven giggle-crazy girls. "Ten thousand won," (about US$9) one said. Another told me 30 thousand won. But the amount didn't really matter. What mattered was that after the bow, the girls would receive some kind of remuneration for their efforts.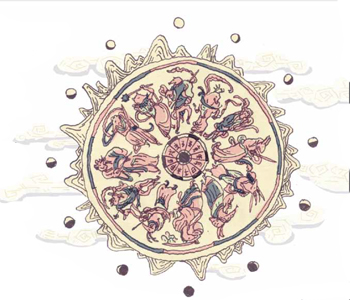 Since I was holding out on the cash, no one volunteered to bow. Instead, they had me get on the floor while they instructed me how to do it. Boys and girls, I learned, bow differently. Boys place their left hand on top of their right and girls vice versa. As I got down on my knees to perform the bow, Na-young joined me on the floor, sitting across from me in the traditional girls' bowing posture — cross-legged, right hand on top, bending over and touching the floor.
During seollal, many families play traditional games to ring in the New Year. One such game is Yunnori, which is a bit complicated to explain but, I've been told, is fun to play. From what I can surmise, it's like combining Yahtzee with a board game, only instead of dice, four, two-sided sticks (called jangjak) are rolled, you move your piece on the board, and the final goal is to collect four tokens called mal.
Jae-hee, one of my students who's taught herself most of the English she knows, approached me and looked at my computer screen. "What is that?" she asked. I scrolled up to show her a picture of the Yunnori board and pieces. She nodded to show she understood.
"Do you like this game?" I asked.
"Yunnori? Yes, teacher, I like this game," she replied.
"Why?" I asked.
"It is fun. Every holiday my family plays this game."
Other students heard Jae-hee and me speaking, and their familiarity with the topic drew them in. "Yunnori?" I heard them say among a barrage of unintelligible Korean. Kyungmin smiled, acknowledging the game.
"Do you like it?" I asked.
"Yes," she told me, "We play it every year."
All of my students agreed: this was an annual family tradition. The enjoyment of the game is strongly tied to the feelings of nostalgia and the sanctuary that family provides, just as perhaps eggnog or carols are tied sentimentally to the United States' winter holidays.
But of course, the game itself may not be the most exciting, especially in the age of the Internet and interactive entertainment.
"What about you?" I asked, motioning toward Hyun-jeong, a student fluent in English and in the process of learning French.
"Teacher, I do not like this game," she said. "Why not?"
"Because I like to play computer games," she said. Ah-young, another co-teacher, chuckled at Hyun-jeong's response, which caught my attention. So I asked her, "What doyou think of Yunnori?" She nodded. "It's fun. I played it mostly as a child. But it's more fun when you bet money on the winner," she explained with a mischievous laugh.
Kyung-ju, who had been listening in, added, "A popular game among adults is called Go-Stop, which is similar to poker." You need at least three people to play and small amounts of money are gambled. "This is a common modern tradition," Kyung-ju explained. She smiled. "And I'm not very good at it."
After recording this information, I turned to my coteachers and asked, "What else can you tell me about seollal?" They thought for a moment, then both agreed: "Tteokguk."
With any kind of cuisine, there are dishes that some people don't like — but I've yet to see any Korean refusetteokguk. It's a simple dish, typically consisting of a light beef and anchovy broth with thin sliced tteok (Korean rice cakes and dumplings), roasted gim (seaweed), and perhaps eggs and/or gim as a garnish. It's basically a dumpling soup that is made to bring luck for the New Year.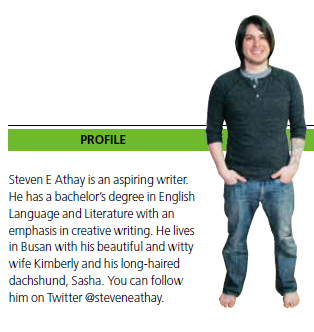 Though tradition and ritual plays a large role in the celebration of seollal, not all ceremonies have to be steeped in historical custom. The lunar calendar has 12 earthly branches, which are represented by animals. 2010 was the year of the tiger, and this year it's the rabbit's turn. Rabbits are now all over clothing, stationery, calendars and just about anything else you can think of. Certain coffee shops are selling rabbitshaped donuts and there are rumors of discounts at various shops for those born in rabbit years. The Everland Zoo near Seoul recently created a miniature obstacle course for these cute and tiny animals. Visitors would have seen fluffy rabbits, dressed in tiny winter sweaters jumping over hurdles and through hoops.
The sun shines, whether in the morning, breaking through the mists of the horizon, or pushing through shades, illuminating desk tops in English libraries. It is in the sunlight that Korea partakes in customs, rituals and ceremonies, butit is the phase of the moon upon which these are based. It was intriguing and entertaining hearing my students and coteachers, for the first time, reveal to me these personal and common aspects of their culture. As I bowed on the floor, my left hand on top of my right, my students giggled with amusement at the sight of their teacher learning something that was completely foreign. So I leave you now with the words spoken after the sebae: Please receive many blessings in the New Year.
By Steven E Athay | illustrations by Jo Seung-yeon
*The series of columns written by expats is about their experiences in Korea and has been made possible with the cooperation with Korea Magazine.