A musician ahead of his times: Shin Hae-chul passes away
A singer- and song-writer and an album producer, Shin Hae-chul is one of the most influential figures in the field of modern Korean pop and rock music. Passing away at the age of 46, Shin was loved by youth in the 1990s with his string of hit songs. He wrote a new chapter in the history of Korean pop, stretching his musical world from rock 'n' roll through to love songs, rap, dance and techno music, and even to a cappella.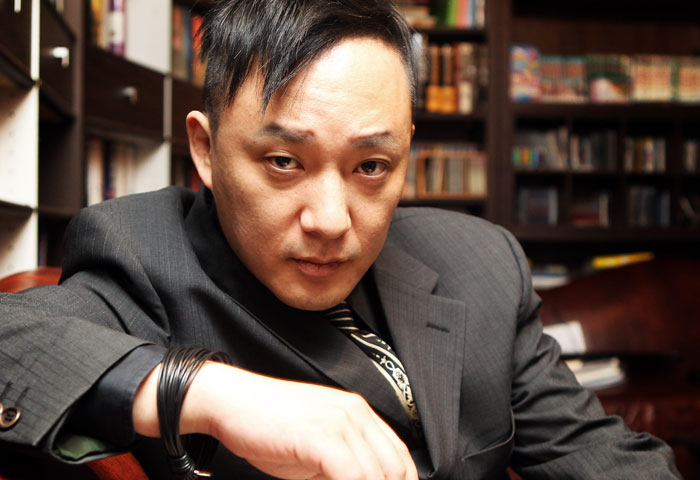 Shin debuted in 1988 as the lead singer of the group Muhangwedo, which means, "Unlimited Orbit," when they received the best prize for their song "To You" in the MBC College Musicians Festival that year. He produced a series of hit songs, including "Don't Show a Sad Face," "Good bye," "Jazz Café," "Deep In My Heart Is You," and others, on two solo albums in 1990 and 1991. Shin won leading annual grand song awards from both KBS and MBC, as well as the Golden Disk Award.
In 1992, he appeared as the long-haired singer for the rock 'n' roll group N.EX.T., an abbreviation for, "New Experimental Team." N.EX.T. then took off with its albums "Home" (1993), "The Return of N.EX.T PART I The Being" (1994), "The Return of N.EX.T. Part II The World" (1995) and "Lazenca A Space Rock Opera" (1997). Their hit songs include "A Knight Of a Doll," "Here I Stand For You," "City People," "From The Sun To The Boy," "Father and I," and many others, leading the rock 'n' roll scene for over a decade. Their song "'Lazenca, Save Us," which N.EX.T made for the sound track of the cartoon "Soul Frame Lazenca," is a masterpiece characterized by the magnificent sound of an orchestra, a choir and the brittle shouting voice of Shin himself.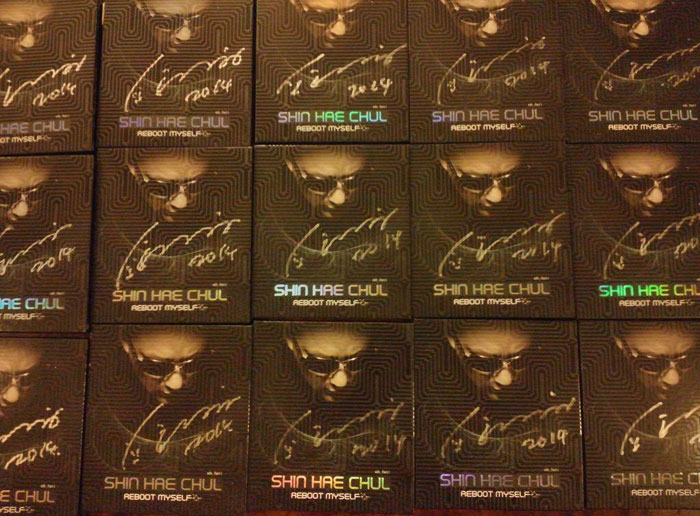 Shin disbanded N.EX.T. in 1997, saying, "There is no higher post to go up to." He left for the U.K. to study music and producing. He tried to create a new style of music by combining electronic and techno music under the names of new project bands such as "Crom," "Monocrom" and "Wittgenstein." He also produced hit songs, like "An Invitation to Daily Routine."
He re-formed N.EX.T to produce a fifth album, "'The Return Of N.EX.T Part III" in 2004. In 2007, Shin produced their sixth album, "666 Trilogy Part I," and also a solo jazz album, "The Songs for the One," dedicated to his wife and children.
Most recently, in June 2014, he produced the mini album "Reboot Myself," which featured many of his new musical attempts. On that album, he had one a capella song, "A.D.D.A," which features more than 1,000 recorded tracks of his own voice and not a single musical instrument.
It is well known that Shin writes his own music and lyrics. His songs contain the joy and pain of love and the loneliness and sadness of existence in the modern world. He also warned about settling for the status quo and encouraged people to fight against social prejudice. His performances as a rock 'n' roll vocalist and his deep insight into social issues caused a sensation among youth of the '90s and '00s. The public dubbed him the "King of Demons," "Demon Lord" or "Cult Leader," admitting his musical talent and charisma.
Singers of all ages, including younger pop idols such as Girls' Generation and I.U., as well as middle-aged singers, were all grief-stricken by the news of his passing. His funeral was visited not only by musicians and people in the music industry, but also by more than 10,000 fans.
Cho Yong-pil, dubbed as the, "King of K-pop," said he, "Admired Shin, though he was younger." Cho said, "It is so pitiful to lose such a great musician." Singer and rapper Psy, a close friend of Shin's, cried out in deep sorrow during the funeral. Seo Taiji, often referred to as the, "President of Culture," wrote a memorial, writing on his homepage that, "As a musician, Shin was like a great mountain. He was truly a musician who awakens within us a pure soul and true will." Mayor of Seoul Park Won-soon wrote on his Twitter feed that, "The empty place left behind by the 'King of Demons' will become bigger with time, as we go on without him. We will remember you."
By Yoon Sojung
Korea.net Staff Writer
arete@korea.kr