Autumn opens door to winter
The hiking trails of mountains and valleys and even urban center streets are now covered with yellow and red fallen leaves blowing in the wind. Autumn foliage in the mountains has neared its peak, and even broadleaf trees in urban areas have turned to their autumn colors.
With autumn now giving way to winter, many people on the first weekend of November took a trip to see the last of the autumn foliage. Some 30,000 people visited Bukhansan Mountain on November 2, while 17,000 people went to see the peak of the fall foliage in Dobongsan Mountain park. In the cities, families with children crowded the Joseon palaces of Seoul, the Seoul Zoo in Gwacheon, Gyeonggi-do (Gyeonggi Province), and the Sky Park in Mapo-gu (District), Seoul, walking on the fallen leaves.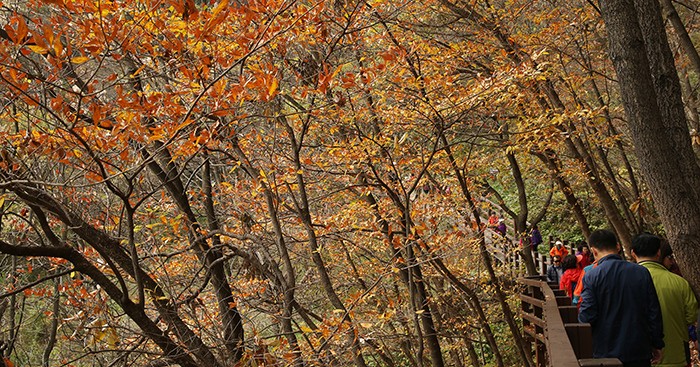 The temperature dropped on the first Monday of the month, November 3, reminding people that winter is just around the corner. That morning, people wearing winter coats hurriedly went to work, despite the cold winds.
The Korea Meteorological Administration (KMA) issued a warning for a cold snap across northern Gyeonggi-do and in the mountainous regions of Gangwon-do (Gangwon Province). Warnings are issued when either the lowest temperature in the morning stays below minus 12 degrees Celsius for two days in a row, or when the overnight low falls by more than 10 degrees and is forecast to be below 3 degrees Celsius.
The KMA forecasts that temperatures are expected to recover to seasonal norms during the week, but that they will fall again with the onset of winter on November 7, one of the 24 seasonal divisions according to the traditional calendar.
By Jeon Han, Limb Jae-un
Korea.net Staff Writers
Photos: Jeon Han
hanjeon@korea.kr