Enjoy hiking, rock climbing and do it safely
Autumn is clearly the season for hiking. The mountains have changed their colors to yellow and red with the autumn foliage. Fallen leaves on the hiking trails produce a crisp sound of footsteps, welcoming the visitors to the forests. Pleasant, breezy weather cools the hiker and those who reach the mountain top can see clear scenery unfolding under the blue sky.
Even if you are only a casual hiker, you can still visit the mountains and enjoy the season. On the weekends, most hiking trails are crowded with many people out to enjoy the natural beauty and the cooling sensation of autumn. However, with the higher number of hikers on the trails in the autumn, there are often more accidents, as well.
"During this time of year, there are an increasing number of hikers who enjoy the autumn foliage at major national parks, such as Seoraksan and Jirisan," said Park Yong-hwan, a manager at the National Park School of Mountaineering Safety, part of the Korea National Park Service. "Those who do not exercise regularly often suffer from exhaustion, heart attack and ligament injury."
"For safety, it is more important to pick a hiking trail that is suitable to one's physical ability," said Park. "Before the hike, set up trail plans, consider the weather, the duration of the hike and the difficulty of the respective trail."
"Recently, many people report accidents, as they don't take into consideration the faster sunset hours or they lose their way in the mountains," said Park. "In the autumn and winter, people need to carry flashlights, maps, medicine and warm clothes to prepare for potential accidents."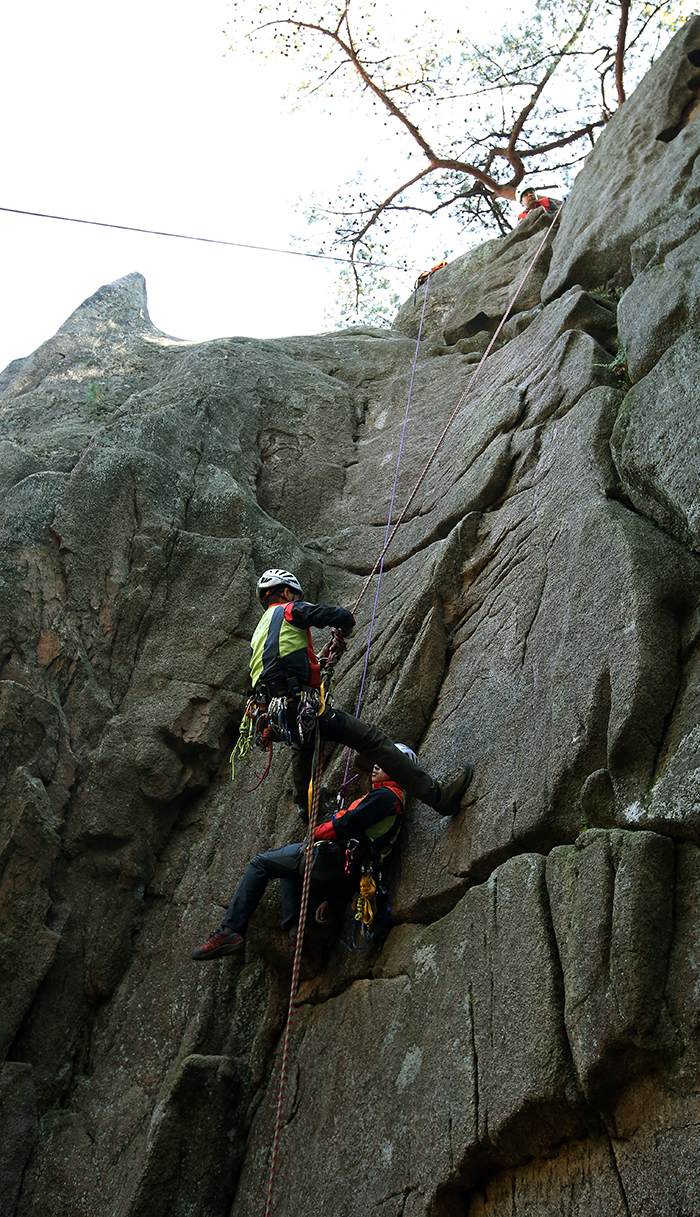 On Dobongsan Mountain, inside Bukhansan National Park, Park conducted a training session on rock climbing rescue and safety for 70 new students at the Gyeonggi Fire Service Academy. Park stressed that there are many different kinds of accidents, beyond simply getting lost, and that it is very important to prevent potential second accidents and help accident victims descend from the mountain quickly and safely. Using practical demonstrations, he also explained various ways and techniques to move victims to safety.
"Even professional hikers, fully prepared and experienced, can get involved in an accident," Park said, demonstrating how to move an unconscious person tied into a rope line.
Instructors from the National Park School of Mountaineering Safety said there are an increasing number of hikers on Bukhansan and Dobongsan mountains, but that many of them take hiking far too casually and do not prepare for their own safety. Although hiking around Seoul is not very difficult, hikers always need to carry the necessary safety equipment, depending on the season, and prepare for potential accidents.
By Jeon Han, Limb Jae-un
Korea.net Staff Writers
Photos: Jeon Han
hanjeon@korea.kr