Nobel laureates take on new look
The Nobel Prize winners stood before the camera, held on to the cardboard placard and put on a funny or mischievous face.
These famous prize-winners can now be seen in a series of photographic images taken by German photographer Volker Steger in the Sketches of Science exhibition, underway at the Gwacheon National Science Museum in Gyeonggi-do (Gyeonggi Province).
The exhibition opened on October 14 under the theme of, "Science inspires the young generation." It features photographs of 52 Nobel laureates from around the world as they hold a cardboard poster describing their own discovery, the idea that brought them the prestigious Nobel prize.
Some of the science geniuses are seen holding their creation upside down, or posing with the drawing in their mouth.
Featured at the exhibition is Harold Kroto who won a Nobel Prize in chemistry in 1996 for his breakthrough discovery of fullerene, a molecule that consists of 60 carbon atoms. Kroto drew the football-shaped chemical structure of fullerene and posed as if he was kicking the figurative ball.
Francoise Barre-Sinoussi, director of the Regulation of Retroviral Infections Division at the Institute Pasteur in Paris, is also spotlighted here. She won the Nobel Prize in physiology or medicine in recognition of her contributions to identifying the human immunodeficiency virus (HIV) as the cause of AIDS. For the exhibition, she drew a sketch of the HIV virus and posed for the camera.
There are also other winners who have a connection to Korea. Robert Laughlin served as president of the Korea Advanced Institute of Science and Technology (KAIST) between 2004 and 2006. He drew a picture of the fractional quantum Hall effect, for which he was awarded a Nobel Prize in physics in 1998. Also, the 2006 Nobel Prize winner in physics, George Smoot, who once served as a visiting professor at Ewha Womans University, is also captured in a photograph holding a self-made sketch of his work on the Cosmic Background Explorer.
"Nobel Prize winners, who we often consider to be serious and solemn, are seen as being jolly and humorous in the pictures on exhibit here," said Director Olov Amelin of the Stockholm-based Nobel Museum. "This exhibition helps to narrow the common feeling of distance we, ordinary people, may share about science. Only when you enjoy science can you cultivate creation."
"The ultimate goal of the exhibition is to bring children closer to science," said Nikolaus Turner, the managing director of the Lindau Foundation which hosted the Seoul exhibition. "Hopefully, this exhibition helps raise public awareness of science," he added.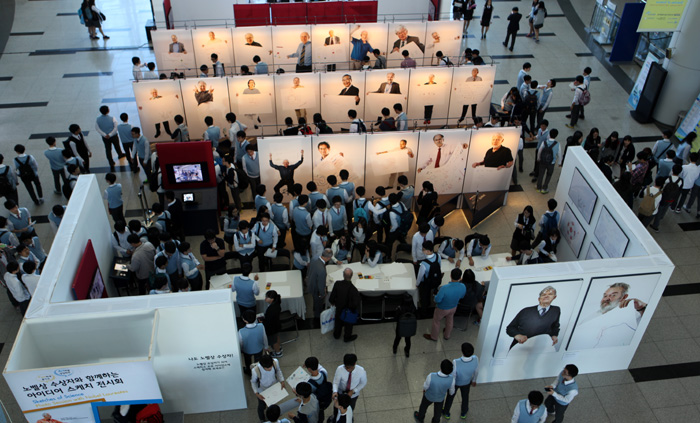 The Sketches of Science exhibition, launched at the Nobel Museum in 2012, tours four or five countries every year, including Germany, Singapore, Malaysia and Japan. The Seoul exhibition continues until November 23.
By Sohn JiAe
Korea.net Staff Writer
Photos: the Gwacheon National Science Museum
jiae5853@korea.kr