Park Seong-heon, master of paper craft
Flat paper can be turned into all kinds of three dimensional shapes when cut, folded and pasted.
Sometimes, an animal comes around, while robots, airplanes and more diverse shapes are created, too. It's a world created through paper craft.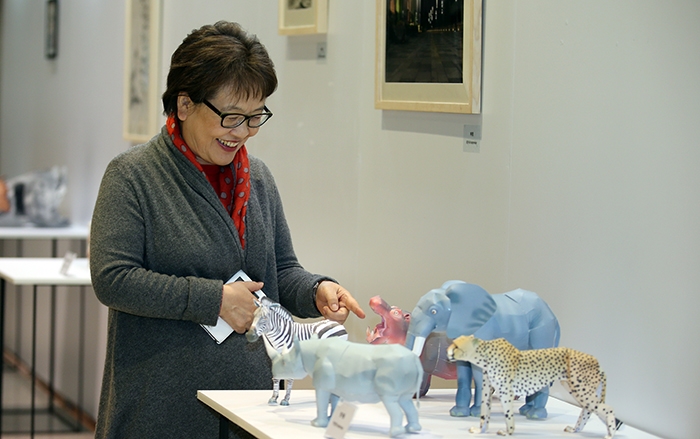 On October 17, the National Museum of Korea opened an exhibit where the employees and museum staff members submitted their own arts and crafts, made in their spare time. Continuing until October 30, the employee artwork exhibit is held on the occasion of the government's "Culture Month," which is October. The exhibit features pottery, paintings, sculptures, handicrafts and other various works. Among the many items on display, there is a piece called "Friends," which is quite eye catching. In reality, an elephant, jaguar, hippopotamus, zebra and rhinoceros would fight for their lives, yet in this work of art they are standing causally next to each other. The artist behind it is 48 year old Park Seong-hyun, a member of the museum's custodial staff.
When his paper-work creations started ten years ago, he enjoyed it and had a strong will to pursue it, at a time when he had no other hobby. Before he started making art from paper, he found happiness in fixing broken computers and donating them to social welfare facilities, using the skills and abilities he learnt at his technical high school. Later, he discovered paper crafts online and started to shape things, one by one. At first, it was difficult to complete one per day, but now most animals take only one or two hours. The larger ones take around five hours. As his friends and colleagues asked to keep the finished work, he found happiness in sharing and his interpersonal relationships grew stronger. Arriving early in the morning to help clean the 992-square-meter kitchen, one by one he made his craftworks during each break time.
Park has one small wish.
His dream is to make large paper lanterns in the shape of people, animals or vehicles, and hang them in the gardens on museum grounds, to entertain the eyes of the visitors and to draw the curious gazes of children. When a hobby — started by chance — becomes habit, it leads to mastery. There are people like this all around us in our daily lives. So even if there is a genius, and even if there is someone who tries really hard, too, the person who enjoys the work and finds pleasure in the craft will always win in the end.
By Wi Tack-whan, Paik Hyun
Korea.net Staff Writers
Photos: Jeon Han
whan23@korea.kr