Three islands brighten up Hangang River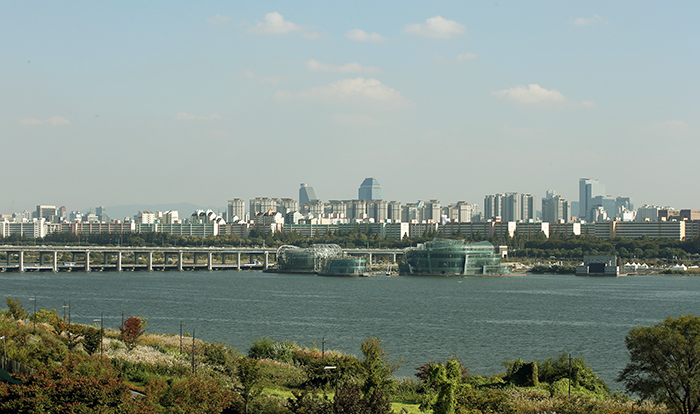 A complex of three man-made floating buildings, "Some Sevit," nestling at the southern end of the Banpo Bridge in Seoul, opened its doors on October 15.
The complex's Korean name is, "Sae-bit-seom," which translates as, "Three Splendid Islands." The management chose for their English name "Some Sevit." The multi-use venue consists of three floating buildings, Some Gavit, Some Chavit and Some Solvit.
The complex is a shopping and arts & performance venue, and Some Gavit provides such amenities as cafés and banquet halls, too. Some Chavit houses a buffet restaurant that serves high-end cuisine. At Some Solvit, visitors can enjoy browsing through an array of exhibits.
The trio of buildings together has a gross floor area of 9,995 square meters.

"Three beautiful flowers blossom today on the river," said Seoul Mayor Park Won-soon during the October 15 grand opening ceremony. It was held under the slogan of, "Some Sevit opens up a venue for culture and leisure activities."
"We will do our best to make the islands the best-ever multi-use venue in the city, where people can enjoy a variety of activities," the mayor added.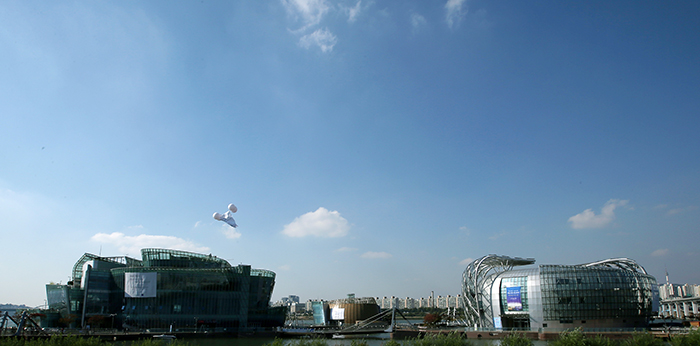 On the first floor of Some Solvit, a special photo exhibition, "Bitter, Sweet, Seoul: Hangang's Yesterday and Today," is underway. The exhibition features photos that chronicle the development and transformation of the Hangang River. It also has award-winning works from the recently-held Some Sevit photo contest in which Seoul citizens themselves submitted their own photos of the buildings.

Some Chavit features 14 retail shops, including an outlet of the Beautiful Store, a philanthropic second-hand organization that re-sells donated items from across the nation. There is also a Goodwill Store, where all proceeds go to helping the handicapped find jobs and to support themselves.
You can find a whole array of items on sale here, including balls, ribbons and batons autographed by rhythmic gymnast Son Yeonjae, and a cap and bat from baseball player Choo Shin-soo. There are also golf balls, putters and caps from golfers Park Inbee, Ryu So-yeon, Sarah Jung Yeon Lee and Baek Kyu-jung.
In particular, some of the items signed by Son Yeonjae, Choo Shin-soo and Park Inbee are up for auction. Bids can be submitted until November 3. All the proceeds go to a branch of the Goodwill Store in Eunpyeong-gu, northwestern Seoul.
Opening events will continue until October 31.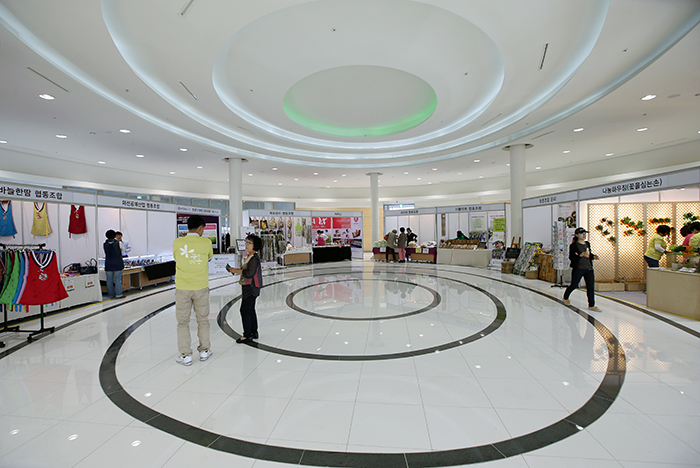 "We prepared the charity event with the goal of making the islands a place where everyone feels happy," said an official from Hyosung Corporation, one of the major operators of the Some Sevit complex. "Hopefully, Some Sevit will bring people the joy of consuming and the joy of sharing."
By Jeon Han, Sohn JiAe
Photos: Jeon Han
hanjeon@korea.kr