Seoul Traditional Temple Week welcomes visitors to temples
This October, people will have the opportunity to appreciate many aspects of traditional Buddhism in Korea. The Seoul Metropolitan Government and the Jogye Order of Korean Buddhism will jointly host the Seoul Traditional Temple Week over three days from October 10 to 12.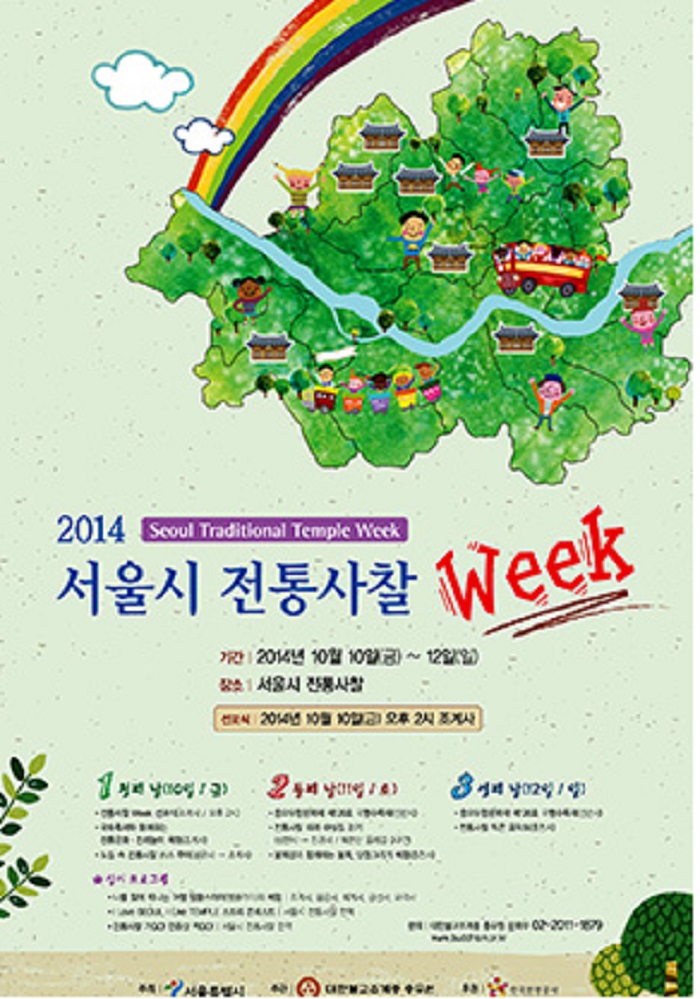 The event will offer a range of programs, including tours of traditional temples, lectures on traditional Buddhist ceremonies and other events which will allow people to have Buddhism-related experiences. Traditional Buddhist temples in Seoul will operate a one-hour long Temple Open Day program each day as part of the three-day event.
On both October 11 and 12, the Jingwansa Temple in Eunpyeong-gu (district) will host a special Buddhist Ritual to Console the Spirit of the Dead, or a Gukhaengsuryukjae.
The temple has been conducting the ritual for nearly 600 years to console the spirit of the dead who sacrificed their lives for the country. It has been designated as important intangible cultural asset No. 126. In early May every year, this ritual is held in Yeosu in Jeollanam-do (South Jeolla Province) as part of a local festival to commemorate the spirit of Admiral Yi Sun-shin (1545-1598) who saved his country against attack.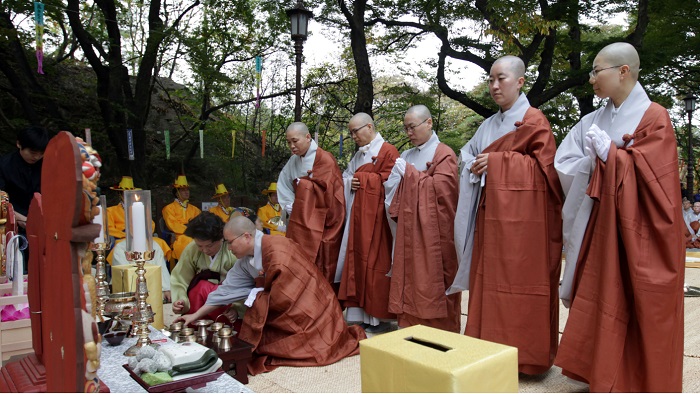 On October 12, the final day of the event, the Heungcheonsa Temple will host a concert as well as a series of painting classes where people can learn about Buddhist pictures and about dancheong, the traditional Korean art of decorating wooden buildings.
During the Seoul Traditional Temple Week, people can stay overnight at a temple for free at some select temples, as the "templestay" program has been recently receiving favorable responses countrywide. The four temples — Bongeunsa, Hwagyesa, Geumseonsa and Myogaksa — will offer visitors a brief time away from their daily schedules to heal themselves from the busy grind of urban life.
Visitors who enjoy hiking will find that two traditional temples — Jingwansa and Samcheonsa – are hosting walking tours along the 2.5-kilometer long Dullegil path No. 9 at Bukhansan Mountain. Program participants will also be able to experience the traditional temples themselves.
The Seoul Traditional Temple Week offers activities not only for local residents, but for overseas visitors, too.
Domestic and international university students can experience traditional culture while mingling together in the "I Love Seoul, I Like Temple" program. Participants, both individuals and groups of less than ten, can win prize money and gifts if they upload their photos or video footage of the program on various social networking channels.
Those who visit traditional temples more than five times and show their photos online can also win gifts.
The Jogye Orders said, "We expect the Seoul Traditional Temple Week to lead to more active participation among youth, Seoul residents and international tourists, to help them to better understand Buddhism and to contribute to broadening the foundation of Buddhism across the country. We plan to introduce the traditional temples and Buddhism more broadly in cooperation with the Seoul Metropolitan Government."
A staff member from the Seoul city government said, "The Seoul Traditional Temple Week will make traditional Buddhist temples a place where citizens can appreciate and enjoy the wonderful traditions of Buddhism."
By Lee Jeongrok, Yoon Sojung
Korea.net Staff Writers
jeongrok@korea.kr