It's hoesik time
In any culture, food is of the utmost importance. In Korea, however, that importance is increased tenfold as eating together signifies unity and commonality. From the outside looking in, the Korean tradition of hoesik, or eating together, can be overwhelming for those who are unaccustomed to spending time with co-workers outside of the office. But as an American expat discovered, this warm tradition sheds insight on Korean culture and offers the opportunity for friendship and bonding in the most unlikely of settings.
My first dinner with my co-workers surprised me. I was told that we were having a staff dinner after school, and that I was invited. I couldn't help thinking, "I'm supposed to be with my co-workers after school, too?" It was a bit of strange concept, coming from a culture where you can't wait to get out of work and home to your family and friends. Enjoyment quickly replaced skepticism, however, as a group of smiling co-teachers encouraged me to eat. Every time I finished my drink, it was immediately refilled, every time a side dish ran out, yells of "Yeogiyo!" brought more delicacies, every time I stopped my flying chopsticks for a breather, waving hands encouraged me to continue eating. Just when I had stuffed myself to the brim, the question of, "doenjang-jjigae and rice?" brought yet another course to the table. Needless to say, it was a good thing my apartment was directly across the street from the restaurant, so I could have a co-worker give me a push and let me roll across the street into the building. I got home thinking, "Welcome to Korea."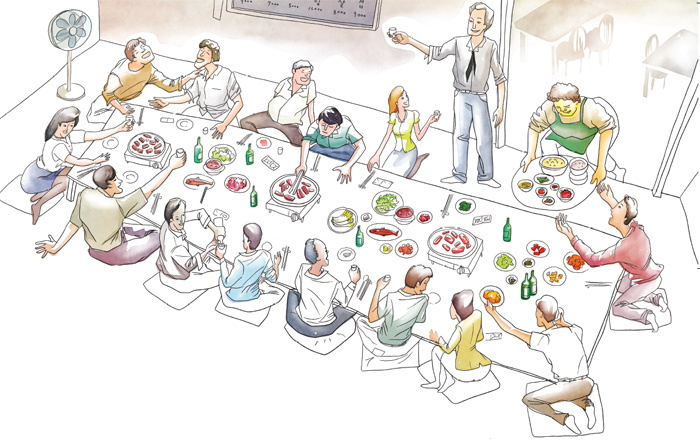 In the US, we may make a few friends at work to spend time with at lunches and some evening excursions, but Koreans consider being with co-workers of the utmost importance. Korean hoesik culture (literally "gathering to eat") is experienced at every workplace. From office workers to teachers to salespeople, co-workers are expected to join together for dinners and drinking after the stressful hours of the workday. To an outsider like me, this may seem weird – who wants to spend all evening with the people you see all day? – but it's a tradition that enhances relationships in the workplace better than anything else.
To gain some insight into why this is such an imperative part of the culture, I talked with my co-worker and friend, Ms Choi, about hoesik. She explained to me exactly why this tradition is so essential in the culture, saying, "It gives us a chance to get familiar with each other. If you don't eat outside of school, you are not a friend." Eating together outside of work provides a unity that cannot be experienced within the office. Due to Confucianism, a strict hierarchy is to be maintained in the workplace. Eating with co-workers, however, is a way in which that hierarchy can relax a bit, and people can speak freely. "If I go to hoesik with English co-workers whom I am more familiar with, I can say anything, and we can show our true selves," Ms Choi said. "We can share the same story, so it is fun." By eating together after work, co-workers are allowed to bond in a way that unites them when going back to the workplace, a bonding experience like no other.
Hansotbap sikgu is an idiom in the Korean language that means, "We eat rice out of the same bowl." This idiom comes from the way families eat together. In the past, Korean family members would mix a bowl of bibimbap (rice with vegetables and spicy red pepper sauce), the father would begin eating, and then the family would all eat out of the same bowl. Similarly, coworkers who eat together after work will introduce their friends saying, "We've eaten rice out of the same bowl for five years."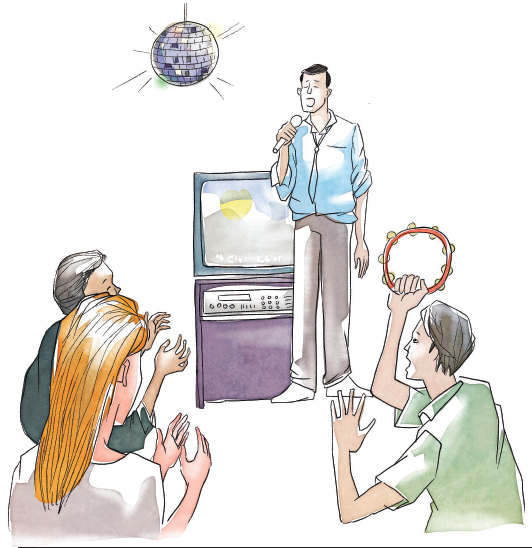 It is a way of saying, "We are family."Not only does eating with co-workers offer a chance to become familiar with each other, it allows them to consider themselves a family.
For this reason, Koreans who are beginning a new job or retiring are treated to the largest parties. It's almost like a family reunion or a wedding. It is a way of welcoming people into their new "family," or thanking them for all of the years they've spent in it.
My husband attended one of these large parties when his principal retired. Since this was not just a regular teacher, but the principal, there was quite the farewell party for him. All of the staff and the principal's family attended the celebration. There was a nice buffet, drinking, toasts, and, most importantly, gifts. Every person left the party with a memory book of the principal's service in teaching, as well as a beach mat personalized with the school name emblazoned on it. "It was similar to a wedding feast we would have in the US. There was a guest of honor table raised above everyone else, and all of the principal's family was there, "my husband explained. "Everyone was so helpful, giving rides and making sure everyone got involved in the gathering, including me."
My experiences with hoesik culture have been relatively tame, if you don't count the teacher retreat I experienced where our music teacher drank a little too much and was yelling toasts throughout the night. My husband even had a teacher begin singing opera as he doled out toasts throughout an evening of hoesik. Every time I'm invited to a teacher dinner, I say yes.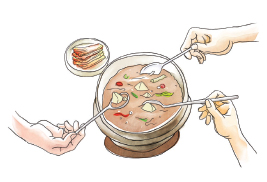 As a foreign teacher, I'm already at a disadvantage when it comes to bonding with my coworkers, so anything I can do to create unity and friendship in the workplace is a plus for me. Eating with my colleagues is a great way for me to get to know them. People I've never spoken to suddenly speak phenomenal English, and even my Korean language abilities get a little better. Little did I know how rewarding a staff dinner could be in relationships at work.
My three female English co-workers and I decided to take an afternoon this past summer to engage in some hoesik of our own. When I say an afternoon, I mean an entire afternoon. This was no ladies luncheon at noon. We began our bonding at a buffet with seafood, pasta, salad, steak and chicken. Ms Choi was the first to break the ice, asserting that whoever ate the least number of plates at the buffet was the loser. Trip after trip was made to the buffet area, and story after story was shared in the bites between those trips. Everything from students to teaching theory to summer plans were discussed. Once again, when I thought I could eat no more, it was time to hit the dessert counters.
After piling our dishes with sweets, we sat down to more conversation. At this point, disaster hit our group as the kitchen began filling with smoke. We were forced to pay and leave the restaurant, with grumbles of, "But we didn't even get coffee yet!" Even though lunch had ended, our bonding was not yet over.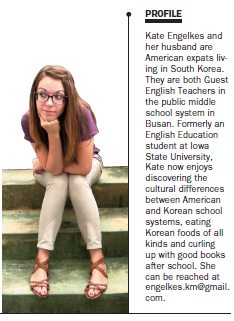 Being in need of coffee (Every good meal must end with coffee, right?), we headed to a delightful European-style cafe not far from the buffet. My coworkers emitted squeals of delight, sighing, "It's just like Sex and the City," and then began assigning characters to each of us. As soon as coffee cups were clasped in each of our hands, we began anew our conversation, continuing where it had left off. Only when one of us had to leave because of a hair appointment did our group begin to disperse. After a buffet, dessert, coffee, and a million words, our hoesik had ended.
This was my first real experience of "letting my hair down" with my coworkers. It was truly invigorating, and I left with a sense of being a kindred spirit with my co-workers that I had not yet felt since beginning my life in Korea. I also realized that there really was something to this whole concept of hoesik. We had "eaten rice from the same bowl," and a bond had been created that continued when we went back to work the next day. I now knew I had people on my side as I prepared for the tough days of students and lessons and preparing for tests. I had an English co-worker family.
In Korean thought, eating brings unity. Language barriers are broken, conflicts resolved, and true selves are revealed in an effort to bring unity and friendship into the workplace. I hope to find and engage in this type of communal family no matter the workplace in which I find myself.
By Kate Engelkes | illustrations by Kim Hyeong-geon
*The series of columns written by expats is about their experiences in Korea and has been made possible with the cooperation with Korea Magazine.