Make-A-Wish Foundation gives hope, courage to ailing children
Kang Hyeon-bin, a six-year-old boy, was diagnosed with leukemia earlier this year. He has one wish. He wants to become Roy, a fire truck featured in the cartoon Robocar Poli.
Living in Gimpo, Gyeonggi-do (Gyeonggi Province), he needs to go for blood tests for eight or nine hours at a time, several times per week. As part of his chemotherapy, the medicine is injected through a hole in his chest. He also gets injections into his spine. Despite the painful treatment, however, Hyeon-bin has never cried.
Doctors and nurses were moved by Hyeon-bin's courage and decided to help make his wish come true. They made a request to the Make-A-Wish Foundation (www.wish.or.kr).
After hours of discussion on how to make his wish come true, the foundation decided to create a situation in which Hyeon-bin meets Roy and acts as a firefighter.
"I am very grateful that the foundation employees became good friends with my son and granted him his wish," said Hyeon-bin's mother. "He always said he wanted to be Roy. I felt very proud that Hyeon-bin was able to help people in danger."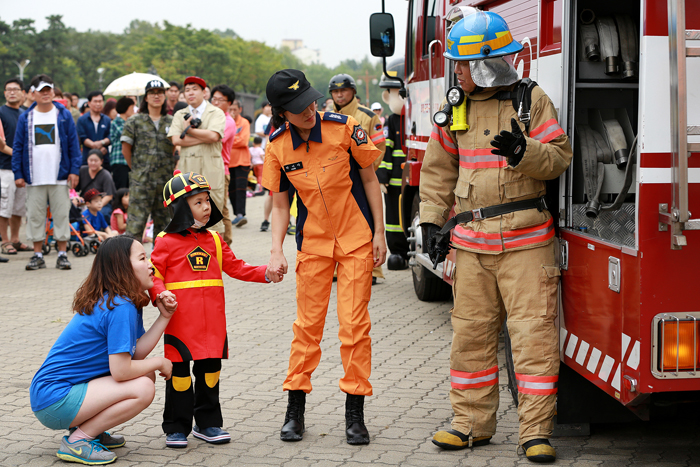 The Make-A-Wish Foundation grants wishes to children and adolescents who suffer from incurable diseases, giving them hope and courage. The original Make-A-Wish Foundation was established in Phoenix, Arizona, in 1980. Now it has 38 branches in over 50 nations and grants wishes for patients worldwide.
Make-A-Wish Korea was founded in December 2002, the foundation's 26th overseas branch, and has made wishes come true for 2,700 children so far who suffer from an incurable diseases. The Korea branch and its 1,500 volunteers intend to grant wishes to 360 children this year.
Children often wish to meet cartoon characters, pop stars or athletes, role models they hope to emulate some day. Some children want to become a chef, a magician or a professional singer, or a character from a fable or a film, like Spider-Man. The foundation also receives sponsorships and provides gifts to children, such as computers, cameras and toys, and it arranges family trips to places like theme parks.
It usually takes two to three months to make a wish and to have it granted. Since these children are suffering from incurable diseases, it requires many careful steps. These children's health conditions could suddenly deteriorate and the foundation often needs doctors' approval in advance for a Make-A-Wish occasion.
The foundation underlines the effects on young patients of making a wish come true. It says there is significant progress in a patients' recovery after their wish has been granted. The parents also become more positive about, for example, cancer treatment, which is otherwise a very painful procedure for the families involved.
When Ji-young was a middle school student, she suffered from a malignant lymphoma. She lost all of her hair due to chemotherapy. Ji-young wanted to give up, but with the help of the foundation, one day she came to remember her wish to become a designer. Ji-young was able to meet her role model, Andre Kim, a wish granted by the foundation. After she entered college, she visited the foundation again.
"I used to only focus on being alive for just one more day, but after my wish was granted, I came to think of tomorrow," said Ji-young. "Whenever I was going through difficult times, I remembered the moment my wish became true and was able to overcome my difficulties."
Ji-young now studies visual design at Hongik University. She has been volunteering for the foundation since 2011.
"Despair is a disease that leads to death," said Sohn Byoung-ok, president of the foundation. "By granting their wish, we give young patients hope and a reason to live."
"After getting their wish granted, many children are able to recover their health and overcome their illness," Sohn said. "I am so grateful that children who have overcome their illness are now volunteers and sponsors for us."
By Limb Jae-un
Korea.net Staff Writer
jun2@korea.kr