Events abound for October travelers
Autumn is here. With clear blue skies and crisp temperatures, it's ideal weather to travel in Korea. Over the past few years, the fall has been attracting more and more travelers to the country, domestic and international alike.
This October in particular, Korea expects a large number of mainland Chinese tourists to visit, as the first and second week of the month overlaps with China's National Day holiday, which lasts from October 1 to 10. Large numbers of Chinese tourists can be seen at major shopping centers and tourist sites across the country.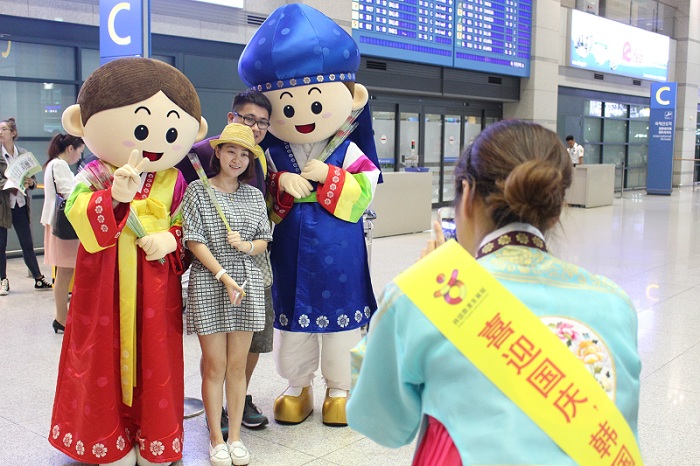 As the Korea Tourism Organization (KTO) expects the number of mainland Chinese tourists during October to surpass the 160,000 mark, the tourism industry across the country has come up with a wide array of events and special offers.
First off, travelers can feel the festive vibe as soon as they arrive at Incheon. The KTO's two cute mascots, Chorongi and Saekdongi, will be in the arrivals hall welcoming everyone to the country. Clad in Hanbok, the mascots will be handing out stamp collection booklets for tourist sites across the country and discount coupons that are useable in many shops in Myeongdong, Dongdaemun or Namdaemun. Shoppers with the coupons can receive discounts at stores, performances, exhibitions, theme parks and on public transportation. Also, depending on the number of stamps they collect during the trip, they will be given presents that range from airplane tickets to cosmetic items.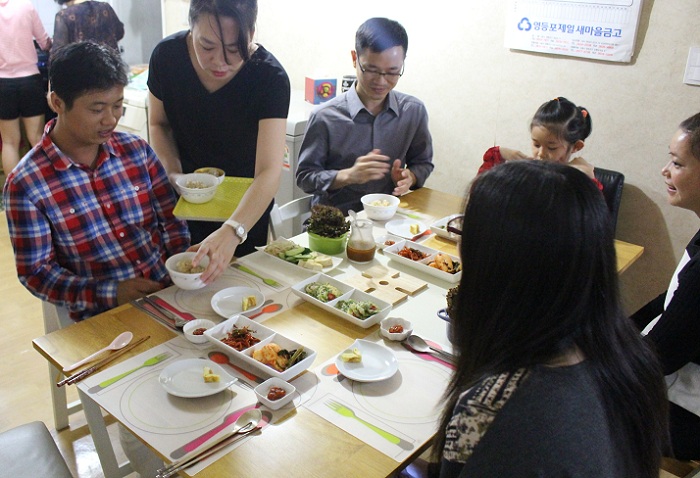 The KTO is also offering a special "House Meal" program (unofficial translation) for a group of 30 Chinese tourists whose applications were screened beforehand. Off the traditional tourist trail, they will visit a Korean family to enjoy a home-cooked meal together. Not only a meal, they will also go grocery shopping together and help with the cooking, a rare and special experience for tourists.
The town of Aewol-eup on Jejudo Island is running a special program, too, in partnership with the Ministry of Maritime Affairs and Fisheries. Tourists to the town can learn about the island's female divers, make and taste the local delicacy, totbap, and try on some Hanbok. Totbap is made of tot, a type of edible sea plant similar to seaweed, and is then mixed with rice or barley. It is one of the staple foods enjoyed by the village residents. Over the past few weeks, the number of tourists visiting Aewol-eup to participate in this program has been on average between 100 and 200 per day.
Mandarin speakers will also be able to benefit from the "Smart Tour Guide," an audio guide app, when they visit major tourist sites across the country. It provides an explanation about the history of the place and relates stories associated with the location. Previously only available in Korean, English and Japanese, the system has now been expanded to include Mandarin.
There are a number of smaller events going on this week, too, at department stores and shopping malls. An event prepared by China's Union Pay Card and Korea's BC Card offers tourists a variety of souvenirs and presents, depending on the amount of money the person spends. It is planned for six cities across Korea: Seoul, Incheon, Daegu, Busan, Cheongju and Jeju City.
Finally, those who visit the official Refund Counter in Myeongdong with their receipts in hand will get a tax refund along with a free gift.
By Lee Seung-ah
Korea.net Staff Writer
slee27@korea.kr