Korean crafts set to mesmerize London, Hangzhou
The beauty of traditional Korean crafts has caught the attention of the world once again. An exhibit held at the Triennale di Milano, a design museum in Milan, Italy, in April recently opened again at the Tent London design trade show, part of the London Design Festival. The same exhibit will be held again during the China Hangzhou Cultural & Creative Industry Expo (CCIE) in October.
The Constancy & Change in Korean Traditional Craft 2014 exhibit was held from September 18 to 21 at the Tent London. The exhibit featured 174 works by 21 artists, including metal art, mother-of-pearl crafts, ceramics, textiles and traditional mulberry paper art. The works shown in Milan and London were made of traditional materials and used traditional techniques.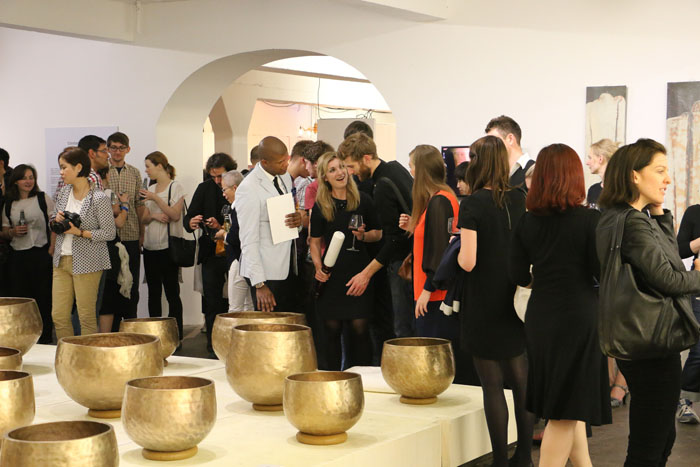 In ceramics, Lee Kang-hyo's "Buncheong Landscape I" is a grayish blue powdered celadon work of pottery. It may look unrefined at first glance, but it boasts humble beauty. Lee's works normally focus on the theme of nature. Natural elements, such as water and wind, are expressed in his works.
In the metal section, Lee Bong-ju's "Bangjja Meditation Bowl Bells" consist of many bowl-shaped Buddhist temple bells, musical instruments often called "singing bowls." They are smaller than the main bells. The hand-beating technique creates a grand, long-lingering sound when the bells are tolled.
Among the works of lacquerware inlaid with mother-of-pearl, "Pebbles" is a collection of stone-shaped sculptures whose surfaces have been lacquered and inlaid with mother-of-pearl by Hwang Sam-yong. The smooth surface is created by cutting the mother-of-pearl into slender strips. The thin-thread colored mother-of-pearl "boulder" that is only 0.5 millimeters thick took 277 hours to complete, while the thickest one, at 4.9 millimeters, took 145 hours.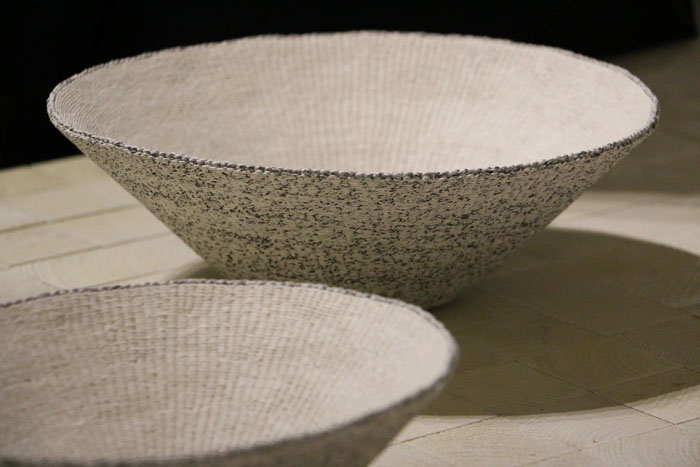 In the textile section, nine craftsmen, including Kim Hyo-jung, presented the "Hansan Ramie Patchwork Wrapper." The wrapping clothes, or jogakbo, are made of fabric scraps. A total of 100 large and small patchwork wrapping clothes were shown in the exhibition. They were either made by hand or with a sewing machine. In order to create a contrast in color and shape, thick brown ramie cloth, washed brown ramie cloth and bleached white ramie cloth were all used together.
The same exhibit will re-open its doors at the China Hangzhou Cultural & Creative Industry Expo (CCIE) from October 16 to 20. It will be held at a 306-square-meter exhibition hall in Hangzhou, China, as part of the expo's international section.
'Pebbles,' a collection of stone-shaped sculptures, is inlaid with mother-of-pearl by Hwang Sam-yong. "I thought that the Korean crafts exhibit was a successful example that introduced the country's culture to the world, so we decided to host the exhibit in China," said an official from the Hangzhou expo.
After the shows in Milan, London and Hangzhou, the exhibit will travel to Korea for the Craft Trend Fair in Seoul from December 18 to 21.
By Limb Jae-un
Korea.net Staff Writer
Photos courtesy of the Korean Cultural Centre in London
jun2@korea.kr