Incheon Asian Games seen through numbers
The 2014 Incheon Asian Games have much to do with the numbers three, six and nine.
Korea.net would like to take a closer look at the games' 16-day official run, from the opening ceremony on September 19 through to the closing ceremony on October 4, as seen through numbers.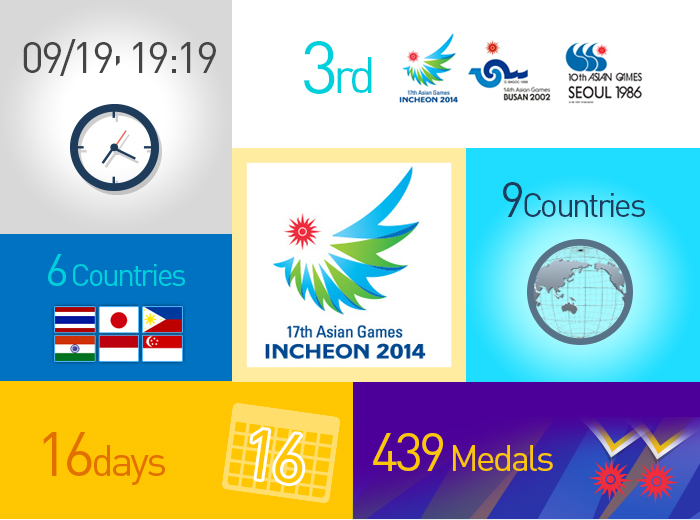 3rd
▶ 3 : The 2014 Incheon Asian Games are the third Asian Games to be held in Korea. Previously, Korea hosted the Asian Games in Seoul in 1986 and in Busan in 2002.
Also, there are three nations participating in this year's Asian Games that have yet to win any medals in any of the previous Asian Games. Bhutan, the Maldives and East Timor are all striving toward their historic first medal.
6 Countries
▶ 6 : There are six nations that have participated in every single Asian Games from the first Asian Games held in New Delhi in 1951 through to the 17th Incheon Asian Game in 2014.
9 Countries
▶ 9 : Out of the 45 nations registered with the Olympic Council of Asia, a total of nine countries have hosted the Asian Games. Thailand has hosted the games as many as four times, Korea three times and Japan and India two times each.
16 days
▶ 16 : The 2014 Incheon Asian Games run for 16 official days, including a Day 0, plus some earlier preliminary days. Details about the games, stadiums and participating athletes are available below.
▶ Size : The games are being held across a total of 49 venues. They were made possible by Incheon City, in cooperation and partnership with nine neighboring cities and regions. Some 16 venues were newly built and in total all the venues together can accommodate more than 62,818 spectators.
▶ Participation : For the first time, all 45 members of the Olympic Council of Asia are appearing in this year's Asian Games. It is being participated in by 9,068 officially registered athletes and 23,000 crew members, managers and staff.
▶ Games : There are 36 sports and competitions, including 15 ball games, such as football and baseball. There are also six sports — including billiards and chess — that were present in the 2010 Guangzhou Asian Games, but which do not appear in this year's events.
▶ 19: The official opening ceremony for the 2014 Incheon Asian Games kicked off at 19:19 (7:19 p.m.) on September 19.
▶ 439: The athletes are vying for 439 medals this year, 37 medals less than in the previous Asian Games held in Guangzhou in 2010.
By Lee Seung-ah, Lee Jeong-rok
Korea.net Staff Writers
jeongrok@korea.kr