'Safe Travel in Korea' published for overseas visitors
To help international visitors enjoy a safer and better trip to Korea, a new travel book, "Safe Travel in Korea," has been recently published.
The book contains a variety of information aimed at non-Korean travelers, helping them to cope with unexpected losses, danger or emergencies during their stay here, from when they arrive until the day they depart.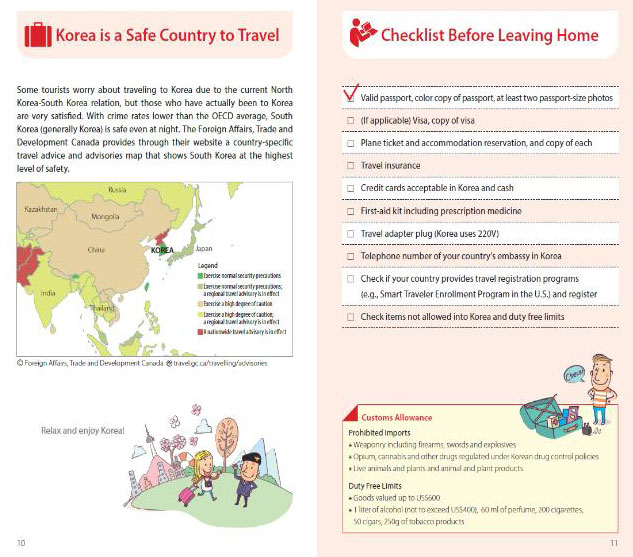 The book introduces essential information to backpackers and business travelers alike, including not only useful telephone numbers, such as the emergency call number, 119, and the Travel Hotline, 1330, but also info about the Tourist Police and the Tourist Complaint Center. It finishes with some useful Korean expressions that can be used when traveling. The book also gives readers a checklist to use before leaving home, tells them how to ask for help at the airport and lets them know how to distinguish a call van from an ordinary taxi. It even has information about how to use public transport, including buses, trains and subways.
Considering the growing number of individual travelers coming to Korea from overseas, the book offers tips for those who travel solo in Korea or in small groups, helping them to enjoy outdoor activities, such as water sports, camping, skiing, going to concerts or shopping.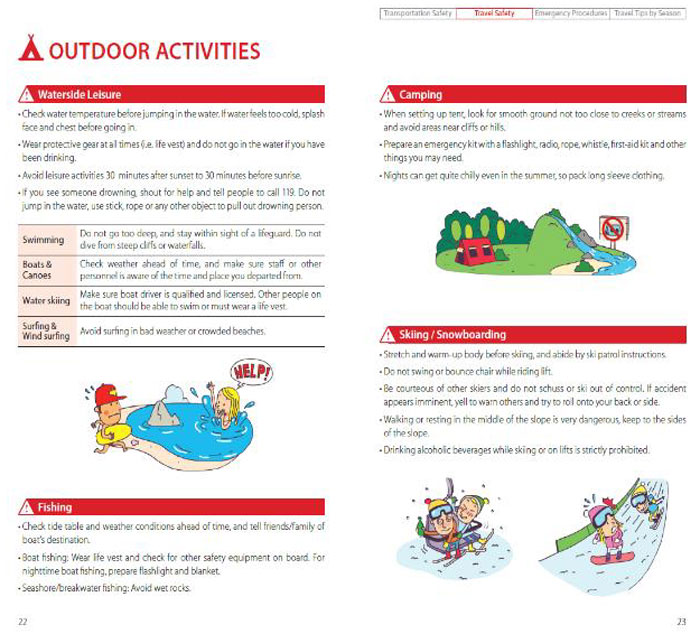 In regard to emergencies where tourists get sick or injured, the book gives readers some useful Korean language expressions that can be used at a pharmacy. It also contains information about a total of 104 hospitals nationwide with their addresses, phone numbers, and languages available or interpreting services offered. The hospitals are located close to tourist attractions and can swiftly provide medical help for tourists. The book provides small cards with the contact information of the hospitals so that readers can carry it along with them. A tourist complaint postcard is also included in the book so that readers can make suggestions or comments to the national tourism bureau.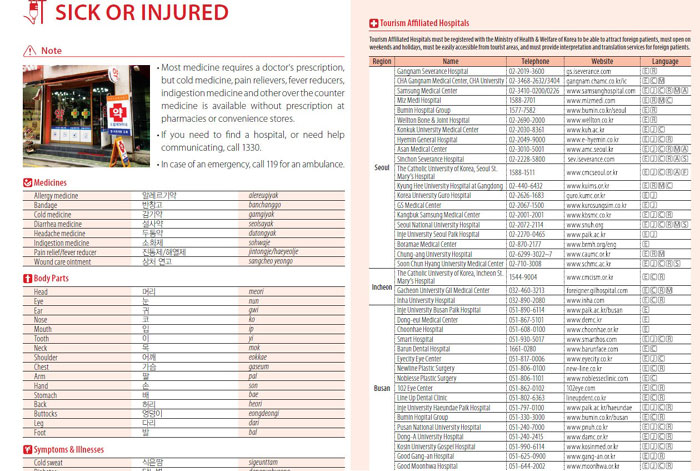 The book also has some tourism tips according to the season. In spring, it recommends that readers enjoy the spring flowers and take advantage of related festivals. It introduces water sports in the summer, hiking to enjoy the autumn foliage in the fall, and ski trips and other winter sports in the winter. However, the book also tells readers to be aware of the so-called "yellow dust" in the spring, of typhoons and heavy rainfall in the summer, how to deal with hiking emergencies in the fall, and warns of heavy snowfall or cold snaps in the winter.
The book is available in English, both simplified and traditional Chinese and Japanese. It is jointly published by the Ministry of Culture, Sports and Tourism, and the Korea Tourism Organization (KTO). It will be available in major tourism information centers and airports, including Incheon International Airport. It will also be placed in all the accommodations prepared for the Incheon Asian Games, which will take place from September 19 to October 4, and the book is also available in the run-up to the major Chinese "autumn tourism week," which lasts from September 25 to October 5 this year.
The book is also available as an e-book at the KTO homepage and can be downloaded as a PDF file.
To visit the KTO homepage, please click https://visitkorea.or.kr
By Yoon Sojung
Korea.net Staff Writer
arete@korea.kr