Sailor Kim Seung-jin ready to enjoy 8 months of freedom at sea
Life cannot be satisfactory with only three meals a day. We need something more important. It is such dreams that drive us to produce our requisite three daily meals. The way in which one follows their dreams is hard and challenging for everyone. Therefore, those who achieve their long-cherished dream tend to look beautiful to the rest of us.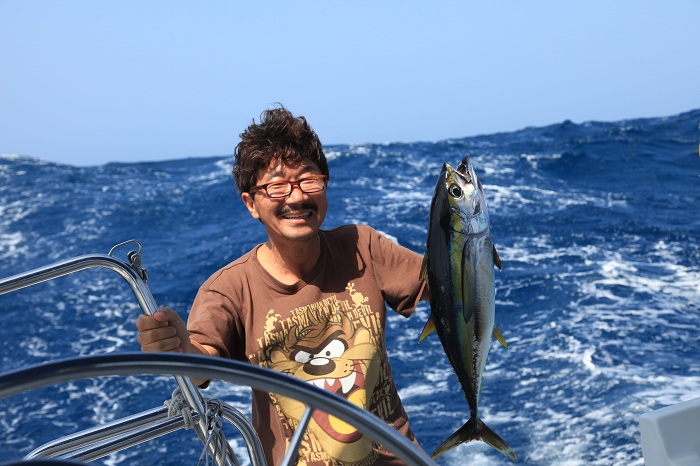 Sea adventurer Kim Seung-jin is one of these beautiful dream-followers. He recently came under the spotlight as he announced his plan to sail around the world. The journey will start on October 18 in his 13-meter yacht, the Arapani, with its 4-meter beam. Kim aims to return to his starting point after eight months at sea.
Kim plans to complete the trip alone, without making landfall at any port and without receiving any type of physical aid during the trip.
Using no electrical or gasoline power, Kim will steer the yacht using only the power of the wind.
Kim's journey will begin on October 18 at the Waemokhang Port marina in Chungcheongnam-do (South Chungcheong Province). During his eight-month journey, he is expected to pass through Saipan, Fiji, New Zealand, across the southern Pacific, around Cape Horn in southern Chile, then to Cape Town in South Africa, across the Indian Ocean and finally through the Sunda Strait between Java and Sumatra and back northward to Korea. In total, he will travel about 41,200 kilometers covering the Pacific, the Antarctic, the southern Atlantic and the Indian oceans, heading ever eastward. He aims to finish the journey at the end of May next year.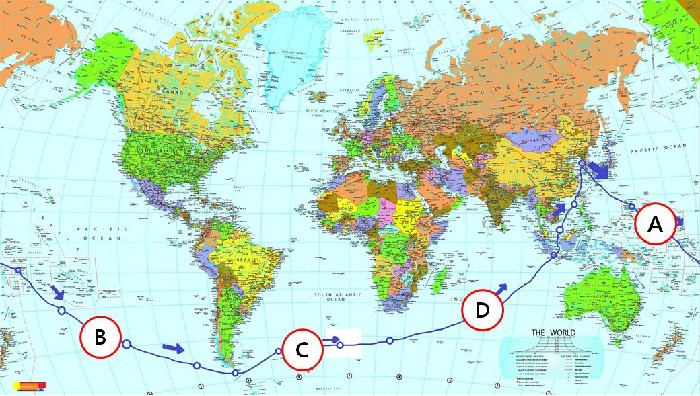 With only about one month remaining before his dream journey, Kim explained to Korea.net a little bit more about his plan.
There were many other sports you could have chosen. Why did you pick yachting?
I enjoy exploring. I prefer adventure instead of trips that make me comfortable or relaxed. I also like activities in water. I learned scuba diving. When I was young, I swam across Hangang River. I have travelled along the Yangtze River in China, too. It's been a few years now since I started sailing. In 2011 and 2012, I crossed about 20,000 kilometers from Croatia to Korea and another 26,000 kilometers from the Caribbean Sea to Korea last year.
The endless, boundless sea instills in me a yearning to explore the unknown world. This made me lay aside, for a time, my megaphone as a documentary producer. It's just amazing that I can make a route for myself.
When did you first want to sail around the world?
About 13 years ago I was in Japan on a business trip. I accidently read a book about a Japanese seafarer who succeeded in sailing across the oceans. I thought that I could do that, too, and that it would be an amazing experience. At that time, I was only in my mid-40s, working hard to make a living. Also, as yachting was something very unfamiliar to me, I needed some studies. Since that time, somewhere in the corner of my mind, I have cherished this dream to make it come true. Finally, I started preparations last October.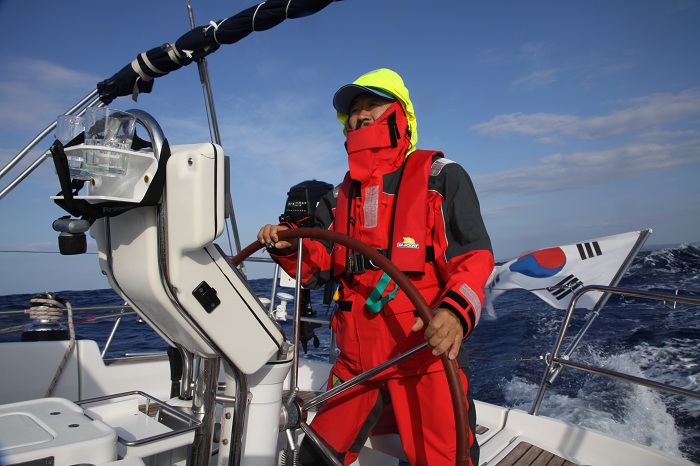 The hardest part of the route will probably be the Antarctic Ocean when you head toward Cape Horn in the south of Chile on your way out of the southern Pacific. Is that correct?
That route was first discovered by ancient Spanish and Portuguese sailors. The area is often called the "Everest of the Sea" for its notoriously tough winds and strong waves.
I will be given weather forecasts by my team via satellite, and each and every moment I'll be required to make decisions as to direction and course. I'm training myself to handle the freezing temperature and strong waves and to gather my strength again after being hit.
The journey might be lonely and dangerous. Why do you have to plunge yourself into such conditions?
The biggest reason is that I enjoy exploring the lesser-known parts of the world. I hope my trip will engage the interest of many more people. I want to be the first person who helps create a new world. It's really a shame that people don't have much access to information and knowledge about yachting. It's a sport with great potential. I hope that my adventure will spark an inspiration in someone's heart.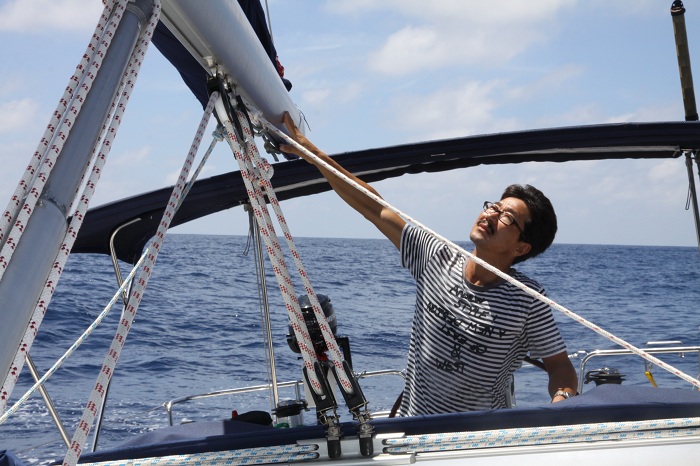 You named your yacht Arapani, which is a sea snail in Korean. What does it mean?
Snails move very slow, but are capable of traveling long distances. They can go anywhere. I thought that was in accord with my sailing plan. I want to travel the whole world at a slow pace.
You are going to begin your journey very soon. How do you feel?
I aim to return in 200 days. It is an important and dangerous task, but to me, it is only the beginning of my sailing activities. This is only the first stone I put on my go board. I will continue to dedicate myself to the development of Korean yachting.
With only a month left before Kim begins his journey, many people are sending him messages of support, hoping for his success and safe return. To do so, please visit his verified Facebook page (https://www.facebook.com/goyacht).
By Lee Seung-ah
Korea.net Staff Writer
slee27@korea.kr