Impressed by Korean's open attitude: Liesbet Ruben
Every year, the National Museum of Korea (NMK) invites a certain number of international curators and museum experts to visit Korea, in an attempt to experience diversity and to share information about their exhibitions. 

This year's first guest has been Liesbet Ruben from the Netherlands. She has been working at the Tropenmuseum Junior, a children's museum in the Netherlands, since it opened in 1975 and has been working in children's education for 37 years. She focuses on youth education programs and on the overall direction of the exhibitions there. 

During a week-long visit to Seoul from July 14 and 19, Ruben offered a series of public lectures and workshops where she introduced the Netherlands' education system, noted for its creativeness and immersive experiences. She also showed an interest in diverse aspects of Korean culture while touring around the country and visiting many symbolic places, including the National Museum of Korea, the National Folk Museum of Korea and the Seoul Children's Museum. 



A day before her departure, Korea.net met with her at the NMK to ask her about children's museums and about her impressions of Korea. 

How would you describe the Tropenmuseum Junior? 

It is the first children's museum in Europe, built in 1975. It provides programs mostly for those aged 6 to 13. We are known for our special interactive and multi-disciplinary exhibitions that actively involve children in the programs. Most programs are offered in a form that combines a variety of elements: theater, music, choreography, cooking, direct experiences and technology. In recognition of these characteristics, Tropenmuseum Junior has been rewarded with a silver medal for Best Exhibition Layout and a bronze medal for Best Program during the recent International Design & Communication Awards (IDCA). 

Amsterdam, where the museum is located, is a multi-ethnic, multi-cultural city with over 178 different nationalities represented in the population. This makes it even more important for us to expose various aspects of world culture to the children living in our region. Our programs are always designed in a way that allows the children to take part and to immerse themselves in the experience. 

What is the key to actively involving youth in the programs? 

It is a children's museum but it never feels childish. The exhibitions are always decked out with real objects and with a real storyline, and the layout is full of life. Recently, we opened a new exhibition called "MixMax Brasil." It wasn't designed so that people could simply walk in and out. They felt that they were part of the exhibition. From the moment they walked into the exhibition, everyone changed into a pair of flip flops, in the traditional Brazilian style, and walked through Mangrove tunnels, listened to traditional music and touched and produced real objects from that nation. The exhibition space is adorned with both traditional and modern elements of the country. 

You are stressing the importance of "learning by doing." Why is that so important? 

If you listen to something, you will forget it. If you see something, you will only remember it. If you do something, however, you will understand it. These are sentences that I happened to learn when we were preparing an exhibition about China. I thought these beautiful three sentences are what we are doing and that they captured our working method. If a child plays or practices music by itself, it can remember better than simply listening to the music. The same applies to handicrafts. If you produce something with your own hands, you will be able to see it from a different perspective and will be more attached to it.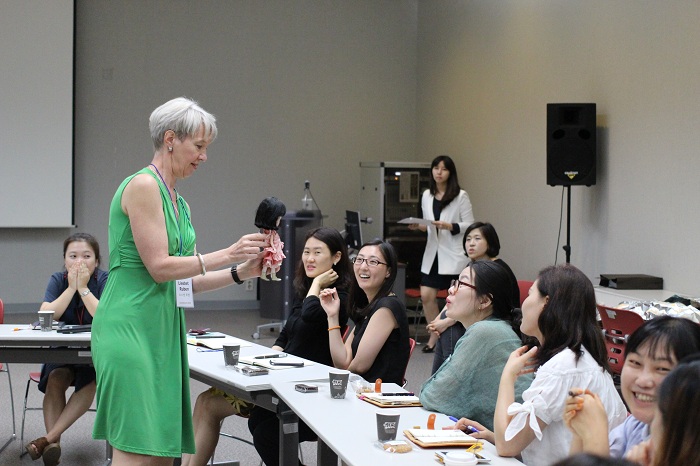 These days, children in Korea, the Netherlands and everywhere else are busy with screens, cellphones, televisions and computers. It is very individual. Even if they can play video games with their friends, it is still an individual activity. In early childhood, it is critical for them to have shared physical experiences in groups. Museums should be a place apart from their home or school. They should be a space where children can travel and learn. 

How long does an exhibition last?

The research and preparation for an exhibition takes about two years and the exhibition itself continues for two and a half years. A year into an exhibition, we start thinking about the next exhibition. After 2.5 years, the whole exhibition is closed for 3 to 4 months during which we prepare a new design and train our staff. 

What do you plan to present in 2015? 

We will showcase an exhibition about Morocco starting in October 2015. I have visited the country three times this year and we are working on the concept, items, programs, activities and designs. 

What is your biggest challenge?

It is always hard to find a good source of good activities. A good activity is one that utilizes real materials and that is well related to an intriguing storyline that can invite children to participate in the activity. The importance of a constructive story can never be overlooked. If you tell a story about separated individuals that have no connection to each other, it is more than obvious that you will forget about it soon enough. We want to give children the whole picture of the story and explain the detailed roles to them so as to make it more memorable and to help them better understand the whole concept and meaning of it all.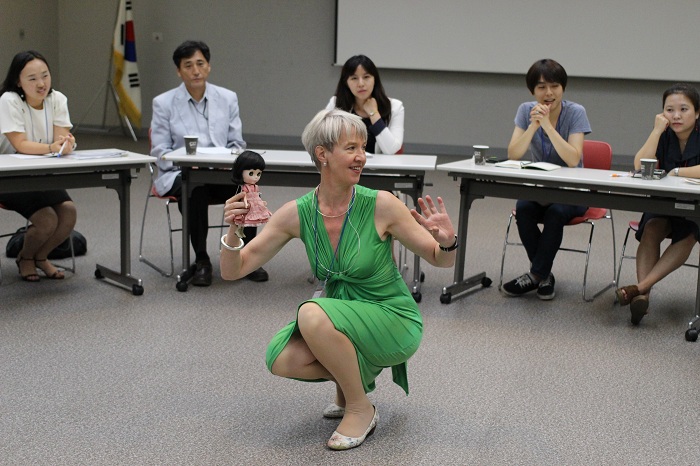 In addition, we try not to use too much modern technology, such as touchscreens. It is more important to share and stimulate emotions. 

How did you feel about Korea's children's museum? 

It was really well done. I saw them work very well. Students were actively involved and the museum teachers were doing very well, too, to keep the children active in what they were doing. However, if I have to give you a piece of advice, the space still seems like a classroom. They were sitting on chairs at a work desk. It would be much better if the space could combine more artistic elements or reflect some theatrical aspects. I think it is the role of a museum to put children in a different environment and a different world. 

What's your impression about Korea? 

I have been inspired by a lot of things over the past few days. I am really motivated to put together an exhibition about Korea. The country is rich in history and tradition. I was impressed by the ancient king's crown and belt, as well as the gigantic statues of Buddha dating back to the Silla Kingdom, all on display at the NMK. The people of Korea are good at preserving their ancient artifacts. On the other hand, they are also good at developing a new, modern culture, too. Korea is a country that mixes traditional and modern elements in great harmony. 

Being here, I fell in love with Korean food. I took photographs of every meal. Everything was a new surprise. It started on the airplane where I tried bibimbap. I loved rice wrapped in lotus leaves, kimchi and other side dishes, black noodles, cold jellyfish and savory pancakes with seafood and vegetables. If I could make an exhibition about Korea, it would surely be about its food and the art of cooking. 

Overall, how have you enjoyed the invitational fellowship program?

Korea is an open country. Many people would think that they are already doing as well as possible. It's a wonderful idea to invite professionals from outside to inspire oneself. It is such a good attitude to welcome and accept new inspirations and ideas. 

This trip has been a great experience for me personally, too. It has given me some questions about my own work and I can reflect upon things I should see and do differently when I get back home. 

By Lee Seung-ah
Korea.net Staff Writer
slee27@korea.kr