Ancient king comes to light after 1,500 years
In 1921, during the routine upkeep of a local resident's home, a golden crown, or geumgwan, and numerous associated relics were found in Gyeongju, Gyeongsangbuk-do (North Gyeongsang Province), the ancient capital of the Silla Kingdom (57 B.C.-A.D. 935). 

This was the first-ever discovery of such Silla era historical remains, and the tomb where the relic was unearthed has since been known as "The Geumgwanchong Tomb." 

During the conservation treatment of one of the artifacts, an ancient ring-pommel sword, the National Museum of Korea discovered the words "King Isaji" engraved on the scabbard. The sword was unearthed at the Geumgwanchong Tomb. It was the first such discovery of a name carved into a weapon, a name that has never been found in any other ancient document or epigraph.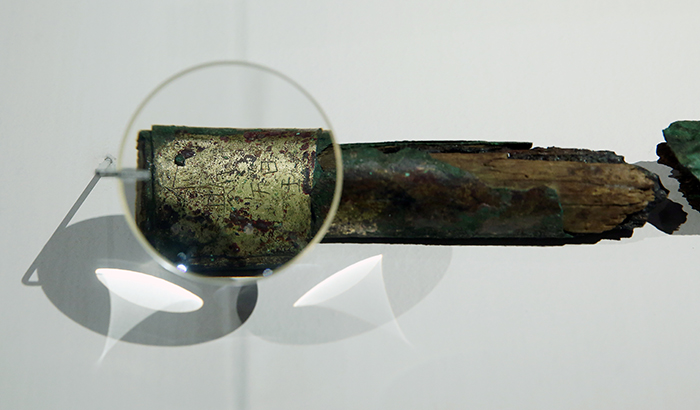 In honor of these findings, on July 8, the museum inaugurated a new exhibition, "The Geumgwanchong Tomb and King Isaji" exhibit, to reveal for the first time the engraved blade. 

The exhibition explains the archeological survey of the tomb and the process of discovering the sword. In particular, original documents from 1921, which have been kept at Kyoto University in Japan, are also on display for the first time here at home. The documents give a glimpse into the way in which records were written and what Japanese researchers focused on while surveying the tomb. 

At the center of the exhibition, there is a visual reproduction of the excavation process that took place at the Geumgwanchong Tomb. Also in the exhibition, the ring-pommel sword of King Isaji and other relics from the tomb are shown to the public. 

There is also a decorative bronze brazier, presumably from the Goguryeo Kingdom (37 B.C. – 668 A.D.), and harness fittings for a belt made out of cone shells, a kind of conidae, or sea snails, that inhabit some Japanese islands. The findings provide convincing evidence of the trade that went on between Silla and the ancient Japanese kingdoms.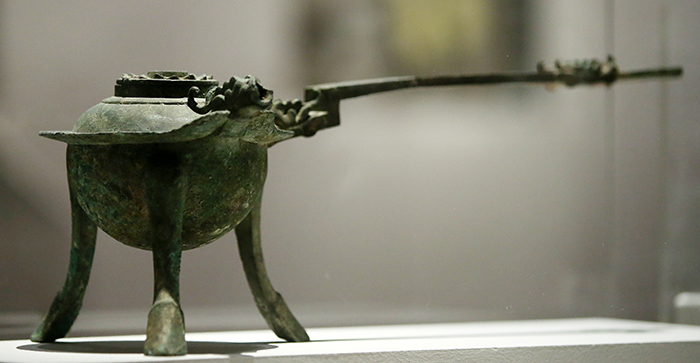 The exhibition is of significance because it gives a brief introduction to the discovery and archeological surveys that took place early in the 20th century at the Geumgwanchong Tomb, one of the lesser-known burial sites. 

The exhibition also brings together historical treasures excavated at the tomb, treasures that have long been scattered and exhibited separately across the nation. It offers, in particular, a rare look at the long-undiscovered sword inscribed with the name of King Isaji. 

The "Geumgwanchong Tomb and King Isaji" exhibition continues until September 28 in the Thematic Exhibition Gallery, in the Medieval and Early Modern History Section, at the National Museum of Korea. 

By Wi Tack-whan, Sohn JiAe
Korea.net Staff Writers
whan23@korea.kr