Reality TV shows come under global spotlight
Korean reality TV shows are attracting a growing amount of interest from international fans. It was the traditional perception of the media that, unlike soap operas and K-pop music that help people communicate via melodies, rhythm and subtitles, reality programs would not so easily connect to international audiences in terms of understanding and empathy. 
However, those concerns have slowly faded away and a new trend is emerging. In other words, there is an increased number of foreigners who are learning Korean language and taking an interest in local social trends. 
The international fans of the nation's TV shows are mostly Chinese. They have broken the perception that restrictions on the use of YouTube on the mainland would be a barrier to watching those kinds of Korean programs. They are not using YouTube, but instead sourcing programs from some local video providers such as Youku and Tudou. 
One of the most popular programs in China is "Daddy, Where Are You Going" aired through MunHwa Broadcasting Corporation (MBC), a show that has earned rave reviews in Korea as well. In the not too distant past, the image of "dad" was associated with scenes of having a mid-day nap for the whole weekend and recovering from the fatigue accumulated during weekdays.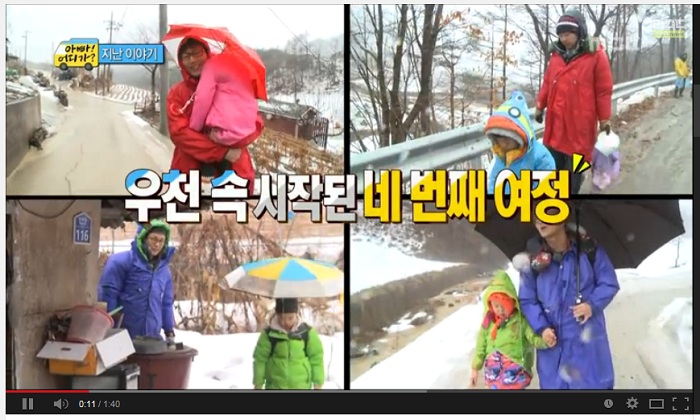 With this new TV program, however, "dad" is being re-defined in Korea. "Daddy, Where Are You Going" features a group of male celebrities in their 30s and 40s traveling around the nation or sometimes abroad with their kids on a trip for at least two days. It shows them eating, sleeping, washing and playing games together. In one episode, a dad and his daughter are squabbling about what to wear because the girl wants to wear light clothes in cold weather. In another episode, the dad desperately shows his sleepy eyes but his kid wants to keep playing. Such everyday, but empathetic scenes keep winning popularity among both domestic and international fans. 
Riding on this success, the Chinese-based Hunan TV has imported the exact same format of the program. The title has been copied too, to "Pa-Pa-Qi-Nar," the Chinese translation of "Daddy, Where Are You Going." It has been airing in China since last October, and has met with unexpectedly high viewership with an average of 4.3 percent and a maximum of 5.67 percent. It's indeed an amazing record in China where programs that see above 1 percent viewership are considered successful. After that, "Pa-Pa-Qi-Nar" was re-produced into several other mediums including a mobile game and a movie, and raking in record-high sales. Today, Hunan TV is planning Season 2 of the program. 
"Daddy, Where Are You Going" is not alone in coming under the global spotlight. There are many popular TV shows including "Flower H4," featuring four Korean actors with an average age of 75 backpacking across Europe, and "Flower Sister," season two of the same program that sticks to the same concept but with actresses. The two programs have been exported to several countries including Taiwan, Hong Kong, Japan and China. Another popular program is "We Got Married," themed on the marital life of four groups of two celebrities, paired up as couples, being assigned certain missions each week and having candid interviews that reveal their feelings at each moment. Also, "I Am a Singer," a singing competition program, has been re-produced in Chinese too. In this show, seven veteran singers perform on a stage for a selected audience who vote to eliminate one singer every week. As such, the popularity of TV shows is not limited to specific genres or formats. 
Seoul Broadcasting System (SBS) produces a variety program "Running Man" that has also been given a great deal of attention by several Chinese broadcasters. The cast, who include MC Yoo Jae-suk and some other celebrities, need to complete games or competitive missions each episode and escape from where they are by the next morning. It is fun to peek into the witty behaviors of the celebrities in those dynamic situations. 
The popularity of "Running Man" in Asian regions has been well known. All the cast and crew have felt that sentiment while shooting special episodes in Vietnam, Thailand and Malaysia. A countless number of local fans were said to have flocked to the filming locations and shared photographs of the cast through social network sites in real time. 
ZheJiang Satellite TV has recently made an agreement with SBS on the co-production of a Chinese version of "Running Man." SBS plans to pass on the format as well as production know-how. The Chinese version is said to have finished its line-up, raising the expectations of local fans as the celebrity cast members get introduced via various SNS channels. The first episode is set to be filmed this coming August. 
It's expected that there will be more Korean consulting, participation in production and sharing of know-how, in the reality TV shows of the future. 
By Lee Seung-ah 
Korea.net Staff Writer
slee27@korea.kr