LG Display unveils flexible, transparent OLED displays
A display panel is rolled up like paper. It is also as transparent as glass. This is not a scene from a movie any more. 
In a world's first, LG Display has unveiled both an 18-inch flexible Organic Light Emitting Diodes (OLED) panel and an 18-inch transparent OLED panel, on July 10. 
Unlike the existing, smaller flexible liquid crystal display (LCD)-based transparent display panels, these are OLED-based display panels. These are so far the world's largest in size and have a high-definition class resolution of 1200 X 810 with almost 1 million mega-pixels. 
The newly developed flexible OLED can be rolled up to a radius of 3 centimeters without affecting the function of the display. This means that rollable televisions larger than 50 inches can be developed in the future, LG Display explained. 
Flexible display technology can take the form of a series of development processes — "bendable," "rollable" and "foldable" levels. If the "foldable" level of technology comes true, users can fold or crush display panels like paper and put it inside their pockets or in small bags.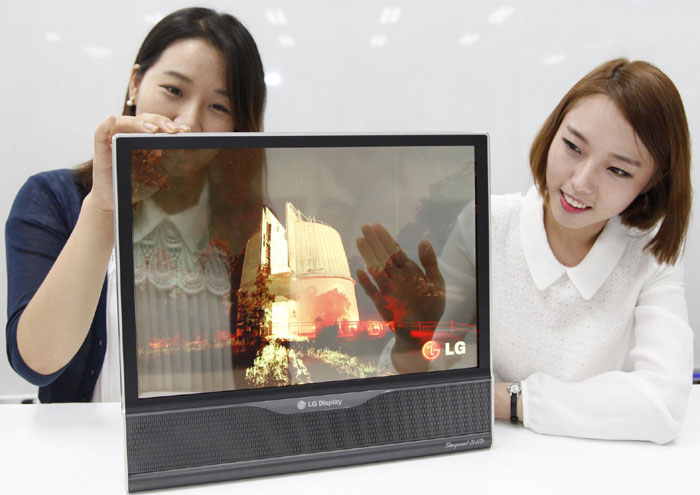 LG's newly introduced transparent OLED panel generates 30 percent transmittance, thanks to the firm's own transparent pixel design technology. The existing LCD-based display panels generate 10 percent transmittance. LG Display has also lowered the haze of the panel, which is generated by using circuit devices and film components to a level of 2 percent. 
By Yoon Sojung
Korea.net Staff Writer 
arete@korea.kr