'Yeowoorak' festival blurs musical boundaries
These days, "collaboration" efforts have become the key factors for success in every field, factors that lead to something "new" and something "novel." Music is no exception. 
There are collaborative activities going on across many genres of music. One good example is the ongoing musical festival, "Yeowoorak," which is an abbreviation of the Korean sentence, "Yeogi Woori Eumagi itda" meaning, "Our music is here." 
Kicking off on July 4 at the National Theater of Korea, the festival is now in full swing. Its main goal is to mingle traditional Korean music gugak with a wide range of musical genres, such as classical music and jazz.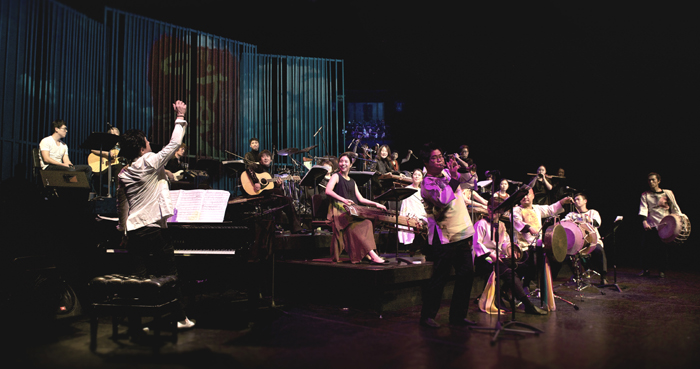 Marking its fifth run, the three-week festival brings together musicians whose music is rooted in traditional tunes, and at the same time, embraces elements of global music. 
"As we get more musicians in this festival and get more different genres clashing with each other, our music,gugak, will expose more beautiful facets of itself," said CEO Ahn Ho-sang of the National Theater of Korea. 
The festival will continue until July 26 and features ten different performances by a total of 101 musicians. If the four previous runs focused on reinterpretations of existing works, this year's one will present new pieces. 
As the opener, well-known crossover pianist Yang Bang-ean, the director of the festival, raised the curtains for the show as he performed together with 20 other domestic and international musicians on July 4. They included members from the fusion gugak group Noreum Machi, Sonagi Project, the gugak band Aux and also musicians from Japan and the U.S. 
During their collaboration, tunes generated on the double-reed wind instrument taepyeongso, large bamboo flutedaegeum and smaller sogeum, met with the sometimes electrifying, sometimes dulcet sounds from the electric guitar, drums and piano. The result was music with a new, distinctive color. 
"It is a joint performance by musicians from various genres. It's centered on the tradition of Korean music," said pianist Yang Bang-ean. "You listen to very fascinating, powerful music here, music that, I think, you've never heard of. The music we play here will strike the chord with every audience member, I am sure." 
On July 19 and 20, there will be another huge crowd-pleaser with the rendezvous of singer Han Seung-seok, who specializes in pansori, a form of traditional narrative singing, and pianist Jung Jae-il. 
First-time participating musicians will also be on stage. For the July 15 and 16 stats, free jazz saxophonist Kang Tae-hwan will perform along with six-stringed zither-like geomungo player Park Woo-jae. Other performances to be featured are collaborations among young traditional singers, and between guitarist Choi Hee-sun and the Koguryu Band, a band known for combining rock with the traditional folk song Arirang, as well as one between two gugakgroups, 2nd Moon and Coreyah.
The highlight of the festival is the last performance on July 26, where all the musicians perform together, as the curtains come down. 
More information about the festival can be found at the website below.
https://www.ntok.go.kr/english/  
By Sohn JiAe
Korea.net Staff Writer
jiae5853@korea.kr