Korean, Chinese leaders attend special lunch, economic forum
President Park Geun-hye held a special lunch meeting with Chinese President Xi Jinping, who was on a state visit to Korea, together with First Lady Peng Liyuan, at the Korea Furniture Museum in Seongbuk-dong, Seoul. 
This was a reciprocal lunch meeting, since President Xi arranged a special lunch for President Park during her state visit to China last year.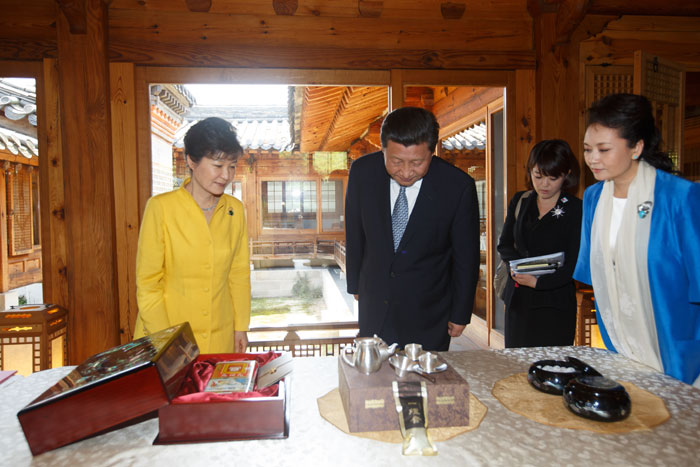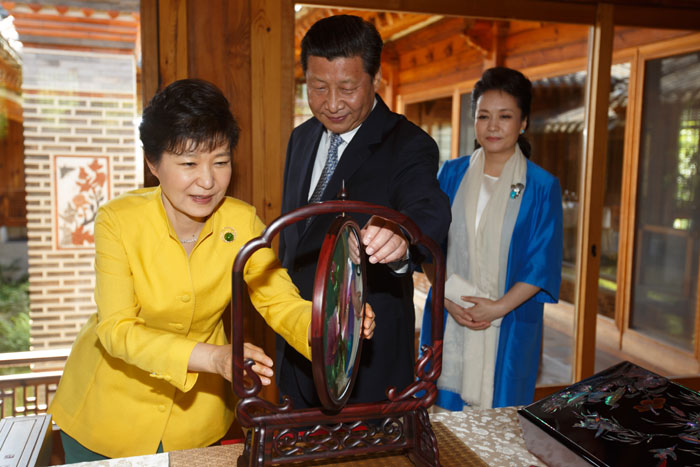 President Park, President Xi and First Lady Peng looked around the museum and learned about the traditional hanok building and traditional furniture of Korea. President Park then offered gifts to President Xi and his spouse. 
The gifts offered to President Xi were a silver cloisonné tea set, some red ginseng of the highest quality and go stones inside lacquerware containers inlaid with mother-of-pearls. President Xi is known for his love of playing go and expressed gratitude by saying, "Thank you very much for the precious gifts," while touching some of the go stones.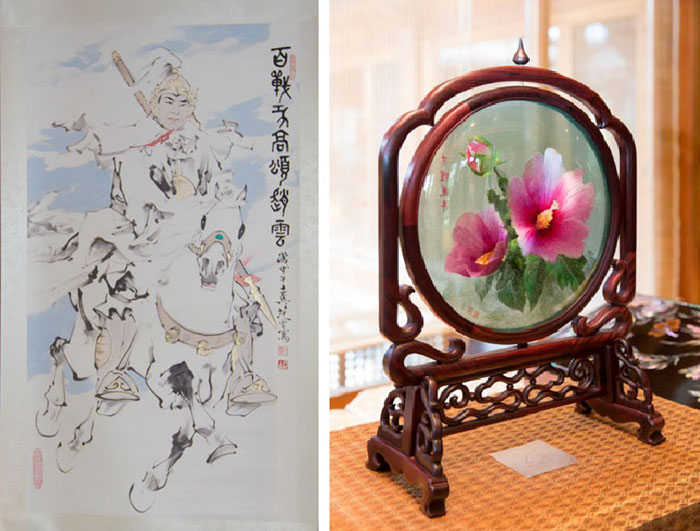 The Chinese leader offered President Park a glass piece decorated with roses of Sharon, First Lady Peng Liyuan's autographed albums and a portrait of Zhao Zilong (unknown~229), a well-known Chinese military general who lived in the late Eastern Han dynasty and early Three Kingdoms period. President Park once said in her autobiography that Zhao Zilong was her "first love." 
During the lunch, President Xi and First Lady Peng expressed their love for Korean doenjang jjigae, a soybean paste soup. First Lady Peng mentioned that she even cooked kimchi and tries to find better recipes of it. 
Later that afternoon, Presidents Park and Xi attended the Korea-China economy and trade cooperation forum in Seoul to emphasize bilateral cooperation. This is the first time since the establishment of the Seoul-Beijing diplomatic relationship that both leaders have attended such a forum together.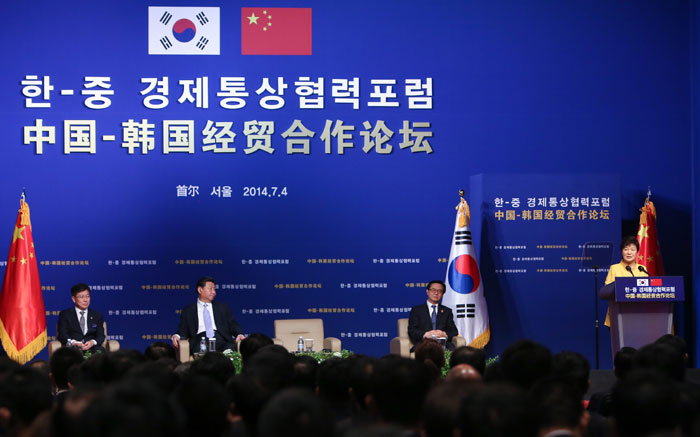 President Park said in her keynote speech that the volume of bilateral economic trade has been gradually expanding. 
"China has become Korea's largest trade partner and Korea has become China's third largest trading destination. The two countries need a leap forward in order to achieve a greater level of cooperation and common growth based on the outcomes they have achieved over the last 20 years," said President Park. 
"To this aim, both countries need to diversity the range of cooperation to services, energy and newly emerging industries from the existing manufacturing sectors. The two countries also need to expand the level of market opening and build a more stable trade environment through the Korea-China free trade agreement," she said. 
President Park also said that both countries need to consider ways to collaborate on Korea's Eurasia Initiative and China's "New Silk Road Vision." In the "Eurasia Initiative," Korea envisions expanding the amount of exchanges taking place in all sorts of areas: in logistics, resource development and new industries, as well as cultural and people-to-people exchanges based on the transport and communication networks that connect Europe and Asia. "If the Eurasia Initiative can link to China's 'New Silk Road Vision,' China will play a bridging role that will connect Northeast Asia, Central Asia, the Middle East and Europe, which will thus make the influence of both countries even greater," said President Park.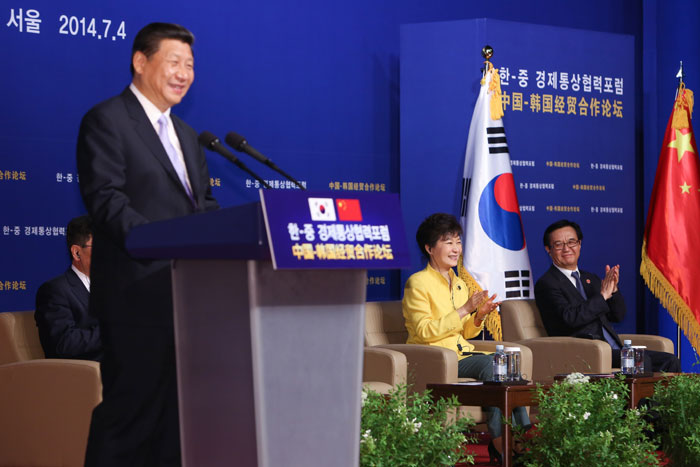 In his speech, President Xi reciprocated, saying that the Bank of China was selected as the clearing lender for the yuan based on the agreement to build a direct trading market between the Korean won and the Chinese yuan. He also proposed the building of a free trade zone through the FTA in order to bolster economic and trade cooperation between the two countries. 
President Xi also expressed hope for strengthening economic cooperation in the long term for sustainable growth. He further proposed to deepen cooperation in trade, finance and international relations. 
By Yoon Sojung 
Korea.net Staff Writer
arete@korea.kr