Festival brings together Korean, Polish culture
Starting early in the morning on June 21, the Agricola Park in Warsaw was crowded with people. They were there waiting for the Korea Festival 2014.
These Warsaw citizens visited the festival, co-hosted by the Korean Embassy in Poland and the Korean Cultural Center Warsaw, in order to mark the 25th anniversary of diplomatic relations between Korea and Poland.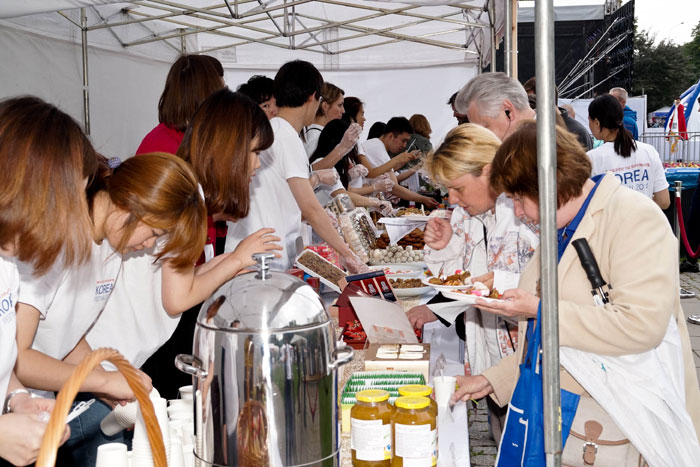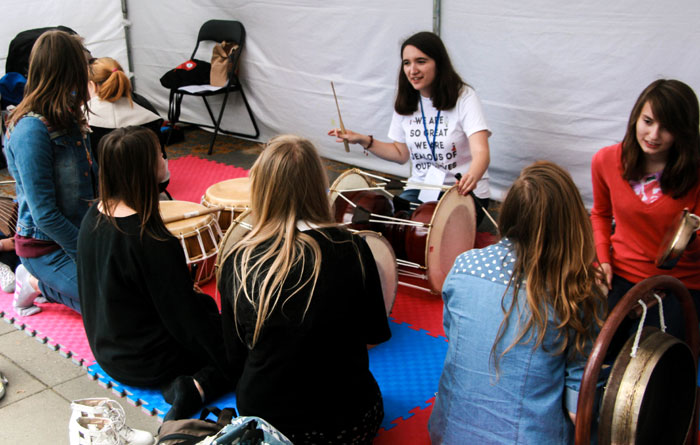 Festival visitors got to try Korean food items, such as kimchi, bulgogi, a style of marinated beef, jeon, a Korean style of vegetable pancake, and tteokbokki, rice cake seasoned with chili paste, all offered by the Korean embassy. They looked around the booths which introduced Korean agricultural products as well as seafood, like ginseng, jujube, dried seafood and traditional liquor and tea varieties, and even purchased some Korean food products. 
Visitors were able to experience Korean culture by learning some moves in taekwondo, a traditional Korean martial art, trying on some Hanbok, traditional Korean clothes, and making tal, traditional masks, and even by singing at anoraebang, or a Korean style singing room. Korean films were screened and Korean craftworks captured the crowd's attention. Promotional booths for Korean firms, including Samsung and LG Electronics, and Hyundai and Kia motor companies, also attracted festival goers. 
Warsaw residents show off their names written in Hangeul at the Korea Festival 2014. (photo courtesy of the Korean Cultural Center Warsaw)
The festive mood peaked when SOREA Band, a five-member girl group, performed their modernized gugak, traditional Korean music, on stage with a troupe of B-boy dancers during the "Feel Korea, Taste Korea, Discover Korea!" event. 
A Hanbok fashion show caught the eyes of festival visitors, as the show presented traditional Korean royal costumes and wedding gowns by master designer Lee So-Jeong. Members of the Polish traditional dance troupe Boczki Chełmońskie, a popular group that the Korean embassy invited to the event, and a delegation of official Korean cultural promoters, also participated in the show, which featured traditional clothing from both Korea and Poland. The performers from both countries sang well-known folk songs from each country, such as "Szła dzieweczka" and "Arirang," which contributed to promoting friendship between the two nations. 
The Korean Embassy in Poland said, "This festival can help boost cultural exchanges between our two countries, raise understanding of each other and enhance our friendship." 
By Yoon Sojung
Korea.net Staff Writer 
arete@korea.kr