Evolution of noodles: naengmyeon, bibimmyeon
Hot, humid summer days make everyone exhausted. So people look for special summer treats, dishes that can stimulate their lost appetite and make them feel refreshed, all while avoiding the heat. 
Some of the more popular summer menu items in this regard are noodle dishes that are served cold. Especially in summer, naengmyeon, cold noodles served in a chilled broth, or bibimmyeon, mixed noodles with a spicy paste, enjoy great popularity for this very reason. Many variations of these noodle dishes can be found in shops across the country, so customers can find their own tasty summer dish. For those who are more conscious about health, some noodles are made with less salt while still maintaining their taste and have fewer calories in order to help people control their overall health. 
Cold noodles can be divided into two categories: dried noodles and refrigerated noodles. Both kinds need to be cooked in boiling water, but dried noodles take about 3 minutes whereas refrigerated noodles need only a relatively short time of 40 to 50 seconds. In terms of storage, dried noodles can be stored up to six months at room temperature while refrigerated noodles need to generally be consumed within three months. 
[Naengmyeon] 
Naengmyeon can be divided into two kinds: mulnaengmyeon and bibimnaengmyeon. Mulnaengmyeon is a dish of cold noodles served in a chilled broth. Not only Koreans, but people everywhere love the dish when it is served with a thin coat of ice, pieces of beef, slices of pear, dongchimi, a style of kimchi, and a few drops of mustard sauce. 
Another naengmyeon variety, bibimnaengmyeon, is a bowl of cold noodles mixed with a spicy dressing made primarily of gochujang, or red chili paste, and is eaten all mixed together. The dressing usually is hot and spicy and has a slightly sweet flavor. This noodle dish tastes better and richer when served with a few drops of sesame oil, pieces of thinly sliced vegetable and pieces of meat.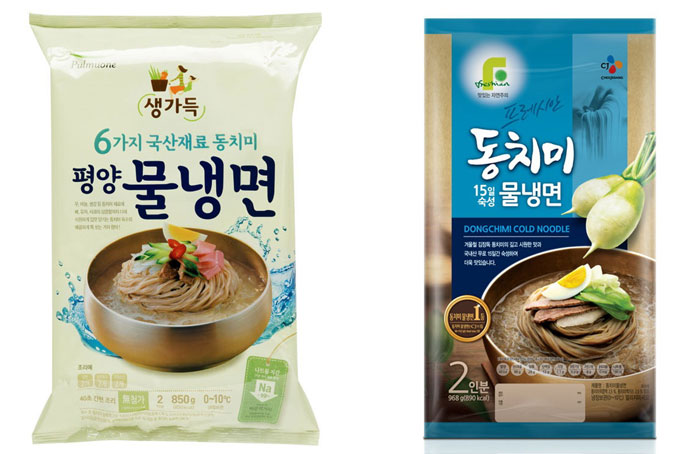 In supermarkets or retail stores, customers can find naengmyeon produced by noodle makers such as Nongshim, Pulmuone, CJ and others. In the case of Nongshim, one of Korea's largest food manufacturers, the firm launched its naengmyeon brand, "Doongji Cold Noodle," in 2008. Since then, the firm has introduced three flavors ofnaengmyeon: mul, bibim and taepung naengmyeon. Nongshim exports many of its naengmyeon products to Asian countries, including China and Japan. It has its own factory in the U.S. and has been trying to expand its reach by gaining popularity in the U.S. and Australia.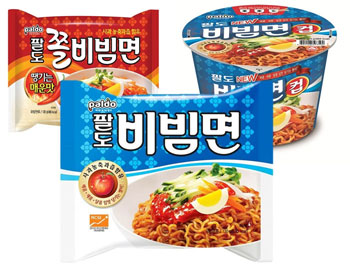 [Bibimmyeon] 
Another summer noodle specialty, apart fromnaengmyeon, is bibimmyeon. Unlike naengmyeon,bibimmyeon is not served in a cold brine. To cookbibimmyeon, the noodles need to be cooked in boiling water and then rinsed in cold water, as the dish is served chilled with a hot and spicy paste mixed with pieces of vegetable, a boiled egg and so on. The paste is sweet and spicy as it is made from chili paste, apple or even honey concentrates to add more flavor. 
"Bibimmen" is a brand of bibimmyeon produced by Paldo. A total of 0.8 billion units have been sold since the brand's first launch in 1984, recording accumulated sales worth some KRW 350 billion. Paldo has been exporting "Bibimmen" to nearly 30 countries, including the U.S., Canada and Australia. 
[Noodles for health] 
Despite the desire to enjoy noodle dishes, some people raise concerns about consuming high calories and a large amount of sodium. Some consumers also look for other varieties of cold noodles rather than naengmyeon orbibimmyeon. To meet such consumer needs, companies have introduced noodle products that focus on the health and well-being of the customers. These firms make noodles with less sodium in the paste and brine, and add various food ingredients, like konjac, or devil´s tongue jelly, to reduce the number of calories. 
These firms have also introduced various cold noodle products, such as jjolmyeon, memil soba and kongguksu.Jjolmyeon is a type of Korean noodle that has a very chewy texture and which is made from wheat flour and starch. Memil soba noodles are made from buckwheat flour. Kongguksu are soybean noodles served in a soymilk-based broth. All of these noodles have one thing in common: they need to be cooked in boiling water and then served in a chilled broth with slices of vegetable and other food ingredients as per the individual's choice. 
Some of these noodle brands include "Beauty Calorie Noodle," made by Chungjungone. The caloric intake of these processed noodles is on average 160 kcal. This is one third that of cold noodles, which normally range in the 485 to 500 kcal range. Chungjungone offers four kinds of "Beauty Calorie Noodle" cold noodle brands:mulnaengmyeon, bibimmyeon, kongguksu and memil soba. 
In the past, people used to regard noodles as being only bowls of noodles in a hot, spicy, red broth. These days, however, companies have broken such prejudices and allow people to enjoy the pleasant taste of chilled noodles. Cold noodle flavors continue to evolve in order to meet the various demands of consumers, who seek out both taste as well as health during the summer months. 
By Yoon Sojung 
Korea.net Staff Writer 
arete@korea.kr