Food Tourism 9: Jejudo Island
Jejudo, Korea's largest island, is just over 1,800 square kilometers, about the size of Mauritius or Maui. The oval-shaped island stretches over 73 kilometers from west to east and 31 kilometers from north to south. It boasts an amazing natural vista, being home to more than 2,000 types of flora and fauna. Also, with its unique local delicacies, the island is widely regarded as one of the best travel destinations for domestic and international travelers alike. 
The volcanic island, formed some 2 million years ago by the eruption of Hallasan Mountain, is known for its unique and beautiful topography and geography. One of its common features is basalt rock, a tough and igneous volcanic rock, that is found everywhere across the island, covering more than 90 percent of the land. The black stone, characterized by holes and its tensile and cohesive qualities, can even be found in stone walls around residential neighborhoods, one of the most familiar scenes of the island. 
The island has much more to offer, including the Jusangjeolli Cliffs, a set of six rock pillars along the coast shaped into hexagons. It was formed when the lava erupted into the sea. There is the Seongsanilchungbong, a gigantic bowl-shaped volcano crater, the Manjanggul Caves, the world's longest lava tunnel, and the CheonjiyeonWaterfall that falls through a rich green forest and spectacular rock formations to plummet into the ocean.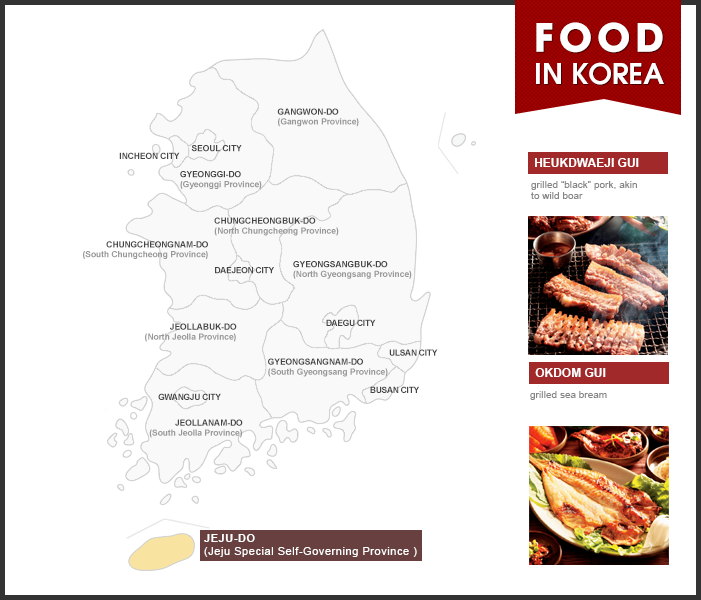 Jejudo is humid, windy and has a monsoonal and subtropical climate. It maintains an average year-round temperature of 14 degrees Celsius or so. 
The climatic and geographic features created a region-specific cuisine and culture, luring tourists who are thirsty for something new.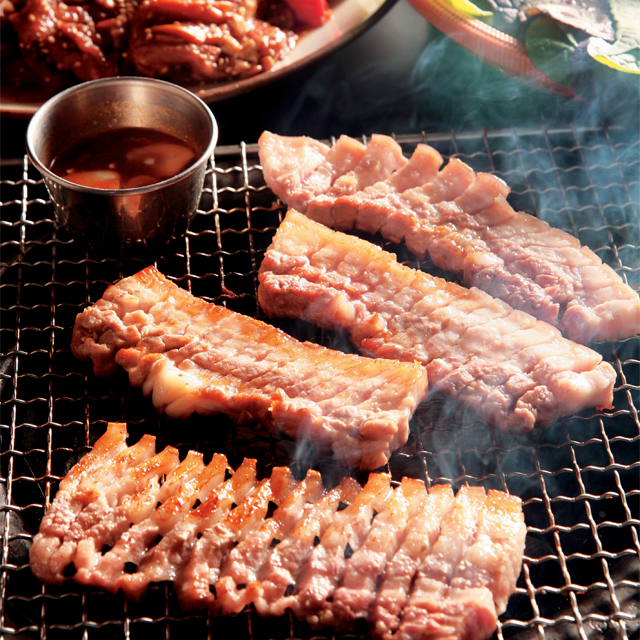 Heukdwaeji gui is grilled "Black Pork."
If asked about a must-eat dish from Jejudo, many people would think of grilled "black pork," a pork dish that originated on the island. The native Jeju boars with shiny black fur have successfully accustomed themselves to the island's nature and climate. Although slightly smaller than boar species in Europe, the island's boars tend to be more resistant to disease and are great in taste. 
The so-called "black pork," when compared with other types of pork, is more tender and chewy due to its fine muscular fibers and because the fat is evenly spread across the meat. It is also a bit thicker, giving more juice. The meat should be grilled on a pan and goes with various types of vegetables and sauces.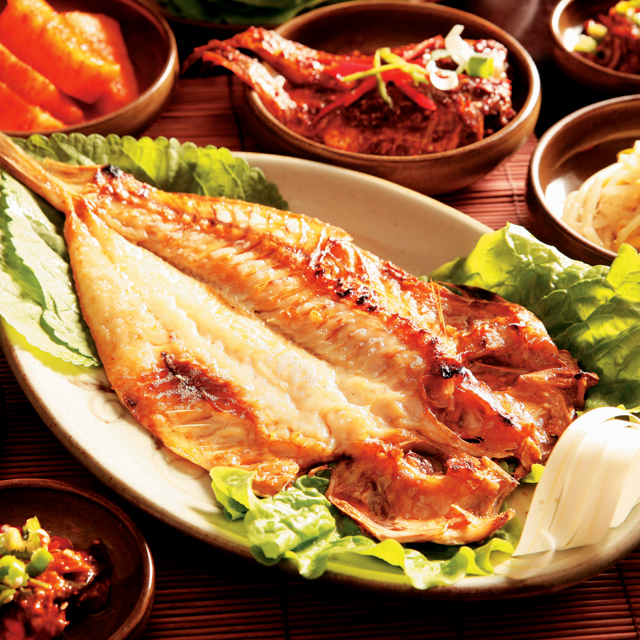 Okdomgui is grilled sea bream. 
The red tilefish (Branchiostegus japonicus), or okdom in Korean, is one of the most beloved fishes of Jejudo. Until the 1970s, when a customer simply asked for "fish" at the market, it typically meant that he would receive some red tilefish. It has been one of the must-have cuisine items for special occasions, such as parties or ancestral rituals, as well as a special dish for kings during the Joseon Dynasty (1392-1910). 
Red tilefish, however, are hard to catch, since its habitat is deep in the ocean. It was rarely available to the general public. When the nation was struggling with poverty and it was hard to get either meat or fish, people used to boil it into a soup. With only a small amount of fish, people were able to feed their entire family. 
As fishing skills gradually developed, people on the island were able to get more and more red tilefish and enjoy it in various ways. They could now eat the fish raw, or boil it into a soup or porridge. Grilling, however, is the best way to feel the fish's great taste.
Dried under the sun and the wind of the island, tilefish were placed on a grill for cooking with an additional drop of sesame oil for taste. It was moist, soft and delicious. A piece of grilled tilefish went perfectly with a bowl of steamed rice. 
(All food images courtesy of Korea Tourism Organization)
By Lee Seung-ah
Korea.net Staff Writer 
slee27@korea.kr