Hand motions can control smart devices: scientists
The image of a map on a big screen moves when a person opens her hand or closes it into a fist. The user can select and enlarge the image, and even control a cursor on the screen, by moving her hands about. 
This is no longer a scene from a science fiction movie. The Electronics and Telecommunications Research Institute (ETRI) introduced so-called "wearable gesture technology" that can control smart devices with hand motions. Focusing on changes and muscle movements of the wrist, the researchers successfully developed a new technology that can sense hand motions and interpret each motion as data. 
The technology accurately senses changes in muscle movements of the wrist, such as contraction or relaxation, and saves each motion as data, transforming it into a command to control the smart device. When a user wears a smart watch on the wrist and moves her hands, each of the hand and finger motions is detected by a special sensor and transformed into an ultraviolet signal. These signals are then transmitted to the smart device. The user can turn on the wrist watch-shaped smart watch or even answer the phone by simply making a fist.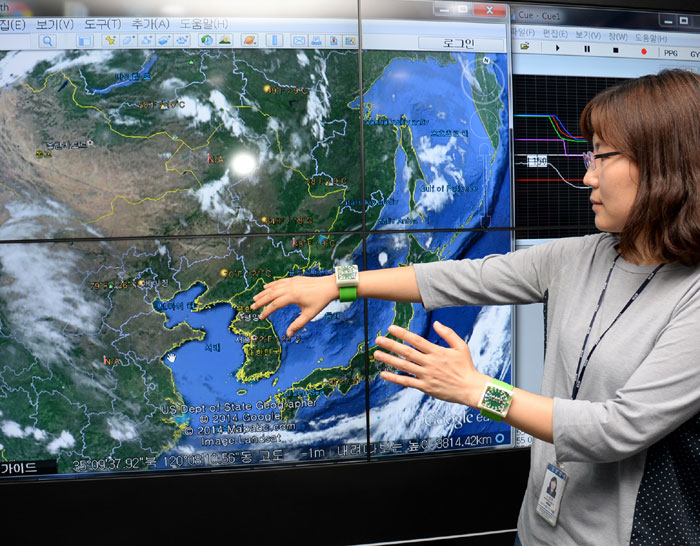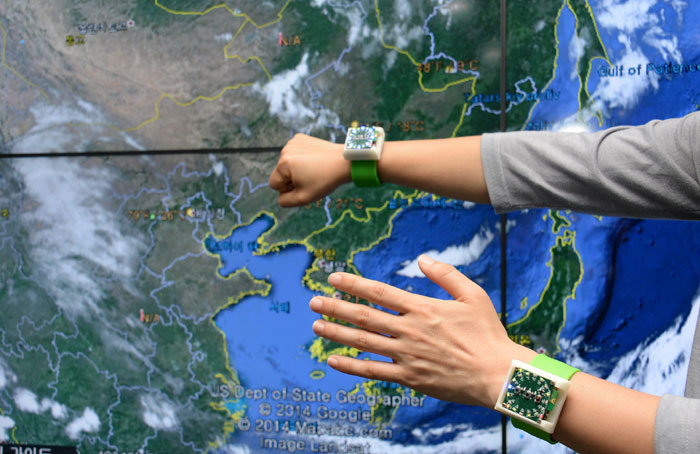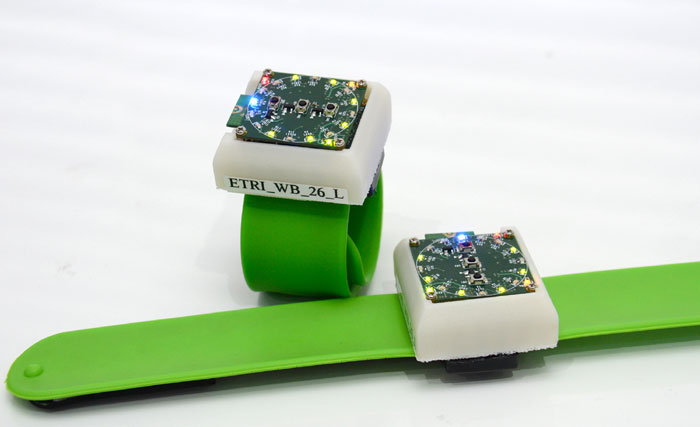 The technology can also be applied to a wide range of areas, as it enables wireless communication between the smart watch and other types of smart devices. Unlike existing "kinetic" motion recognition technology, which recognizes motions in the center of a camera lens, this hand muscle recognition technology can be used anywhere or anytime. 
If additional security certification technology is developed, this technology can be used to open or lock the door at home or of a car. It can also be applied to media or other visual image-related industries. In fact, it came under the spotlight when a local Korean broadcaster presented this technology on a nationally televised show while reporting the results of the June 4 elections. 
Click the link below to watch the news report about the elections presented using this new technology. https://imnews.imbc.com//replay/2014/nwtoday/article/3473497_13495.html 
One ETRI researcher said, "This technology mutually communicates with various kinds of smart devices, including wrist-watch shaped devices. It can be applied to other types of wearable devices or smart watches that are already commercialized." 
The worldwide market volume of wearable devices is estimated to amount to USD 500 million by 2018, according to the ETRI. "We will strive to lead the smart wearable market by developing new technologies that can change shape and which are easy for a human to take on or off," said the ETRI. 
By Yoon Sojung
Korea.net Staff Writer 
arete@korea.kr