Ryu Hyun-jin, guardian angel of Dodger mound
It was sad, but close to perfect. The Los Angeles Dodgers' starting pitcher, Ryu Hyun-jin, gave one of his best pitching performances against the Cincinnati Reds at a home game on May 27.
Ryu threw a nearly perfect game, without letting any hitters get on base in the first seven innings. The maximum speed of his fast balls reached 153 kilometers per hour, or 95 miles per hour, as he retired the first 21 hitters using curve balls and changeups. 
As Ryu came closer to a perfect game — which only 23 pitchers have achieved in the 145 years of Major League history — colleagues and fans alike watched the breathtaking moment, focusing on every pitch. In the top of the seventh inning with two outs, Ryu faced Brandon Phillips, the third batter for the Reds. Ryu closed the seventh inning by throwing a two seam fastball at 153 kilometers per hour, getting two strikes and two balls and inducing a ground ball.
With only two innings left for a perfect game, Ryu came down from the mound, recording runs batted in (RBI) and scored during the bottom of the inning. The LA Dodgers added three points in the bottom of the seventh, lifting the burden on Ryu's shoulders. However, the lengthy 27 minute offense by the Dodgers in the seventh became a problem for Ryu, as he waited in the dugout, alone, while his team was batting.
The journey to a perfect game ended in the eighth inning. The Reds' Todd Frazier led off with a solid double to left field. When the Dodgers were leading four to one, Ryu walked to the dugout to let reliever Brian Wilson take the mound. Dodger fans gave Ryu a standing ovation. 
After narrowly missing a perfect game, Ryu said, "I don't remember exactly, but I don't think I've ever had no hits and four balls in seven innings. A record like a perfect game is not something you can just do because you want to. You got to have luck, but I was not lucky enough today."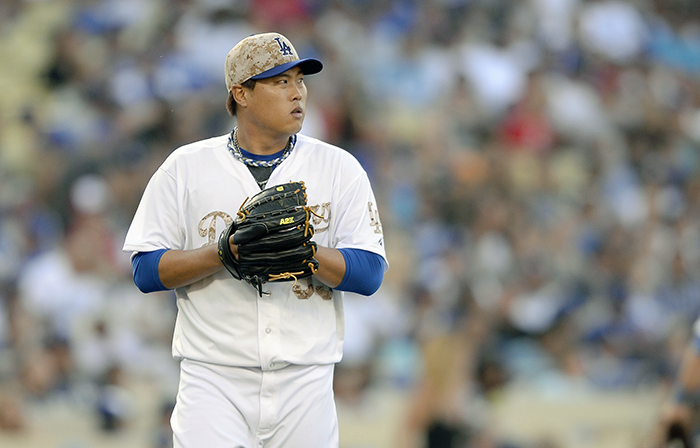 Ryu was on the disabled list due to an injury to his left shoulder, but returned to throw a 4-3 victory over the New York Mets on May 22. Ryu has pitched five victories over the Reds this season, relieving any fan worries over the sophomore jinx or his injuries. 
By Jeon Han, Limb Jae-un
Korea.net staff writers 
hanjeon@korea.kr