Le Clezio says 'Korean literature full of imagination'
The French novelist Jean Marie Gustave Le Clezio, who won a Nobel Prize in literature in 2008, has strongly recommended Korean literature. Le Clezio wrote a two-page book review, titled "Hâtez-vous de les lire," or, "Hurry up and read these," in the French newspaper Le Figaro on May 15.
The book recommended by Le Clezio is a collection of short stories titled "Nocturne d'un chauffeur de taxi, or, "Night of a taxi driver," which contains ten Korean contemporary works published from 2000 to 2013. The ten authors are Kim Yeon-su, Jo Kyung-ran and Pyun Hye-young — who have all received the Dongin Literary Award — as well as Han Kang, Choi Jin Young, Kim Ae-ran, Baek Kahum, Ahn Yeong-sil, Yoon Sunghee and Park Chan-soon.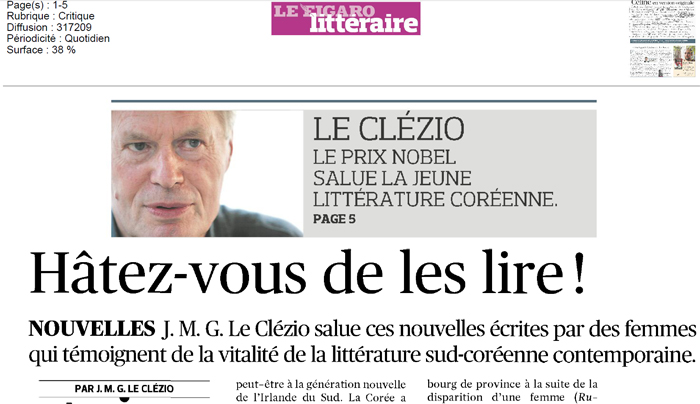 "You will be amazed by the talent, sincerity and humor of these cruel and wacky tales full of unexpected tenseness," he wrote in the review. "The authors demonstrate the vitality of contemporary Korean literature."
The collection's title comes from Kim Ae-ran's "The Night There, the Song of Here," whose title was translated to appeal to French reader. The story is about a widow taxi driver who misses his wife, who has died of cancer, and follows him as he drives around the Seoul night. Kim Aeran's short story collection, "Run, Daddy, Run," became famous after it won the Hanguk Ilbo Literary Award in 2005. Kim, who was only 25-years-old at the time, was the youngest winner ever. It was unprecedented, as she had not yet published any short story collections.
Kim Yeon-su's "Happy New Year to Everyone" is about a woman who teaches Korean to migrant workers from India and her husband, who is jealous about her kindness to the workers. A poet and a novelist, Kim's literary world has been shaped by his study of humanities and, at the same time, owes much to the Spanish author Jorge Luis Borges, whose influence is paramount in Kim's first collection of short stories, "Twenty Years Old." Kim's admiration of Borges is particularly evident in such short stories as "Babel's Library" and "Funes, A Master of Remembrance," which are often seen as an homage to the famed writer.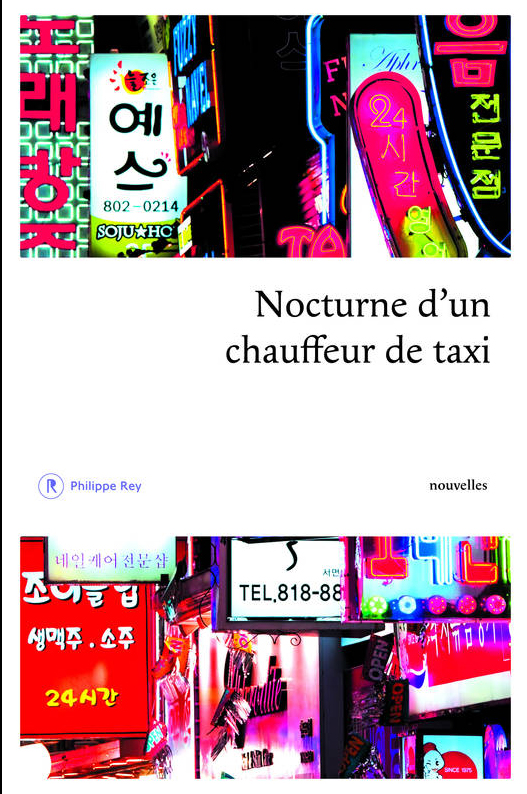 Han Kang's "New Episodes" is about a 30-year-old woman who come across nine moments in her daily life that help her remember her forgotten first love and later learn how to love somebody. Her debut in 1995 caught attention because her debut work, "Love in Yeosu," demonstrated "unfailing precision, tightly woven narrative structure that boasts sustained energy and even-handed attention to detail" as was quoted in a review. 
Ahn Yeong-sil's "Impossible Love" is about a peasant who sees his wife with desire. He succeeds in getting married but his marriage has many obstacles to come. Park Chan-soon's " Stoppie motorcycle " portrays a man who once used to be a successful TV drama producer but who falls into a downward spiral to become wedding video director and parcel deliverer on motorcycle despite his honest character. 
Baek Kahum's "Rumors" demonstrates the true nature of people whose weakness leads them to succumb to destruction by rumors, which eventually evolve into reality. His work often makes readers feel uncomfortable, as in the case of his debut story which begins with a detailed description of filleting a flounder. "When the Pear Blossoms Fade" describes the shocking abuse of children and the handicapped. 
Yoon Sunghee's "House made of Lego" is about a young girl who lives a lonely life and struggles to support her handicapped father and brother alone. Jo Kyung-ran's "Seeds" tells a story of a young woman who have lost everything but finds refugee in her dream. 
Choi Jin Young's "My Husband" is a tragic comedy in which a woman discovers that her husband is a sex offender. Pyun Hye-young's "Cannery" tells a story in which employees of a cannery look for the owner of cannery after his sudden disappearance and come across a shocking truths in the cans produced in the factory.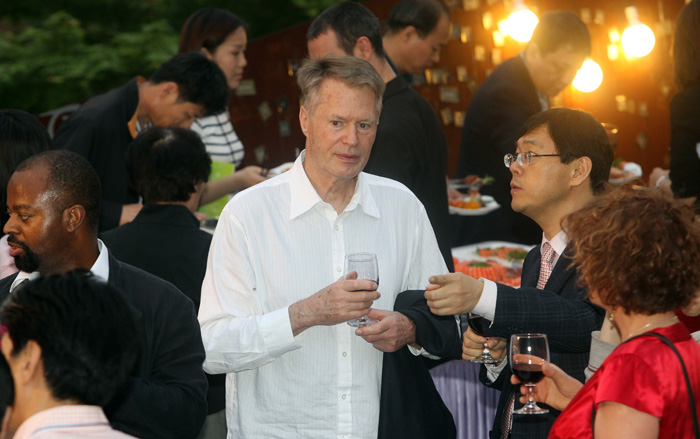 The short stories in the collection mostly portray the marginalized of society. Le Clezio said the dynamism of Korean literature would be a positive stimulant for French literature. He also said that literature by Korean writers would appeal to the French, who live in the same contemporary world.
"Korean literature is written in a hard language, without affectation, pity for oneself or satisfaction, but is always imaginative and allusive with self-deprecating humor that characterizes the Korean people," wrote Le Clezio. "This little book is full of emotion, rage and laughter. It is a key to tame the difficult reality of everyday life, an antidote that can cure the gloom and quietness of today."
By Limb Jae-un
Korea.net Staff Writer 
jun2@korea.kr