Birthplace of Korean Catholicism, Solmoe
Naepo lies along the western shore of Chungcheongnam-do (South Chungcheong Province). The name means a bay, on the shores of a sea or a lake. Ships travelled up the small rivers, like the Sapgyo-cheon, during high tide and traded goods, including rice, along the banks of the waterways. Naepo includes what is now the towns of Dangjin, Yesan, Hongseong and Seosan in Chungcheongnam-do, and this is where Catholicism first arrived in Korea.
This is also where early persecutions of Catholics led to many martyrdoms. Forty-nine out of the 124 martyrs expected to be beatified in August this year are from this area.
French priests arrived here in the late 1880s, using the waterways to spread Catholicism inland. The new religion caught on to such an extent that in the 19th century, 80 percent of villagers in the area were Catholic, and thus the persecutions were particularly harsh.
Marie Jean Gustave Blanc, the seventh bishop to be sent by Rome to the Joseon Dynasty (1392-1910), wrote in a report in 1884 that, "this is the place where the oppression was most severe in the past."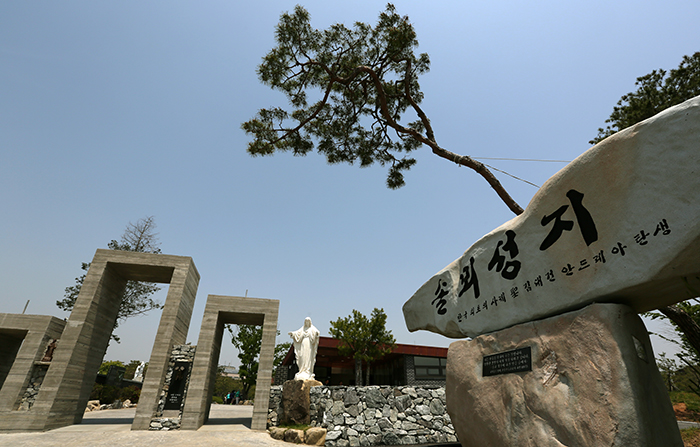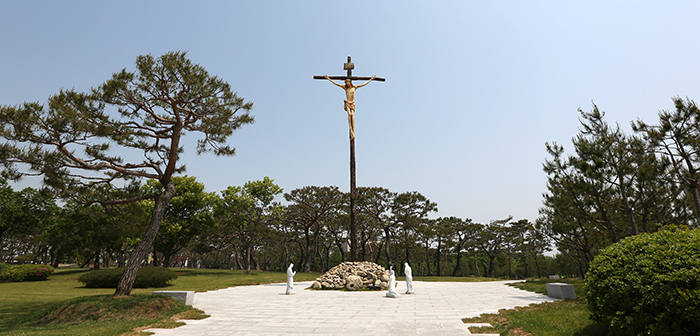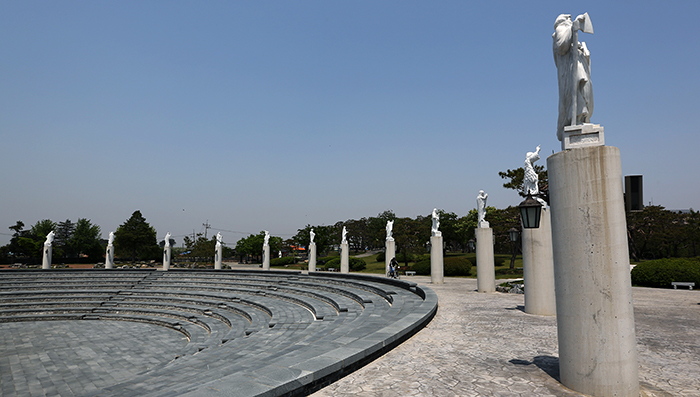 Four generations of the Kim clan, including his father, uncle and great-grandfather, all of whom were martyred, lived here. (photos: Jeon Han)
The Shrine of Solmoe in Dangjin, Chungcheongnam-do, is the birthplace of St. Andrew Kim Dae-geon, the first Korean Catholic priest. Solmoe means, "a little hill with a pine forest." His great-grandfather, Pius Kim Jin-hu, his uncle, Andrew Kim Jong-han, and his father, Ignatius Kim Je-jun, all martyrs, lived here. The Kim clan produced as many as eleven martyrs.
In 1836, Dae-geon was baptized at the age of 16 by French priest Pierre Philibert Maubant. He then walked for half a year all the way to Macao to study Catholicism, along with Thomas Choi Yang-eop and Francis Choi Bang-je. Kim was then ordained as a priest by Jean Joseph Ferreol in Shanghai, becoming the first Korean Catholic priest. 
In 1845, Kim returned to Korea together with Ferreol and priest Marie Nicolas Antoine Daveluy and engaged in missionary work. He visited what used to be the largest Catholic community, now known as the Sinri Sacred Place, in Dangjin. In 1846, Kim was ordered to develop a new sea route to bring in missionaries and contacted Chinese fishermen on Baekryeong-do Island. However, he was arrested by Joseon government authorities on Sunwi-do Island, Hwanghae-do (Hwanghae Province), and was subsequently transferred to Seoul.
In a letter to Ferreol and his associates from prison, he wrote, "I was bound under the name of Christ and I believe in the power of Christ. I pray to God to help me endure with courage the severe punishments, until the end." 
Kim was hanged on the Saenamteo execution grounds in Seoul on September 16, 1846. He was only 25 years old and it was only 13 months after he had been ordained as a priest.
Before his death, Kim left his will. "I die for God, but this is the beginning of an eternal life," he wrote.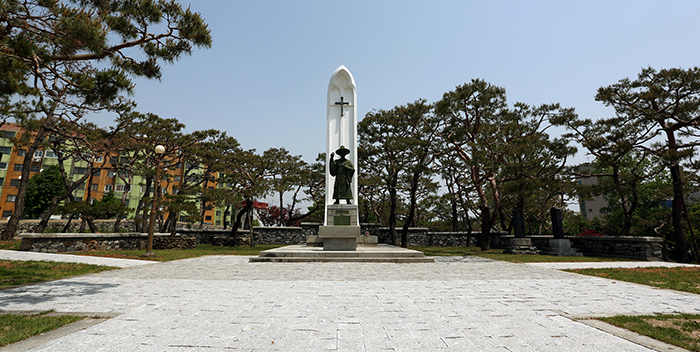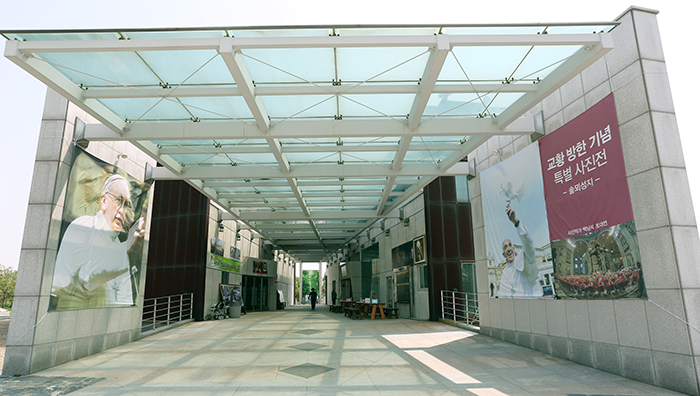 In 1996, the Daejeon Catholic Parish decided to restore Kim's birthplace to mark the 150th anniversary of his death, and in 2004 it started to rebuilt his house. The Solmoe Shrine has his statues, a church, a memorial hall and an outdoor theater, the Solmoe Arena. The memorial hall has letters and diaries written by Kim, his portrait and a map of Joseon, the, "Carte de la Corёe," produced by Kim in 1845. The map later became a great resource, allowing the world to learn more about Korea through the French Geographical Society. Kim was known to be fluent in English, French, Latin and Chinese. He wrote letters in Latin and diaries in Chinese. Some 22 letters and his diary have become important evidence for his beatification. The opening mass for the sixth Asia Youth Day will take place at the Solmoe Shrine in August, and there will be meetings between Pope Francis and all the participants.
"St. Andrew Kim Dae-geon, the first Korean Catholic priest, was an idealist who dreamed of equality and freedom of religion in the hierarchical society of Joseon," said Rector Paul Lee Yong-ho of the shrine. "Speaking of equality for all before the God means an abolition of the class system and it was a great threat to the status quo of Joseon times." 
"Kim was the first Korean who studied abroad during the late Joseon period and he had a good understanding of what was going on outside Korea. Before his death, he wrote in letters that other followers need not be sad about his martyrdom. Believers copied and memorized the letters, over and over," Lee said. 
To visit the Shrine of Solmoe, take a bus from the Dong Seoul (Eastern Seoul) Terminal or the Nambu Terminal to Hapdeok Bus Terminal in Dangjin. Buses depart twice a day from the Dong Seoul Terminal and six times a day from the Nambu Terminal. For more information, please visit the shrine's homepage (www.solmoe.or.kr/home/) or call 041-362-5021~2.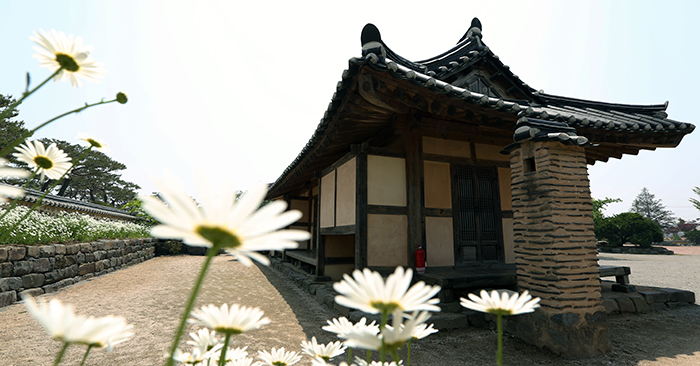 (Bottom) At the restored house, Rector Paul Lee Yong-ho says that Kim Dae-geon dreamed of equality for all and of religious freedom. (photo: Jeon Han)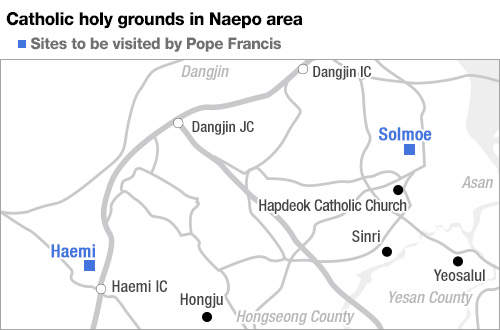 By Limb Jae-un
Korea.net Staff Writer 
jun2@korea.kr