Intersection of entertainment, technology: CT Forum 2014
The Culture Technology Forum 2014 (CT Forum) will be held on May 20 at COEX in Gangnam-gu District, southern Seoul, offering people the opportunity to check the pulse of the entertainment-creation industry and to share success stories from leading cultural content creators from around the world. 
The forum will focus on five key areas of the entertainment world — music, musicals, films, games and animation — to review the quality of the world-leading technology that creates such content, so-called "cultural technologies," and to present a future direction and vision that will help foster and develop Korea's entertainment exports. The forum will be hosted by the Ministry of Culture, Sports and Tourism and supervised by the Korea Creative Contents Agency (KOCCA). 
The forum will invite 14 specialists in "culture technology" and content generation. Some key participants at the forum include Paul Kieve, stage director of "Ghost The Musical," the general vice president of computer animation firm Redrover, Kim Han Chul, Ishac Bertran of Google Creative Labs and Walt Disney Animation Studios special effects artist Yoo Jaehyun.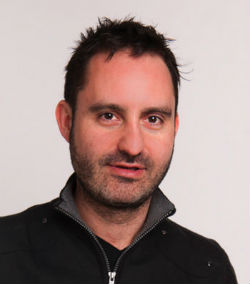 Kieve worked on creating the magical effects in "Ghost The Musical" (2011). He created them using high-tech video art technology, which allowed him to become the first illusionist to ever win a New York Drama Desk award for Outstanding Set Designs in 2012. In the musical, he captured the audience by showcasing 3-dimension-like magical stage effects by using special LED devices and visual arts technology. Earlier, in 2004, he worked as a magic consultant for the movie "Harry Potter and the Prisoner of Azkaban." Kieve will present a keynote speech on the role of technology in the diverse expression of content. 
The forum will also feature Kim Han Chul, general vice president of computer animation firm Redrover. Kim will deliver a second keynote speech on the success of Redrover's recent 3D animated movie, "The Nut Job" (2014). Jointly produced by Korean and Canadian firms, "The Nut Job" has become Redrover's first international hit, being shown in about 3,400 theaters across the U.S. He will explain how to penetrate the U.S. movie market in terms of distribution and share with audiences his knowhow on how to conduct joint production projects in a cross-cultural setting. 
Ishac Bertran, designer and artist at Google Creative Labs, will deliver a keynote speech on the commercialization of interaction. In the speech, he will introduce joint projects he has worked on with leading international companies, like LEGO and Intel, helping them develop the technology to interact with their clients.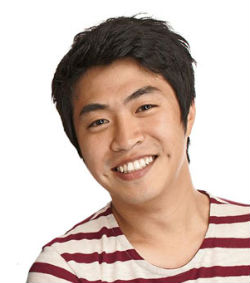 Walt Disney Animation Studios special effects artist Yoo Jaehyun will deliver a keynote speech on the present and future of live movie and animated movie production technology in Hollywood. Yoo worked on the special effects in "Cloudy with a Chance of Meatballs" (2013), "G.I. JOE: The Rise of Cobra" (2009) and "Watchmen" (2009). 
The forum will introduce a wide range of the latest "culture technology," IT that's used to make music, musicals, film and other cultural content. The forum's sideline events, such as panel discussion sessions, will give participants an opportunity to share their "culture technology" case studies across the content-generation industry. Forum visitors will also be able to learn more about "culture technology" thanks to ten leading entertainment techs that will be on display at the forum. 
Minister of Culture, Sports & Tourism Yoo Jinryong said, "This forum will offer an opportunity to learn the production methods of worldwide hits and how they were backed by state-of-the-art technology. I hope Korea's culture technology can lift Korea's content industry up a notch through this forum."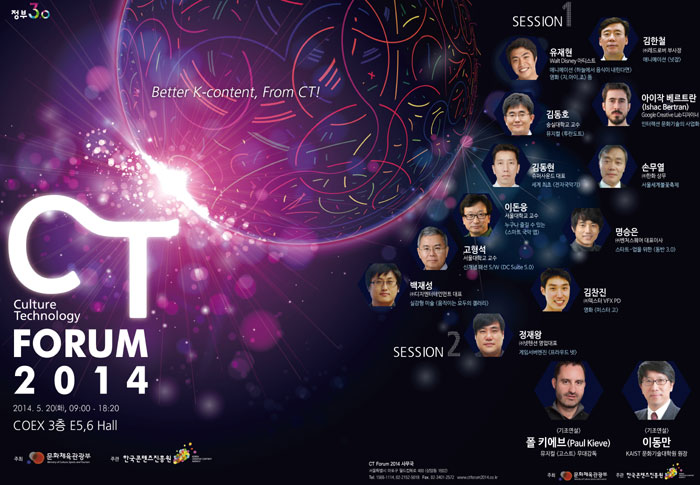 By Yoon Sojung 
Korea.net Staff Writer
arete@korea.kr