Soccer icon Park Ji-sung leaves with 'no regrets'
Star midfielder Park Ji-sung of PSV Eindhoven has left the soccer field for good. 
Park called an end to his soccer life on May 14 at a press conference in Suwon. He said that he has been considering retirement since February due to his worsening knee problems. Regarding his 24 year-long professional soccer career, he said, "I have no regrets and will live the rest of my life pondering how to repay the love I received from the fans."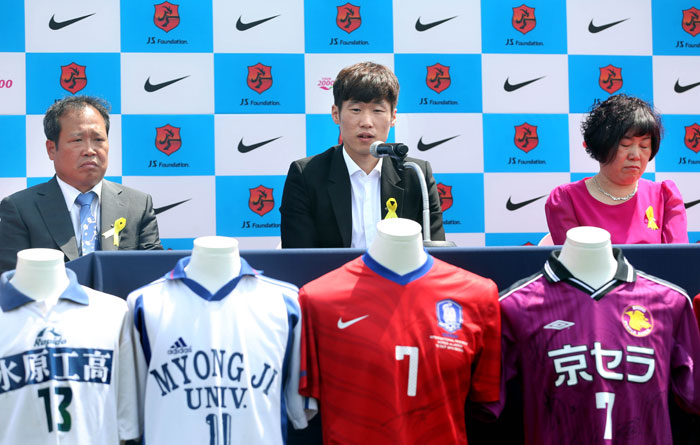 Looking back on his 24-year soccer career, Park pondered that if he had to choose one moment from his career, to go back to and to enjoy again, he would choose the 2002 Korea-Japan FIFA World Cup. He also said that, "I would be honored if I were to be remembered as a player who could give trust to someone," when asked about what kind of player he wishes to be remembered as by his fans. 
Park began his soccer life at the age of nine in 1990. After graduating from university, he played for the Kyoto Purple Sanga in Japan, for PSV Eindhoven in the Netherlands and for Manchester United and Queens Park Rangers in England. Despite unfavorable conditions concerning his flat feet and a smaller-than-usual body size, he gave many winning performances, showing an unflappable, sincere work ethic throughout his 24 years of soccer life, winning him plaudits from fans and coaches alike. 
At first, his presence did not receive much attention. However, he began to receive attention after the first-round match between Korea and Portugal, where he netted a winning goal during the Korea-Japan FIFA World Cup 2002. In that year, Korea made history by proceeding to the semifinals, under the leadership of Dutch coach Guus Hiddink. Park was considered one of the leading players behind Korea's historic victories. Many international media nicknamed him the "speed demon" or the "oxygen tank" for his tireless, prominent play that overwhelmed the pitch.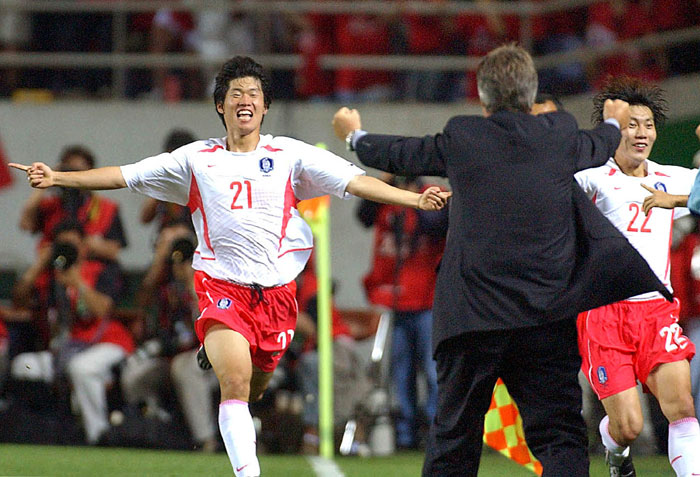 between Korea and Portugal during the Korea-Japan FIFA World Cup 2002. (photo: Yonhap News)
After the 2002 World Cup, Park was signed by PSV Eindhoven in the Netherlands. At first, he experienced some hardship in adapting to the new environment, but soon found his stride. During his three seasons there from 2002 to 2005, he played 85 games and recorded 15 goals. Last August, Eindhoven listed Park as one of the players who represented the team's past 100 years of athletic achievement. 
In July 2005, Park joined Manchester United in England, becoming the first Korean to play in the Premier League. During his seven seasons there, running until 2012, he played a total of 207 games in which he recorded 29 goals and 22 assists. During his time there, he left a significant footprint on the prestigious English football team, helping it to win four victories in the Premier League, in 2007, 2008, 2009 and 2010, one victory in the Union of European Football Associations (UEFA) Cup in 2008 and three victories in the League Cup.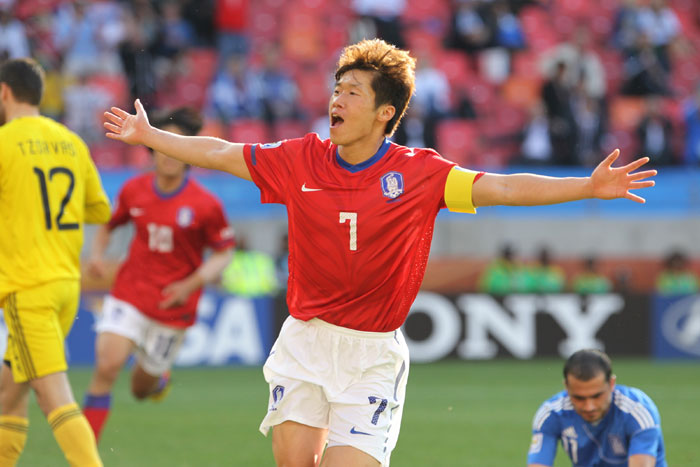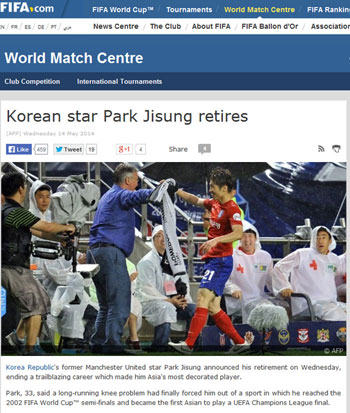 The Fédération Internationale de Football Association (FIFA) reported Park's retirement in its May 14 news article, "Korean star Park Jisung retires." In the article, FIFA wrote that, "Korea Republic's former Manchester United star Park Jisung announced his retirement on Wednesday, ending a trailblazing career which made him Asia's most decorated player." 
The FIFA article said, "A long-running knee problem had finally forced him out of a sport in which he reached the 2002 FIFA World Cup semi-finals and became the first Asian to play a UEFA Champions League final." The report said that Park is "fondly remembered in that tournament for scoring the winner in the 1-0 victory over Portugal which took South Korea into the knockout stages for the first time." Dubbing him an "industrious and versatile midfielder," the article said, "The last game for Park was on 3 May for Dutch club PSV Eindhoven, where he had been on loan from Queens Park Rangers in the English Championship." 
Park will say farewell to his fans on May 22 and 24 as PSV Eindhoven visits Korea to play in friendly matches against the Suwon Samsung Bluewings and Gyeongnam FC.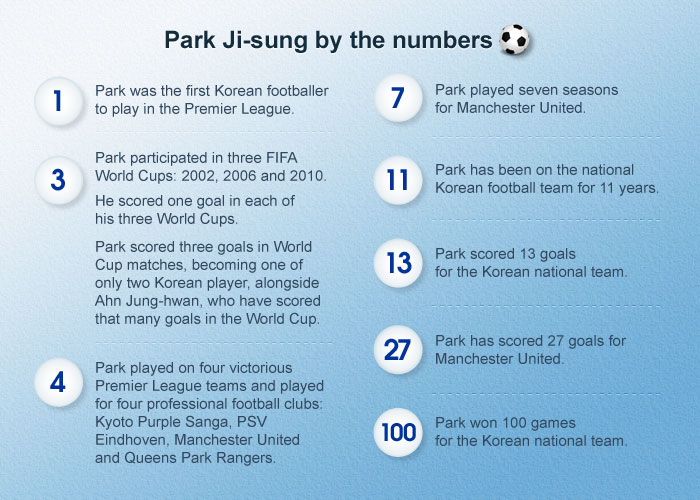 By Yoon Sojung 
Korea.net Staff Writer
arete@korea.kr