Are there deserts in Korea?
Gigantic sand dunes can be seen across the world, from the Sahara Desert of northern Africa to the Arabian Desert of southwestern Asia. On the Korean Peninsula, too, it is also possible to see exotic sand dunes along the coast. According to the Ministry of Environment, there are 133 coastal dunes along the eastern, western and southern shores of the Korean Peninsula, as well as on Jeju Island.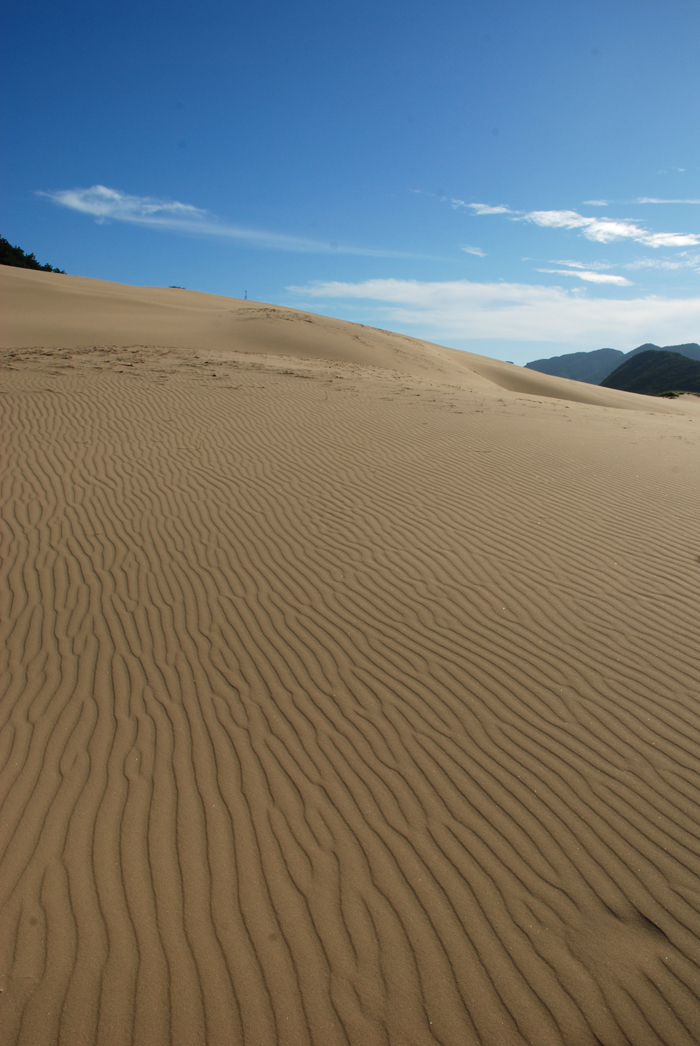 (photo courtesy of the National Institute of Environmental Research)
On the shores of Okjungdong, along the northern side of Daecheong Island in the northwestern part of South Korea, there are enormous sandy beaches reminiscent of a desert. The beaches cover 660,000 square meters — roughly 1.6 kilometers long and 600 meters deep — equivalent to about 70 soccer pitches. The beach dunes reach up to 40 meters above sea level. They are active dunes, whose shapes change with strong winds during the different seasons. The Okjungdong Sand Dunes are thus referred to as the "Desert of Daecheong Island" by residents. 
How has a "desert" formed on the western shores of Korea? The answer is wind. In the winter, the northwest monsoon lifts sand onto the beach and blows it toward the land. The sand dunes have formed gradually since the Last Glacial Maximum ended some 15,000 years ago. When ocean levels were lower, the Yellow Sea was a vast plain connecting the Korean Peninsula and China. However, sea levels started to rise with the end of the Ice Age. The seawater provided deposits to the shores, including soil and sand, so that mud flats were formed along the western and southern coasts of the Korean Peninsula. Sand carried by the wind slowly accumulated over a long time, forming sand dunes. The natural dunes act as seawalls and protect farmland from the wind and salty water. They also help store underground water and act as ecological repositories for rare plants and animals.
According to the National Institute of Environmental Research, there are a total of 174 species residing temporarily in the Okjungdong Sand Dunes, including 90 birds, six mammals and 74 insects. Herbaceous plants indigenous to sand dunes have formed wide colonies in the area. The dunes are also used as stopovers by rare migratory birds, including the Chinese pond heron, the grey-faced buzzard eagle and the grey frog hawk (Accipiter soloensis), species that fly between Korea and China. Many birds and insects in danger of extinction, such as the Chinese egret and Scarab beetles, have also been found in the ecological habitat. 
To reach Daecheong Island, take the Harmony Flower ferry to Baekryeong Island. It departs Incheon every day at 8:50 a.m. Alternatively, take the Sea Hope ferry that leaves Incheon for Baekryeong Island every day at 1 p.m. The Sea Hope starts operations on May 19. For more information, please visit the Incheon Port International Passenger Terminal homepage (https://dom.icferry.or.kr/). 
By Wi Tack-whan, Limb Jae-un
Korea.net staff writers 
whan23@korea.kr