Rush hour trickles into Meat Alley
As dusk falls, people start to gather in the small alleyways, filling the empty seats. Soon, the smoke from the grilling meat and chatter about the day's work fills the air. This is the scene during the afternoon rush hour in Jongno-3-ga's "Gogi golmok," or "Meat Alley."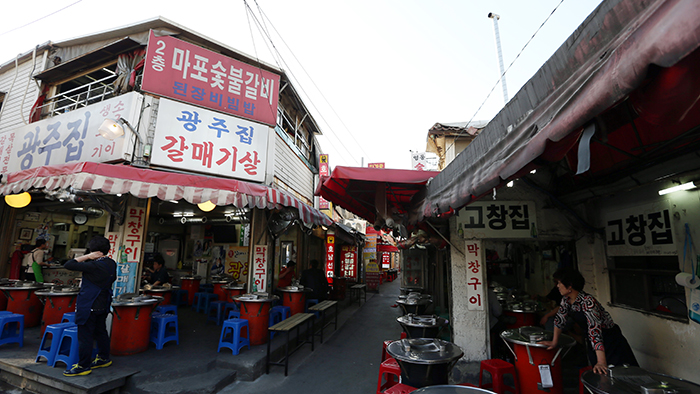 The seats lining the open alley are so popular that there will be no spots left well before 7 p.m. on most evenings. (photo: Jeon Han)
By five in the afternoon, "Meat Alley" is busy preparing for the soon-to-arrive office workers as they leave their cubicles for the night. The seats lining the open alleyway have no occupants yet, and there are still no notes of anticipation. Leisurely sipping a cup of coffee, one "Meat Alley" shop owner, who first arrived in the alley in 1991, claimed that, "No seats will be left empty after 6:30 p.m." Just as he said, at half past six, office workers in ties, carrying their suit jackets, arrived in groups of three to five, quickly filling the outdoor seating area.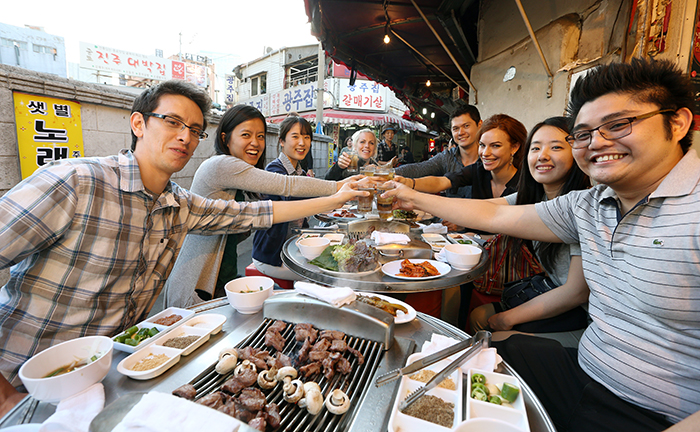 Some patrons are at first reticent, and take a look around the humble establishment in bewilderment before accustoming themselves to the street-like atmosphere. The tourists settle in for a feast as they take a bite of lettuce-wrapped, straight-off-the-grill beef, with garlic, greens and ssamjang added for nutrition and taste. They call out during a toast of gojingamlaeju (고진감래주, 苦盡甘來酒), a mixture of soju, beer and cola whose name means, "overcome bitterness and hardship, and sweet, good things will come your way."
Shop owners from the grill houses say that recently changes have taken place in the alley. In the past, businessmen were the main type of customer. Now, however, with the media spotlight and with Tweets and reviews coming from conventional media, the Internet and even foreign magazines, their clientele covers demographics from all walks of life, and that even non-Korean crowds are attracted.
"People seem to be drawn to be out here in the good weather these days," said one owner. "The stores lined up here even make their own kimchi," added the owner of Gochangjip, one of the meat restaurants, in an effort to shed light on his alleyway's recently found popularity.
Jongno-3-ga's "Meat Alley" is in Jongno-gu District, in the Doneui-dong Neighborhood, and can be accessed by Exit No. 6 of Jongno-3-ga Station. Head into the alley leading toward Changdeokgung Palace and the restaurants are there to be enjoyed. 
Jeon Han, Paik Hyun
Korea.net Staff Writers
hanjeon@korea.kr