Chon Jin Am: birthplace of Korean Catholicism
Pope Francis will visit Korea this August, from the 14th to the 18th. He is scheduled to conduct a beatification forPaul Yoon Ji-chung and for 123 other martyrs when he visits the Solmoe Holy Ground and Haemi Castle in Chungcheongnam-do (South Chungcheong Province) for the dedication mass. The gun, or counties, in northwestern South Chungcheong Province, including Dangjin, Yesan, Hongseong and Seosan, are where Catholicism was first introduced into the nation and from where many martyrs came. 
Catholicism arrived in Korea in the late 18th century, much later than in other Asian countries such as India, China, the Philippines or Indonesia. It was even two centuries behind the arrival of Catholicism in neighboring Japan. Catholicism was introduced much earlier in Japan and, as early as the 16th century, there were already around 600,000 Catholics in that nation. During that period, Western missionaries appeared quite often on Japanese shores and some efforts were made to establish religious schools there. Eventually, however, it was all destroyed under the rule of the Edo bakufu, or Tokugawa shogunate, the military government that ruled Japan between 1603 and 1868. It had a huge impact on Japanese society and its influence is large enough to linger even to these days. Today, the number of Japanese Catholics remains at only 450,000. 
Meanwhile in Korea, which confronted Catholicism some two centuries later, there are today around 5.31 million believers, over 10 percent of the nation's population. It has the 5th largest population of Catholics in Asia, and the 47th worldwide. There are Catholic churches in every nook and cranny and, in some regions with a smaller population, believers are observed using gongso, public religious facilities without a priest where believers perform certain rituals rather than conduct a mass, and are visited by a priest on a regular basis. 
The growth of this proselytizing religion in Asia was made possible by Western missionaries. In addition to this, Catholicism in Korea was also spontaneously explored by indigenous intellectuals and scholars, a very distinctive feature of Korea's style of Catholicism. 
Catholicism was first introduced during the Joseon era (1392-1910) by scholar Lee Su-gwang (1563-1628). His encyclopedia, the Jibong yuseol, or Topical Discourses of Jibong, was authored in 1614. In this book, with an introduction to the country of Italy, Lee explained that Italian Jesuit missionary Matteo Ricci (1552-1610) introduced his own book in China a few years earlier, The True Meaning of the Lord of Heaven. Lee thus penned the first official record of Catholicism in Korea. 
Catholicism was described in the early stages as simply seohak, or "Western learning," rather than as a religion. The true growth of the religion began in a valley of Toechon-myeon Village, in Gwangju, Gyeonggi-do (Gyeonggi Province). In 1779, a group of scholars gathered at Chon Jin Am, a Buddhist hermitage, to study seohak together. There were the Gwon brothers, Gwon Cheol-sin (later baptized as Ambrosius) and Gwon Il-sin (Francis Xavier), the Jeong brothers, Jeong Yak-jeon, Jeong Yak-jong (Augustinus) and Jeong Yak-yong, and the Yi brothers, Yi Byeok and Yi Seung-hun. In the early stages, the scholar group began their studies with the Confucian scripture, but later on they added some scientific books and Ricci's tome, The True Meaning of the Lord of Heaven, brought by Yi Seung-hun from China. Through these books, they had their eyes opened to Catholicism, from scholarly knowledge through to religious beliefs. 
Yi Byeok authored the Cheonju gonggyeongga, the Hymn of Adoration of the Lord of Heaven, and Jeong Yak-jong wrote the Sipgyemyeongga, the Song of the Ten Commandments, both at the scholarly meetings. The disciples in the community prayed every morning and night and held a time for meditation on the 7th, 14th, 21st and 28th of every month. As seen, the Chon Jin Am Buddhist hermitage was a site for spontaneous meditation and exploration in search of the truth.
In 1784, Yi Seung-hun, among other members, visited Beijing where he was baptized by priest Louis de Grammont and given the baptismal name of Peter, becoming the first Korean to be baptized Catholic. He studied the doctrines and creeds alongside Yi Byeok and administered baptisms to acquaintances, such as Yi Byeok, Gwon Il-sin and Kim Beom-woo (baptized as Thomas). In the spring of 1785, the first Joseon era Catholic church was established in the house of Kim Beom-woo in Myeongrye-dong in Seoul, now the Myeongdong Cathedral, the nation's main Catholic church and a symbol of the neighborhood. 
Looking back, Catholicism underwent some harsh treatment at first in Korea, with a particular clash being caused by the traditional custom of performing a ritual bow to one's ancestors. The scholars at the Chon Jin Am, now a shelter from government oppression, were unable to steer clear of the conflict either. In 1801, all Catholics and the Buddhists at the Chon Jin Am who hid them were executed and the site was closed. Today, looking at the Chon Jin Am from a fresh perspective, it can be seen as a site where two foreign religions, Buddhism and Christianity, one old and one new, met and became tied to each other. 
Despite intense persecution from the late 18th century until the end of the 19th century, Catholics showed incredible staying power and the religion continued its development in Korea. In 1941, the nation had nine diocese, 168 foreign priests, 139 Korean priests and 180,000 believers. Even during the chaos of modern times, including Japanese occupation and the Korean War, Catholicism did not lose its momentum. Two more cardinals have been anointed since Cardinal Stephen Kim Su-hwan was first appointed in 1969.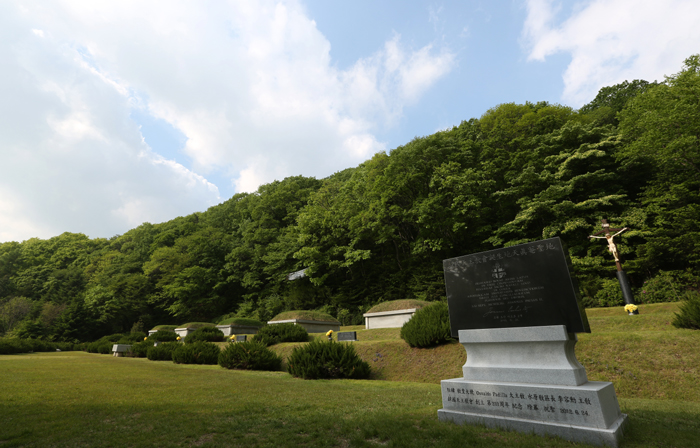 Gwon Cheol-sin (Ambrosius) and Yi Byeok are at the Chon Jin Am memorial site in Gwangju, Gyeonggi-do (Gyeonggi Province). (photo: Jeon Han)
In 1984, Pope John Paul II spoke about the history of Catholicism in Korea, the fruit of spontaneous exploration, contemplation and meditation.
"These lay people, men and women, justly considered as the 'founders of the Church' in Korea spread the Gospel in their homeland for 56 years, from 1779 to 1835, without the assistance of priests, – apart from the short presence of two Chinese priests. They did this until the arrival of French missionaries in 1836; these lay people offered and sacrificed their lives for their faith in Christ." 
In celebration of the 300th anniversary of Catholicism in Korea, a new cathedral is set to be constructed at the Chon Jin Am, aimed to be completed in 2079. 
Upon his execution in 1801, Jeong Yak-jong, one of the Chon Jin Am scholars, is reported to have said that, "I would rather die looking up at the sky than looking down on the ground." The sacrifices made by early Catholics has been well worth it, as the religion is alive and healthy in Korea today. 
By Wi Tack-whan, Lee Jeong-rok and Lee Seung-ah
Korea.net Staff Writers
whan23@korea.kr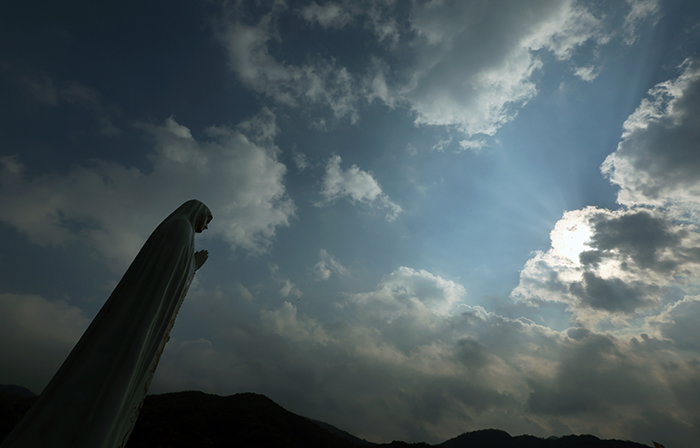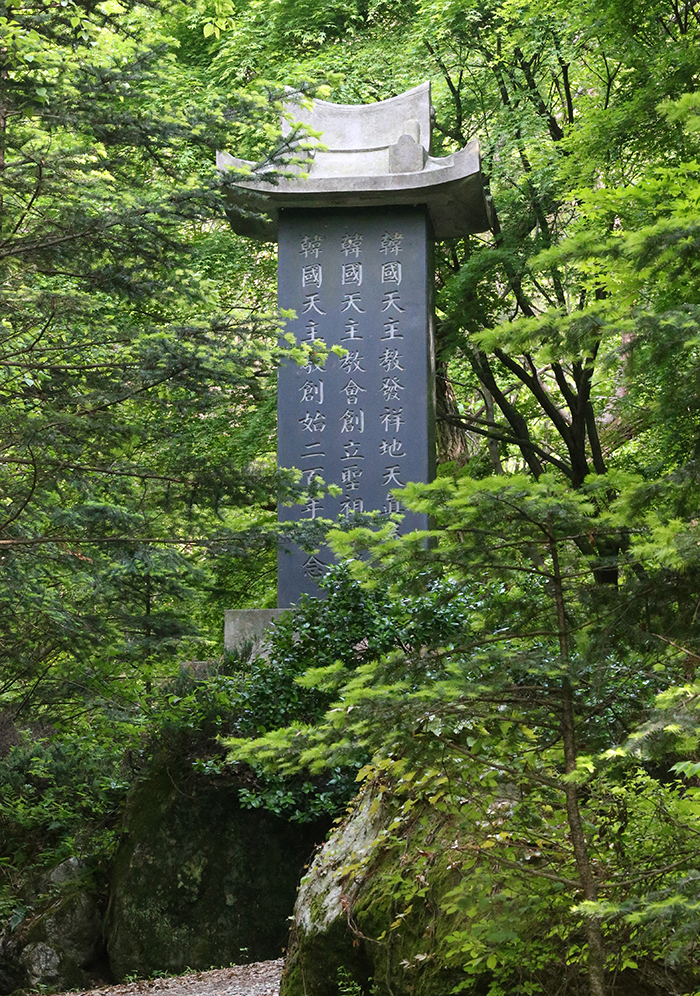 *More information about Chon Jin Am is available at https://www.chonjinam.org/intro.asp