77.2 million people use Korean as mother tongue
Korean is the 13th most widely used mother tongue in the world. According to Ethnologue (www.ethnologue.com), a web-based publication that provides various language-related statistics, 77.2 million people across the world use Korean as their native language. The language is mainly used in five countries. 
The National Institute of the Korean Language (www.korean.go.kr/eng_new/index.jsp), the language regulator for the Korean language, said Korean's ranking in terms of its usage climbed five notches, from 18th to 13th, as the number of Korean language users rose from 66.4 million to 77.2 million. The previous 66.4 million was based on statistics from 1986, but those numbers were revised at the request of the National Institute of the Korean Language. The 77.2 million is based on statistics from 2010.
Korean language is mainly used in South Korea (48.4 million), North Korea (23.3 million), China (2.71 million), Japan (905,000) and Russia (42,400). 
Only Korean and Turkish saw their number of language-users rise by tens of millions on the latest data released by Ethnologue.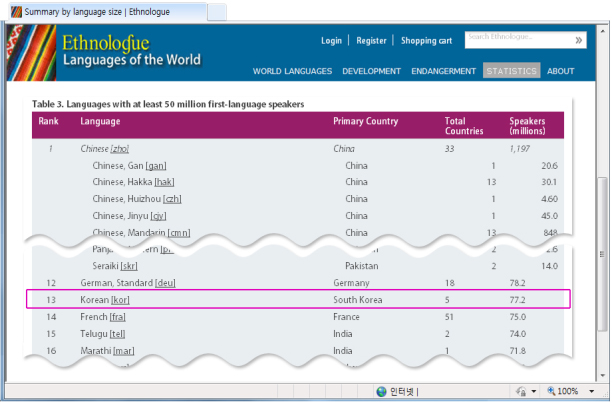 By Limb Jae-un
Korea.net Staff Writer 
jun2@korea.kr