Poet Yun Dong-ju's tale goes global in mystery novel
"The Investigation," a fictional mystery novel, is gaining attention among international readers. 
During his visit to London for April's international book fair, author Lee Jeong-myeong was asked by Goldsboro Books to sell his first 250 first-edition copies with his autograph. The U.K.'s largest specialist in first editions and signed books decided to include Lee's new mystery on its list of "books that will highly appreciate in the future." Another large bookstore, Waterstones, and specifically its Trafalgar Square branch, has given "The Investigation" its "Best of Fiction" award and has displayed the mystery in the store's front window.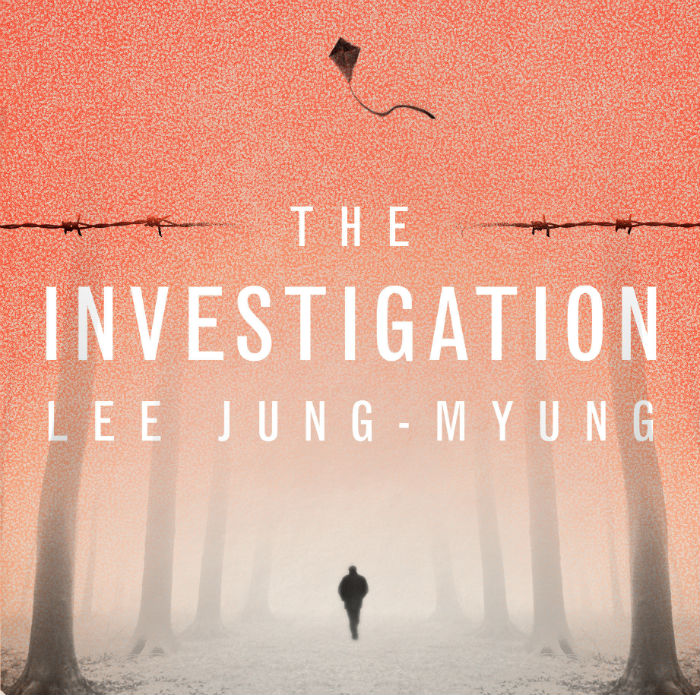 "The Investigation" tells the story of poet and patriot Yun Dong-ju (1917-1945) and focuses on his final year of life in prison, under Japanese occupation. He died in prison, in Fukuoka, Japan, when he was only 27 years old. 
The mystery starts with a simple question. What happened to him inside the cold, lonely prison? 
"The Investigation" begins with the mysterious death of a Japanese prison guard in the Fukuoka prison, one who was often called a "demon" due to his cruelty. The story's narrator, Watanabe Yuichi, the investigator, accidently gets assigned the case. As he digs deeper into the murder, he discovers that it is not a simple murder. There was a mass escape attempt, which hides another big plot, and Watanabe is finally shocked at the whole scheme, all of which was planned in the prison. The author tells the suspenseful and mysterious story, weaving into the novel around 30 poems written by Yun. 
Watanabe narrates the story of Yun Dong-ju, a man who lived a short yet passionate life and who was a leader in the independence movement, champing under harsh Japanese colonial rule. After his death, he left only one collection of poems to the world, poems through which he is remembered as a passionate man, very familiar to most well-read Koreans. In particular, "Foreword," one of his iconic verses, even makes an impression on modern people today. This famous poem tells of his love and passion for freedom in his motherland and his life full of loneliness.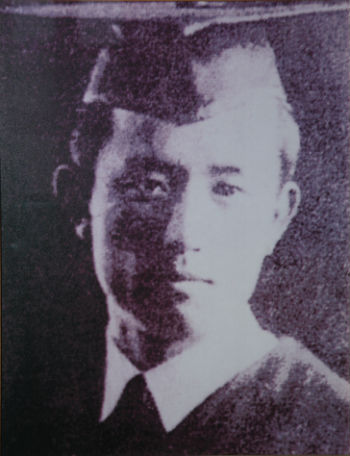 Wishing not to have
so much as a speck of shame
toward heaven until the day I die,
I suffered, even when the wind stirred the leaves
Poet Yun was born on December 20, 1917, in the village of Ryongjeong in northen Manchuria, now Jilin Province in China. His father gave him the childhood name of Haehwan, meaning "sunlight" or "shine like the sun," and named his younger brothers Dalhwan ("moonlight") and Byulhwan ("starlight"). His father is regarded as having played a role in nurturing in him an artistic sensibility, which must have contributed to the creation of one of the most beloved poets of Koreans everywhere. 
"Yun was a handsome man with a sharp nose, bright eyes and a mouth always closed in a terse line," described Jeong Byung-wuk (1922-1982), two years junior to Yun at the Yeonhui Technical School, now Yonsei University. 
According to Jeong's account, Yun, "had [such] a high spirit that he looked he would never be disturbed by any risk, like a huge mountain that never shakes itself, neither at strong winds nor at snowy rains. He was always tidy and innocent. He never tilted his hat sideways. The letters on the buttons of his school uniform were always upright… He read intensively on literature, history and philosophy. He was so focused that it created a hole in the paper. His eyes looked like they produced fireballs." 
Portrait of poet Yun Dong-ju (photo: Yonhap News)
Always setting an example for other students, Yun took a lot of interest in reading and began to write poems at the age of 15. The poems written in his early years seemed to pursue peace, and after he entered Yeonhui Technical School, his works reflected some historical features and philosophical values, such as self-examination.
In the early 1940s, as war raged across East Asia, the Japanese surveillance and oppression mechanism became more and more intense, particularly in Korea and particularly against students. He was a student at Doshisha University in Kyoto, Japan. In July 1943, on his way to home for summer vacation, Yun was arrested by the police for, "having rebellious ideas, participating in the independence movement and for being permeated with Western influences." He was sentenced to two years in prison in Fukuoka. After about a year in prison, on February 16, 1945, he passed away. It was only about six months before the end of war and the nation's liberation. 
Upon liberation, Jeong Byung-wuk and Yun's brother, Yun Il-ju, gathered Yun's poems, preserved through great difficulty, and published an anthology of his work, "Heaven, Wind, Stars and Poems," a dream Yun had long cherished.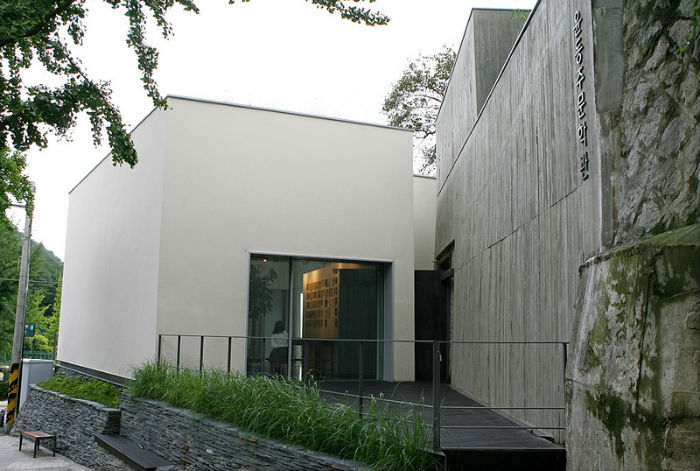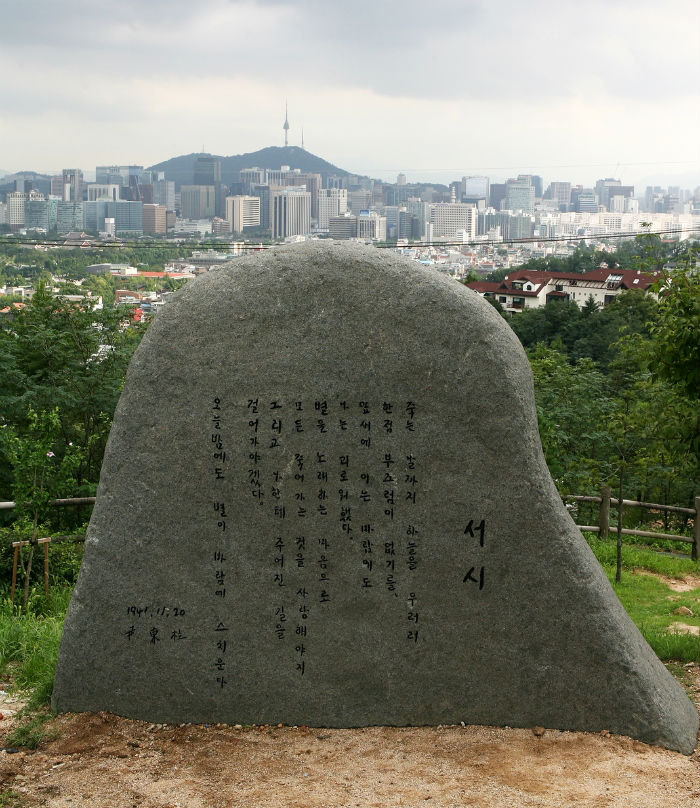 (Bottom) The literature center is located near Yun Dong-ju Hill, where can be found a monument (pictured) with his representative poem "Foreword" engraved on its face. (photos: Jeon Han)
Some 70 years later, modern people are reminded of the poet through a variety of channels. Last year, the Seoul Performing Arts Company produced "Yun Dong-ju Shoots the Moon," a musical reinterpretation of his life, in commemoration of National Liberation Day.
Earlier in 2009, Seoul City constructed the Yun Dong-ju Literature House, featuring exhibits about the poet's life and including some of his personal items and handwritten manuscripts. The building is located adjacent to a small park, whose trails leads up Yun Dong-ju Hill, in the foothills of Inwangsan Mountain. This is where today's generations can share in Yun's loneliness and patriotism. 
Today, poet Yun Dong-ju's tale is brought to life in a novel. The English translation of the book has already become a bestseller in the U.K. The mystery is now ready to go global, to reach more readers in France, Poland, Japan, Taiwan, the Netherlands, Italy, Spain and China. 
By Lee Seung-ah 
Korea.net Staff Writer
slee27@korea.kr