Asian nations work together to stop desertification
Asian countries, including Korea, China, Cambodia and Mongolia, have joined forces to combat desertification and to beef up cooperation in the forestry sector. 
As part of a series of joint efforts, the Korea Forest Service and the secretariat of the United Nations Convention to Combat Desertification (UNCCD) jointly held their Asian Region Workshop in Songdo, Incheon, on May 7.
The UNCCD is an international agreement adopted in 1994 to combat desertification caused by indiscriminate forest development and land abuse. It is one of the UN's three major environmental accords, along with the United Nations Framework Convention on Climate Change (UNFCCC) and the Convention on Biological Diversity (CBD).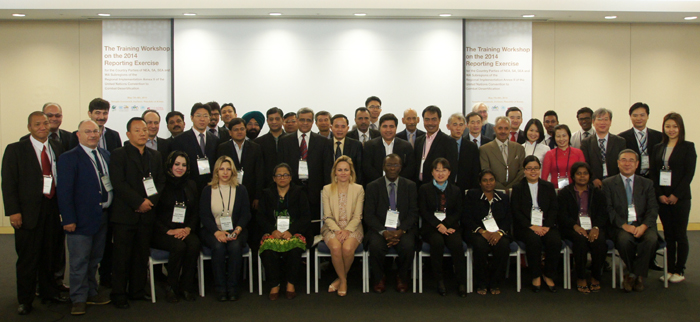 on May 7 in Songdo, Incheon. (photo courtesy of the Korea Forest Service)
Throughout the three-day workshop, more than 90 representatives from UNCCD branches across the Asian and Pacific regions reviewed reports on desertification from Asian countries, especially those heavily struck by land degradation. They also held in-depth discussions on how to deal with the problem. 
"Korea has continued to work together to help other Asian countries cope with desertification and land degradation," said an official from the Korea Forest Service. "We will continue to expand cooperative projects with these countries, based on our experiences in reforestation." 

The same day, across the seas in Phnom Penh, Cambodia, a new forest research institute opened its doors. Ground for the institute was broken in March 2012, as part of efforts by the Korean forest agency to help Cambodia restore its forests and to construct facilities designed for forestry studies. 
The newly opened institute will serve as the centerpiece for the country's boosted response capabilities against rapid climate change and land degradation across the region. 
On top of that, a tree nursery in an annex of the building will develop strong, diverse species of trees using tissue cultures and distribute them to the government, companies and the public. It is hoped this would lead to enhanced abilities in forestry research and development.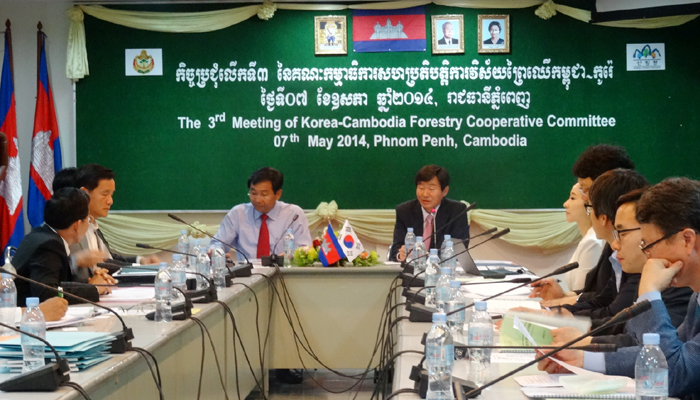 Along with the new forestry center, the 3rd Korea-Cambodia Forest Cooperation Committee meeting brought together both Korean and Cambodian representatives to discuss how to further help Korean investors in reforestation across the region, how to carry out pilot projects to reduce emissions from deforestation and forest degradation (REDD+), and how to enhance bilateral cooperation on forest studies. 
"Korea and Cambodia have been actively engaged in cooperative efforts in the forestry sector, at both private and government levels," said Lee Chang-jae, director of the Global Forest Resources and Trade Division of the Korea Forest Service. "The new Cambodian institute will hopefully play a pivotal role in expanding such cooperative projects, for example in restoring forests across the Mekong River area and in completing the REDD+ pilot project," the director added.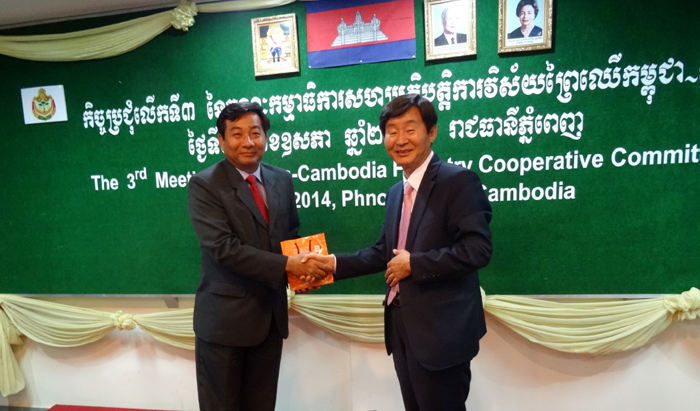 Meanwhile, in China too, the Korean forestry body has been lending a helping hand to prevent that country's rapid desertification. To this end, more than 3.2 million desert willows and poplar trees, both known to be well-adjusted to desert environments, were planted across 1,200 hectares of the Gobi Desert in Inner Mongolia, China, the origin of East Asia's "yellow dust" weather phenomenon. 
"We will continue to carry out a series of cooperative projects to help China combat desertification and 'yellow dust,'" said Choi Young-tae, director of the International Cooperation Division of the Korea Forest Service. Such efforts, he hopes, will improve the ecological environment across China's arid regions.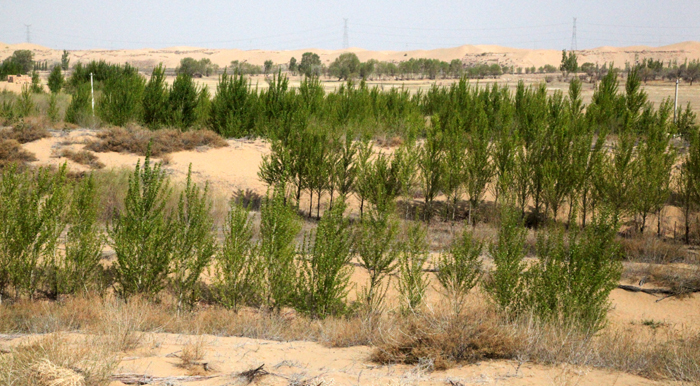 with the goal of combating the region's rapid desertification. (photo courtesy of the Korea Forest Service)
Similar efforts are underway in other Asian nations, such as Indonesia and Mongolia, as well. 
The Korea-Mongolia Greenbelt Forestation Project is an anti-desertification effort being made in Mongolia, a country with 70 percent of its territory at risk of desertification. 
The project, initiated in 2007, has had millions of poplar trees planted throughout the Lun Soum region and the Gobi Desert. With the effort, a 3000-hectare forest will have been created in the area by 2016.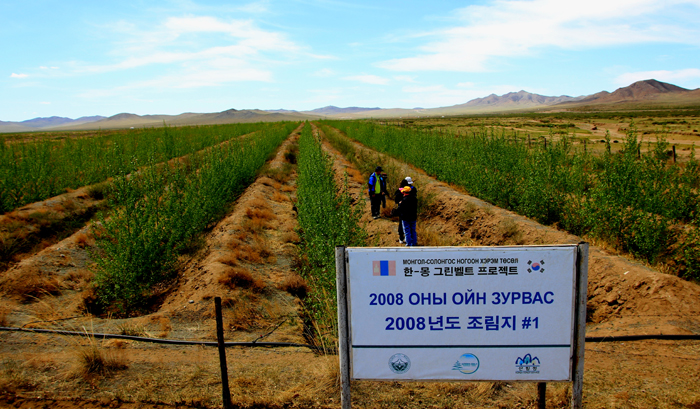 (photo courtesy of the Korea Forest Service)
By Sohn JiAe
Korea.net Staff Writer
jiae5853@korea.kr