Jeju National Museum exhibits rare mother-of-pearl lacquerware
For time immemorial, people have been making all kinds of ornaments using the natural resources they find around them. Among the many materials regarded as special and precious have been pearled seashells, recognized for their beautiful gleam. People would cut the shells into various shapes and sizes and embed them into craftworks. These were called najeonchilgi, nacre lacquerware or simply mother-of-pearl. Each country and era had its own shape and design for these beautiful handicrafts.
Recently, the Jeju National Museum has opened a special exhibit that brings nacre lacquerware into the light. Held as part of a special exhibition that introduces Korea's national treasures, "The Art of the Shimmering Light, Traditional Korean Lacquerware" (unofficial translation) focuses only on lacquerware produced during the Joseon era (1392-1910) and used at the royal palaces.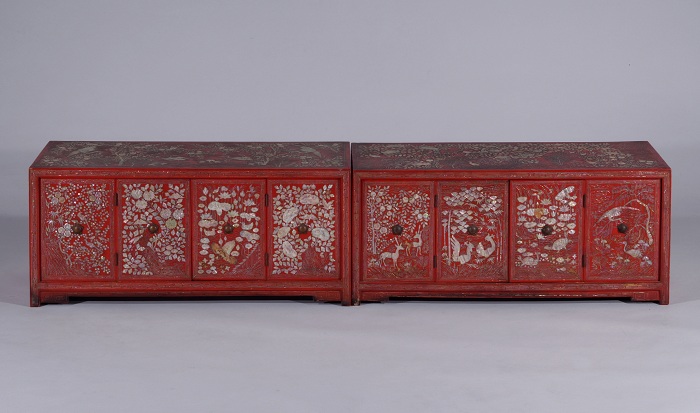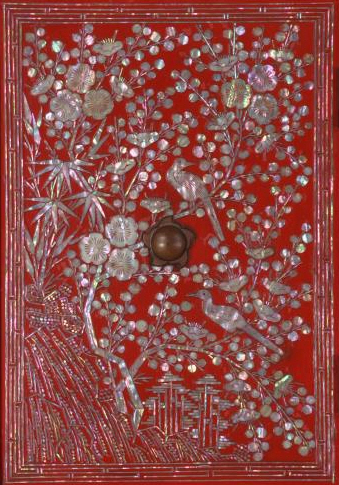 The Korean word najeonchilgi comes from the words na, which refers to spiral shaped seashells, and jeon, the act of engraving a metal strip of gold, silver or copper onto the surface of an art work. It is the process of manufacturing or creating an artwork, completing it with crushed pieces of seashell on the surface. The surface is then brushed with sap extracted from the lacquer tree (Toxicodendron vernicifluum), dried and refined for a certain period of time so as to protect the timber and make it polished. The process, or the artwork that finished this stage of work, was called chilgi. 
Nacre lacquerware was introduced to Korea through the influence of Chinese arts. The art of lacquering wood was introduced during Korea's Three Kingdom period (57 B.C.-A.D. 668) and nacre lacquereware itself during the Unified Silla period (668-935). The two related art forms then slowly developed into a unique "Korean way" of lacquering craftworks. During Goryeo times (918-1392), largely influenced by Buddhism and led by the ranks of nobility, the craftwork became more elaborate and delicate, enjoying its heyday. According to historical accounts, Chinese envoy Xu Jing said, "Goryeo's lacquerware is very delicate and valuable," during a visit in the 12th century. He is known to have made a comment that such high-quality lacquerware could not be found in China. Lacquerware during Joseon times (1392-1910), however, seems to have been influenced by Confucianism. While lacquerware from Goryeo can be defined as extravagant or delicate, that from Joseon was seen as rather pictorial or realistic. During the earlier days, it was manufactured for a few special occasions, such as royal wedding or as a gift offered to Chinese emperors. It was also a luxury good, owned by the upper classes. During the 16th century, however, as the country experienced several wars involving Manchuria, China and Japan, the art of making lacquerware was spread across a wide group of people. During those turbulent times, the pictures on the craftworks were mostly things that we can find in our daily lives, such as flowers, birds, fruits and plants. From the 18th century onward, however, the craftworks began to be enjoyed by the common people. Most of the patterns now showed symbols of prosperity, fortune and longevity, such as the Ten Traditional Symbols of Longevity and landscape scenes. 
A closer look at the Red Lacquerware Document Chest inlaid with Mother-of-pearl
This special exhibition features mainly craftworks produced during late Joseon times, particularly from around the 1910s to the 1940s. On display are a collection of Joseon royal palace items, including the royal lacquerware favored in Changdeokgung Palace. Around 30 pieces of lacquerware from Southeast Asia are also on display, giving visitors a chance to compare the same artwork from across different regions. The exhibit also features a number of abalone and conch pieces excavated from the Sangmo-ri and Bukchon-ri areas on Jejudo Island. There is also a green snail from Okinawa, in southern Japan, a major source for lacquerware.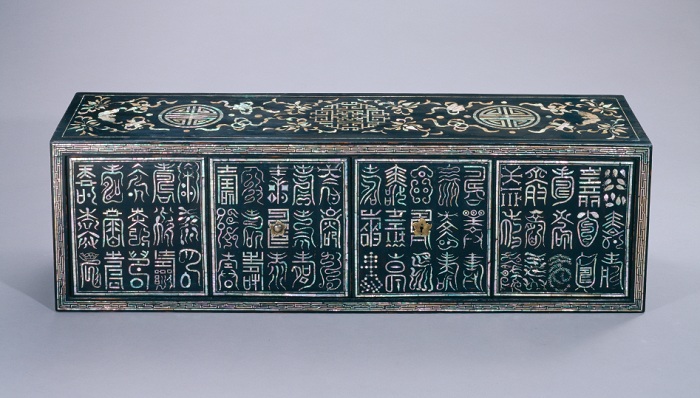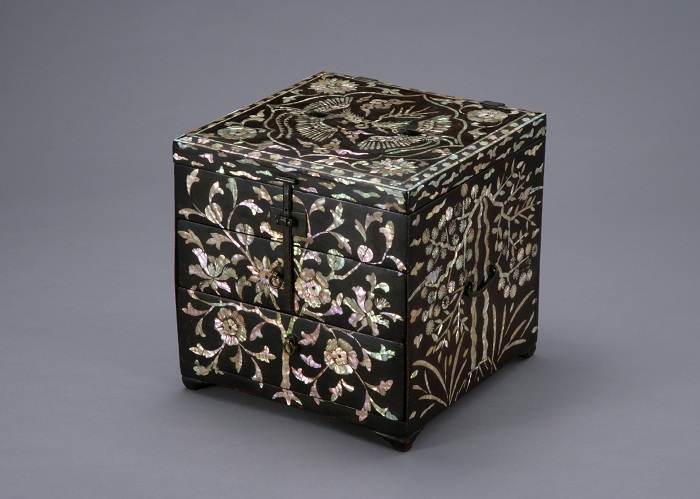 It is rare that museums have special exhibitions on nacre lacquerware, though in 2006, the National Museum of Korea did put on one exhibit. The Jeju National Museum explains that such exhibits require great care and attention to detail in the management and preservation of the lacquered craftwork, and that it is not easy to move the exhibits back and forth to different locations. 
In the first half of the exhibit, the museum introduces the history, materials, types of decoration, manufacturing techniques, patterns and lives related to traditional Korean mother-of-pearl art work. The second half is designed to let visitors appreciate the works of art for themselves. 
The special exhibit opened April 15 and continues until June 15. 
More information can be found at the Jeju National Museum's homepage. 
(https://jeju.museum.go.kr/en/contents/main.php) 

By Lee Seung-ah
Korea.net Staff Writer 
slee27@korea.kr