Education gives hope to Harlem
The sounds of Korean language are echoing through the hallways of schools in Harlem, in New York City. Now and then, the lively notes of Korean hip-hop and pop music, sometimes mixed with traditional Korean tunes, too, can also be heard coming from the classrooms of these schools. 
These are the Democracy Prep Public Schools (DPPS), a series of schools that has adopted a largely "Korean" education system. 
In addition to the standard curriculum, the schools provide elementary, middle and high school students with a wide range of traditional cultural programs, such as samulnori lessons, a traditional music percussion quartet,taekwondo and etiquette, as well as in Korean language.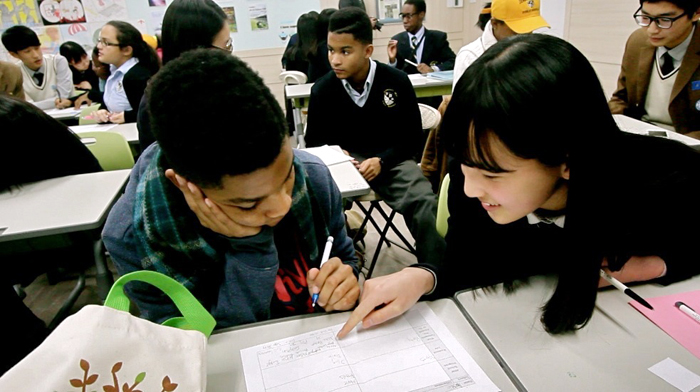 Since the introduction of this "Korean" educational system, the schools have achieved a lot. They have transformed themselves from being one of the lowest-ranking schools in the neighborhood into being at the center of one of New York City's greatest educational success stories in a decade. 
The man behind the success is Seth Andrew. An educator with a bachelor's degree in education from Brown University and a master's from the Harvard Graduate School of Education, Andrew always kept in mind the three core educational values, values that, he was sure, would lead children to success. "Work hard. Go to College. Change the world." 
With that motto, he established the first Democracy Prep Charter School back in 2005. He based much of the school design and philosophy on his experience teaching English at a middle school in Korea in 2000. 
"In 2000, I saw in-person many students studying harder and harder, as the only way to get themselves out of poverty and the only path which would lead to a successful life," he said. "Only six decades ago, Korea was nothing but one of the poorest countries in the world, but look at it now. This country has grown into one of the world's leaders," he added.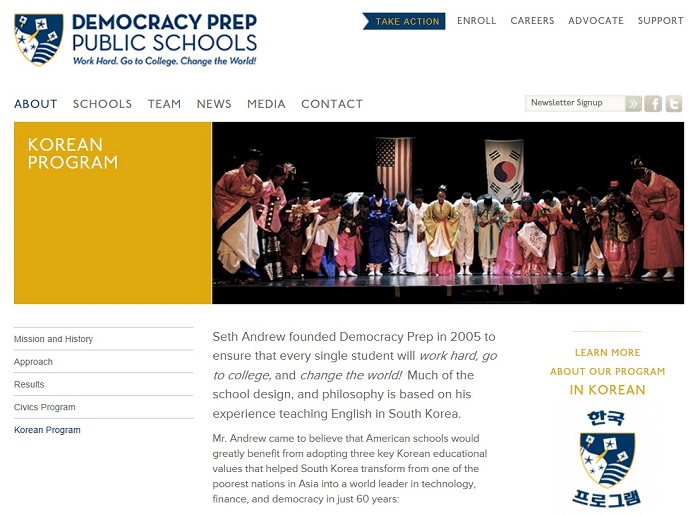 Some 80 percent of the students come from economically disadvantaged households, many of them African-American or Hispanic. 
"I believed from the very beginning that Korean educational values would bring educational innovation to Harlem, and I was sure that the enthusiasm for education shown by Koreans was what was needed in order to freshen up the atmosphere across the neighborhood," the founder said. 
Andrew believed in the "miracle through education," and it really did wonders. 
Scores of DPPS students are more-or-less equivalent to those from more prestigious high schools when writing the SAT mathematics and English tests. Also, the rate of high school graduation has now reached 100 percent. 
The schools, however, don't just keep students at their desks all day. Instead, the schools take the students to Korea on a yearly base, so that they can personally see the real aspects of the country, a country that they have only learned about in books. This so-called "KOREA Academic Adventures" program allows the students to visit the nation and experience day-to-day life in one of East Asia's most open, urban, vibrant and democratic societies.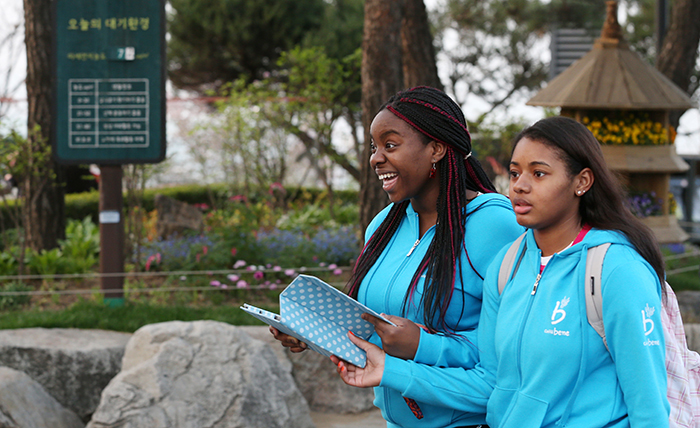 On April 12 this year, as part of this program, a group of 20 high school students and six teachers from the Democracy Prep Public Schools arrived in Seoul. 
During their nine-day stay, the group hit many of Seoul's best-known tourist attractions, including the Namsam Hanok Village, Insadong, Myeongdong, traditional palaces from the Joseon Dynasty (1392-1910) and N Seoul Tower. They even traveled southward to visit the ancient Silla capital in the present-day city of Gyeongju in Gyeongsangbuk-do (North Gyeongsang Province). 
Korea.net met with the DPPS team on April 14 when they were visiting the N Seoul Tower. Despite suffering from jet lag, the tired students managed to make it up to the spire. Their eyes started twinkling when they found tens of thousands of "couple locks," padlocks clipped onto the railing by in-love couples and marked with messages of love in indelible ink, all around the fences and railings at the tower's base. "This is exactly what I saw in the soap opera, 'My Love From the Star'!" the students shouted gleefully.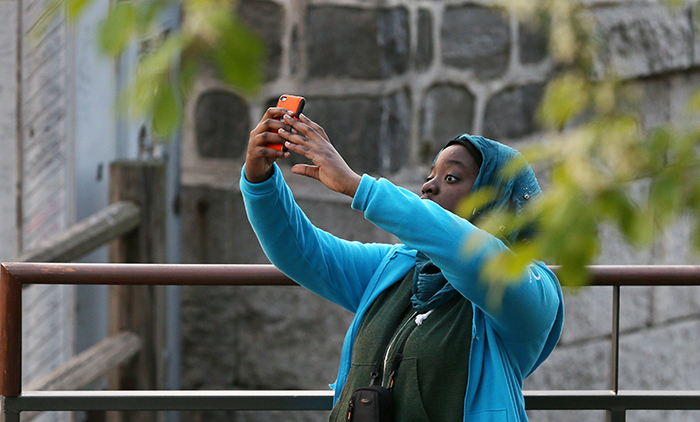 Among the visiting young scholars was Justin Baez, his face sporting a wide grin. When asked how he felt about being in Seoul, he said, "It's totally different from what I learned in classes. Walking down the streets here, I can find a really different Korea than that which I've known."
He and his friends said hello and thanks in Korean, very naturally, to people they passed by. When asked if he had ever found it difficult to learn Korean language in school, he nodded, saying that, "It really is [hard]. Nonetheless, the Korean language courses are the most interesting among my classes."
"I started learning the language this year, so I am at a beginner's level, which is easy. However, I guess the farther you get, it gets harder and it's hard to master it. I think the biggest part of culture is its language. Learning it is a completely different experience."
He has worked part-time at the Metropolitan Museum of Art for a while, where there have been many Korean exhibitions. "This school has helped me improve my Korean ability and I hope to use these skills when I become a curator at a museum in the future, which is my dream job." 
Among the school group was Korean language teacher Lee Jung-jin, who has been teaching Korean language at the schools since 2005. 
The teacher emphasized that the school focuses on three factors when it comes to education: hard work leads to success; teachers are golden; and, lastly, education is your most valuable asset. 
"Many aspects of the Korean education system embrace these three values," said Lee. "Andrew himself has trusted in these values from the very beginning, I think. Discipline, respect and enthusiasm are universal values, but are especially emphasized in the Korean education system," she added. 
"We adopted all these mottos and they form a great synergy with our educational goals. This has not only improved our education system, but has also made our students come together in society and in the community."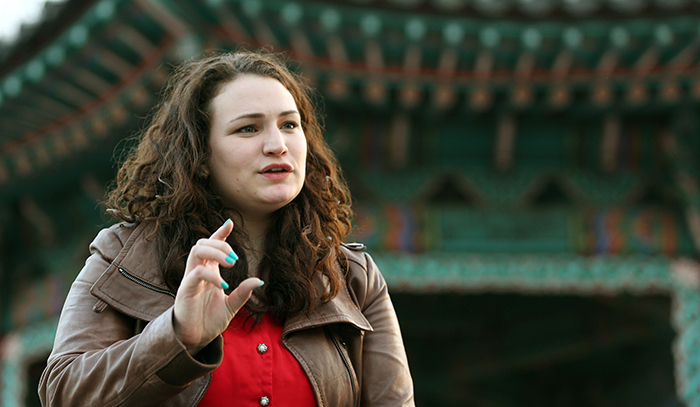 "I've been seeing how they grow over the years," said Carrie Wolk, who teaches U.S. history. "They respect each other and are getting more curious. They are eager to know more and to interact with people, other cultures and the world." 
"Through the various cultural programs provided by the school, students are getting more exposed to other cultures and are learning to accept diversity, getting out of the microcosm that is Harlem," she added.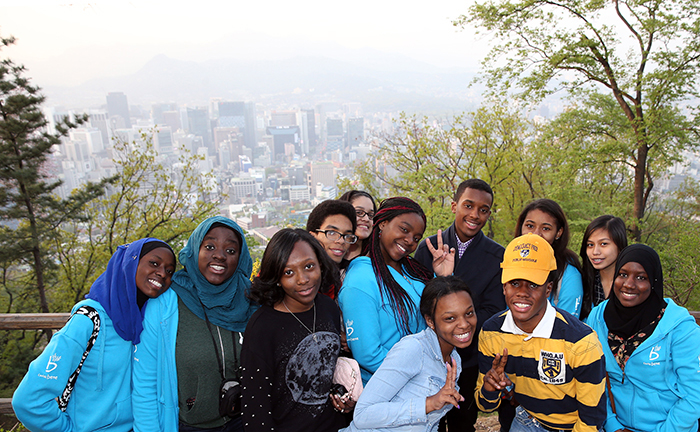 By Sohn JiAe
Korea.net Staff Writer
jiae5853@korea.kr