DMZ Tour Bus gets positive feedback from tourists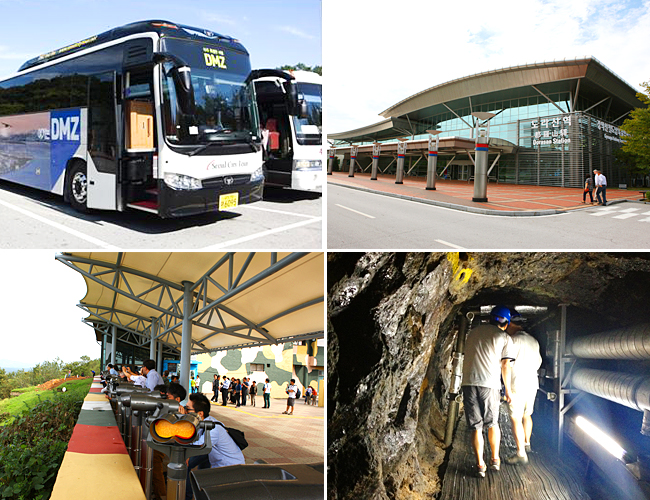 Seven months after it was launched in September 2013, the DMZ (Demilitarized Zone) Tour Bus has reached the 10,000 mark in the number of passengers. 
Jointly operated by Seoul City Tour Inc. and the Korea Tourism Organization, the DMZ Tour Bus caters exclusively to international tourists. The tour course includes The 3rd Tunnel (Dorasan Observatory), Dora Observatory and Dorasan Station in Paju, Gyeonggi-do. The bus departs every day, regardless of the number of passengers. There is also a guide (proficient in English, Japanese and Chinese) on board to help the tourists along the way. 
The bus is hard to miss, with "DMZ" written in big, bold letters and images of the DMZ's natural attractions on both sides of the bus. The bus stops at hotels and guesthouses to pick up passengers along the way with no extra cost. 
For reservations, visit the website of Seoul City Tour at www.seoulcitytour.net (Korean, English, Japanese, Chinese) or www.koreatourinformation.com (English). The fare is fixed at US$41 per person.
——————————————————————————————————————————————————————————————————————————————————————————–
More Info 
<DMZ Tour Bus> 
☞ Reservation: Seoul City Tour Inc. www.seoulcitytour.net (Korean, English, Japanese, Chinese)
    /www.koreatourinformation.com (English) 
☞ E-mail: mail@ seoulcitytour.net,  koreatourinformation@gmail.com
☞ Inquiries: +82-2-774-3345 (Korean, English, Japanese, Chinese) 
    Reservation service is available 24hours. 
☞ Fee: US$41 per person (approximately 41,000 won)
☞ Direct pick-up service available for tourists staying at hotels and guesthouses in Seoul 
    (Confirm the location and/or accommodation via phone)
☞ 1330 Korea Travel Hotline: +82-2-1330 (Korean, English, Japanese, Chinese) 
By KTO