Charlie and Seoul's underground
A pair of Americans has discovered Seoul's subway system. Dongdaemun is their favorite station and they know the related history and the hidden attractions of subway stations across the metropolis. 
They are Charles Usher and Elizabeth Groeshn. The two recently published "Charlie and Liz's Seoul Subway Travelogue" in Korean and are receiving positive reviews. Usher wrote the story and Groeshn took the photos.
Usher, a 32-year-old native of Wisconsin, began his life in Korea in 2005. In 2009, he returned to Korea after finishing some long travels and rediscovered the convenience and organization of Seoul's subway system. It was then that he decided to learn more about the city, following the theme of "the subway," and began his travels with Groeshn, uploading the travel stories to their blog. Every week, the two visited one or two subway stations and looked around the neighborhood. Usher said he will never be able to visit all the subway stations in Seoul, but that the two have visited nearly 140 stations so far.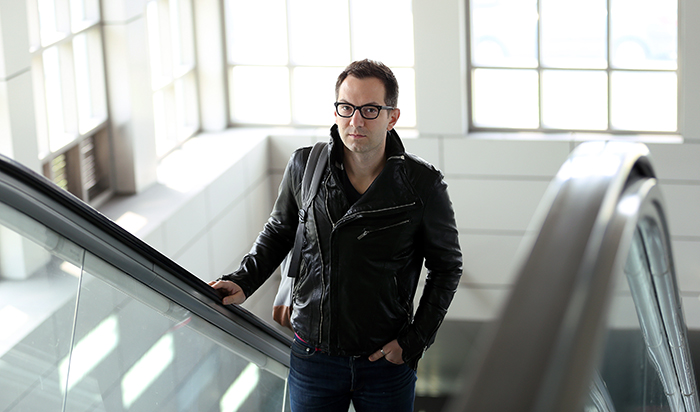 Though it began as a small, personal interest site, his blog has now grown in popularity and has received favorable responses, making the scale of their project a bit bigger. Usher and Groeshn began taking their subway visits every week, starting from Nonhyeon Station, subway line No. 7, the first station reviewed in their subway journey. Though it varies from station to station, neighborhoods with many things to see and with a lot of history, such as Seodaemun, for example, require repeated trips to cover all there is to see. They had to visit Seodaemun Station, line No. 5, four times.
In the book, Usher wrote about the painful history of Seodaemun Prison, which has been recently transformed into a history museum, in his entry on Dongnimmun Station, along line No. 3. He also wrote about Korean history during Japanese colonization and about the history of Jangchungdan Park in his article about Dongguk University Station, also along line No. 3. Usher and Groeshn enjoyed the fun and surprise of travelling and the beautiful contrast created by the past, present and future when traveling around the city and writing for their blog. They found a "silk worm experience zone" when walking around the neighborhood of Jamwon Station and were able to serendipitously interview old actor Yi Gil-eok when walking around Chungmuro Station, a transfer point between lines No.3. and No. 4. 
"It's a lot like a relationship with a person. You have to actively put an effort into getting to know everything, to develop the relationship," said Usher, expressing his affection for the subways of Seoul and for his life in this city. 
Korea.net sat down with him to listen to his Seoul subway travel stories. 

– What motivated you to write a travel book about the Seoul subway system? 
It was initially just an idea for my blog, "Seoul Sub–>urban." The book is based on the blog. It is basically selections from the blog. The main reason for starting the blog in the first place was that I wanted to see more of the city. One of the main things we hoped to achieve with the book was to foster the same kind interest in the city that Liz and I have, to open up something in the areas and neighborhoods people are familiar with. I wanted to give people the chance to see familiar things from a different perspective. 
– What made you come to Korea in the first place?
The first time I came to Korea was in 2005. I wanted to live overseas somewhere. It could be anywhere, like Europe or Japan. My university had an exchange program with the province of Gyeonggi-do. Graduate students were able to go and teach English at a public school in Gyeonggi-do and Korean teachers could come to my university to take English or education classes. It was right there, and I said okay. I didn't know anything about Korea, but I had been to Asia before, so I thought, "Why not?" That's how I came here for the first time, not really a good reason, I guess. When I came back here the second time in 2009, I had no more money because I had been traveling for a long time and I needed a job. The economic situation in the U.S. was really bad. I knew I could find a job here and I liked it here. I still have more friends in Seoul than in any one city in the U.S. I really liked it here when I was here the first time. 
– Which subway station and neighborhood would you recommend that people visit, and why? 
There are so many good stations, but some of them would be Dongdaemun Station and its neighborhood, the markets and the back alleys. It is like some really new development versus some really old parts of town. It seems like everything, all the strata of society, exists there at once. 
I really like Sindang Station with Jungang Market and the whole flea market there. They got old working shops and blacksmiths, which can hardly be seen anywhere else. 
When the weather is good, I would go to Hansung University Station to see the Seongbuk-dong area. I really like Seongbuk-dong because it is relaxed, and there are nice cafes all around you. Mullae Station is another one. They got a cool underground art scene there and yet industrial factories are still there. The areas around Sangsu and Hapjeong Stations are also nice. They used to be part of the Hongik University District, also known as Hongdae, but have been pushed out to the edges. 
– In your view, what are the strengths or merits of Seoul's subway system?
I like the whole Seoul subway system. I come from Wisconsin. I didn't know we had a public bus system until I was in high school. I like the public transport here. I'm environmentally conscious, so Seoul's public transport system is good, super-extensive, super-efficient and super-cheap. With one ticket, you can go to a lot of different places. Seoul has the best public transport I've ever seen. 
– What are some of the weaknesses or inconveniences that need to be addressed?
Sometimes etiquette, as some people are in a rush on the subway. Another thing, I would say that it would be very nice if it were to run later on the weekends, like, say, until 1 a.m. A few years ago, they changed the sound announcing when a train was arriving. The new sound is awful. It sounds like an announcement you would hear in a 1991 video game. 
– If you could choose, in which part of Seoul would you most want to live?
It would be Yeonnam-dong. It is close to the Hongdae District and to Sinchon. I used to live there. Yeonnam-dong is quite nice, quiet and relaxed and has interesting restaurants and nice cafes. There is a Chinese neighborhood and other Asian expats live there, with good Chinese restaurants. In my opinion, the best Thai restaurant in the city is there. My favorite cafe is also in the neighborhood. 
– You seem to know very well the history of Korea and many parts of Seoul. How did you first learn all of this information and history?
I tried to do some research, like a quick search in Google or a look at what's in the guidebook, before we visit a station. When we get there, we see signs or brochures explaining the streets and places. I learn a lot by just going there and reading the available information. 
– What were the difficulties or favorite things about the trips and travels undertaken to write this book?
There were no major difficulties. Sometimes, obviously, there were some language difficulties or sometimes we weren't able to access a station because the place was closed for the day, or for construction. So we had to go back another day, but I haven't had any big difficulties or problems. Just small inconveniences. When traveling to write the book, by and large, the people I met were quite helpful, though sometimes a little shy. Usually, the people I talked to, most of the time, were willing to talk and were quite helpful. 
For Liz, who did the photography, she had to take photos of their back, because they didn't want their face to be shot. 
– What is the most memorable, unique subway station or neighborhood in Seoul?
It's a tough question because there are so many memorable and unique stations in Seoul. Jamwon Station is one, just for where it is, for the location of the station. Unlike most subway stations that are located in big intersections, this station is in a little side street, with flower beds. It seems like you come up in the middle of a neighborhood. It is really pleasant. They got trees and it is quiet. It almost feels like you are in a park. Mullae Station is also unique, with its own neighborhood. 
One thing that I learned over the course of the project is that I didn't expect most stations or most neighborhoods to have some aspect or mix unique just to them. Before we started the project, we didn't know that and thought that we would stop in a couple of months because it would be boring. When you go exploring, however, it's not. We found more diversity than we first expected. For example, when we went to Ahyeon Station, we found an eastern orthodox church and it was totally unexpected. 
– If friends or family members come to Seoul for the first time, where would you want to bring them?
If they haven't been here before, I would definitely take them to Gyeongbokgung Palace, Insa-dong, Dongdaemun for sure, and Gwangjang Market for the food and to eat bindaetteok and drink some makgeolli. I would also bring them to Seongbuk-dong. For example, my brother visited me last year and we went to Bongneunsa Temple and COEX to see the contrast. I'd probably go around the Hongdae District for the nightlife, Noksapyeong Station to see Itaewon and my favorite makgeolli place. In Itaewon, there are also good breweries and the Seoul Museum of History is my favorite museum in Seoul. Maybe go to Sindang Station to check out the Jungang Market and the big flea market there. It's always interesting. 
– Is there any place you like in Korea besides Seoul? If so, where is it?
I would say Jeonju. I like it because it is a nice city, I like the hanok, traditional villages and old Confucianism academies. Those are all very nice. Obviously, the food is great. I also like Busan a lot. It has a different vibe than Seoul. Last summer, we went to Haenam, close to Yeosu, with the islands. It was really nice. I really enjoyed it: the view, the nature, the peace and quiet. 
– If you were to write an article about Korea, what would you write about?
I guess it would be about the way in which much of the city changes and how it changes. I think Seoul is a city still trying to figure out its identity. Obviously, the past 50 to 60 years it has undergone so much change, over such a long time, with huge developments and now, a paradigm shift. Now, it is really focused on design and on becoming a livable city. I think it's trying to figure out what it wants to be in the future. I think this reflects the country and the Korean people. I'm interested in those changes. Of course, there is a lot to write about, like the food and culture, the changes and the city's art scene. 
By Yoon Sojung
Korea.net Staff Writer
arete@korea.kr