Everest, Poles, Korea and the world
There is a young man living in Seoul who climbed Mt. Everest at the age of 19 and who travelled from the North Pole to the South Pole when he was 21. His name is James Hooper, a 27-year-old university student from the U.K. 
When he was 16, Hooper read an article about the 50th anniversary of summiting Mt. Everest. He decided to climb the mountain and underwent all the necessary training, such as rock climbing, marathon training and long-distance cycling. In 2006, he successfully summited the world's highest peak with his best friend, becoming the youngest British climber to conquer the mountain. 
The next year, he traveled from the North Pole to the South Pole using only human and natural power, without relying on fossil fuel or electric power. His 13-month journey received huge press coverage. National Geographic named him its 2008 "Adventurer of the Year." He met Prince Charles and even filmed a commercial with the slogan, "Impossible is nothing," alongside British soccer star David Beckham.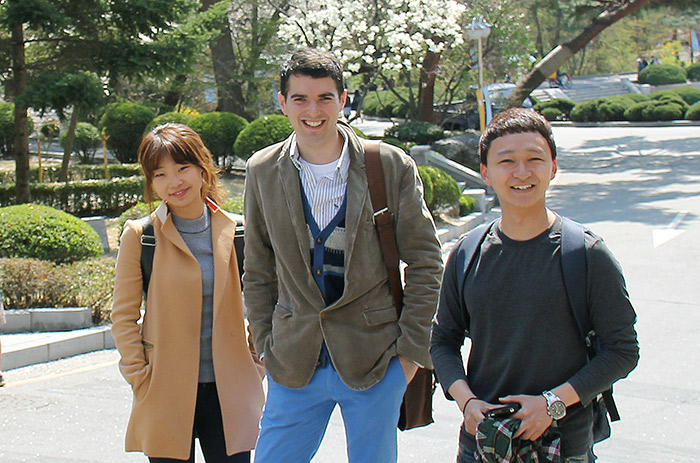 James Hooper and his classmates at Kyunghee University pose for a photo. Many students, both from Korea and overseas, say hello to Hooper when walking around campus. (photo: Yoon Sojung)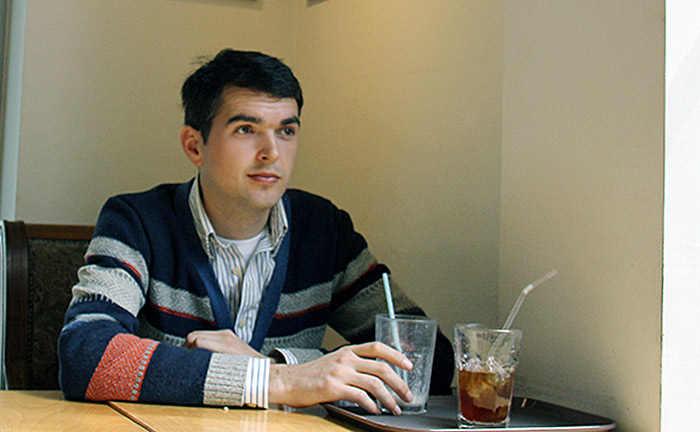 Hooper plans to do postgraduate studies in geography. He hopes to contribute to society by using the knowledge and experiences he learned during the expeditions. (photo: Yoon Sojung)
He did experience hardships. In 2009, he lost his best friend, Rob Gauntlett, in a tragic accident in Switzerland. Rob was the man with whom he traveled during the expeditions. After the accident, Hooper was greatly shocked and suffered from depression. Later, he decided to enter university and submitted applications in the U.K. He did receive admission to prestigious universities, such as Cambridge, but in the end he decided to head to Korea. Since 2010, he has been studying geography at Kyunghee University, reflecting his interest in climate change and regional culture. In 2011, he successfully completed a 570-kilometer journey from Jejudo Island to Seoul in under 100 hours using only human and natural power. 
Speaking fluent Korean, Hooper enjoys Korean culture and his life in the country. His favorite place in Korea is Jungmun, on Jeju Island. He likes to go hiking in the mountains around Seoul whenever he has time. During his challenges and adventures, he is always accompanied by good friends and supporters who are attracted to his energy and passion. This man seems to have been everywhere and seen everything in the world. 
Korea.net sat down with him to learn more about his next direction. 
– What are you? A traveler? Adventurer? Or a mountaineer? How do you introduce yourself to others?
I try to avoid introducing myself because I guess someone else will do a better job than I do. I strive to be someone who is well-educated, liberal, and thoughtful at the same time, adventurous and trying to experience new things. 
-You have traveled to so many countries, continents and oceans, over a distance that's impossible to calculate. What are some of the most memorable places or moments in your journeys so far?
The most amazing places I've been are Greenland and Chile. Greenland is spectacularly barren, but it is obviously beautiful. Another interesting thing is the lifestyle. Having an opportunity to live and travel with hunters for a month is truly a rewarding and amazing experience, such as being able to see how ingenious they are, going hunting for a month on a dog sled. 
Chile is very beautiful. In one country, there are so many different environments. In the north, there's a desert. In the south, there are glaciers and ice. It also has some of the highest mountains in the world, like the Andes, waterfalls and has amazing beaches. The country also produces the most fruit anywhere in the world. I really enjoyed it because it is an amazingly divergent country and also culturally rich. 
– In 2011, you successfully completed a mission to travel from Jejudo Island to Seoul in under 100 hours using only human and natural power. Have you accomplished any challenges since then?
I've done no major physical challenges since then. I want to study in a postgraduate course in geography, so I am currently waiting for the results of my applications to universities in Australia and Canada. This will be my next challenge. 
– Why did you choose to study at a university in Korea, even though you could have entered a prestigious university in the U.K.?
I thought I would be very bored in the U.K. and a poor student. I also thought it would be a better idea to study abroad, rather than stay in the U.K. A friend of mine lived in Korea for three years, is now married to a Korean woman, and had just come back to the U.K. Because of them, I have learned a lot about Korea and thought Korea would be a very interesting country in which to study. Also, I wanted to go a country which is completely different from the U.K. I didn't want to be in a comfortable environment. I wanted to be somewhere where everything is difficult for me. I wanted to go somewhere where the language, culture and seasons are all different. For me, I wanted to be somewhere completely different. Equally, my friend also told me it is a nice place to live, with lots of opportunities. So I thought, "Why not try Korea?" 
– What is the most difficult aspect of your university life in Korea? Tell us what you like most or least about studying at a Korean university.
The language barrier is the main thing. Besides language, there aren't really any problems. Of course, the system is different from that in the U.K., but once you get used to it and understand it, then it should be okay. For me, personally, I learn just by living here, not only in the classroom but also every day I learn something new and meet new people. Every day is a challenge. My professors and girlfriend also help me a lot. 
– You ran for student president last year. What made you contend the position?
I would say there are two major reasons. One is obviously the large number of overseas students at Kyunghee University. I wanted to make people aware that international students are part of the university and to make people feel proud that this university is an international university. The other reason is to try to change the education system here. Also, I wanted to let people know the benefits of having different experiences. There is another side to studying, an extracurricular side, and I hope the Korean education system can put more emphasis on such experiences. 
– Do you have a favorite travel destination or place in Korea? If so, what is it? 
I would say Jungmun on Jeju Island. I like it because when I was on Jeju, and passed through the area, it was very beautiful with little farms and old stone walls, orange and hallabong trees and winding roads. It has a slightly Provence-like feel to it, and the climate is very nice. Of course, it is close to some sandy beaches and is within easy reach of Hallasan Mountain and Jeju City by car. I also like to go hiking in the mountains, like Dobongsan, Bukhansan and Gwanaksan near Seoul. 
– You speak Korean fluently. Do you have any secret to learning Korean, even though it is completely different from your mother tongue?
I am not that fluent and have no secret. When I was young, I learned German and French, but couldn't speak at all. I was eager to learn the language this time, so I learnt fast. I studied Korean for four hours every day at the language center at the university during my first year here. 
– How do you set up your next goal? Why do you keep attempting challenges, despite the continued danger and fear?
Goals usually come spontaneously. They are the result of seeing some amazing photos, reading a book, learning something in class, looking at a map, hearing stories and daydreaming. There is no set of rules or timeframe by which I construct a new goal or challenge, but you know when one has arrived because you are inspired and full of energy and motivation. 
The reason why I enjoy adventures, despite the risk, is because I believe, firstly, that life wouldn't be life if we never tried new things and opened ourselves to the possibility of learning. I also believe that through good preparation, planning and training, it is possible to mitigate most of the risk until it is low enough that you feel comfortable to undertake something that others might consider risky. 
– Do you have a role model? If so, who is it?
I don't have any particular role model. You read inspiring stories about people every day. Although I don't want to be just like that particular kind of person, I look at points which I admire and think I would like to mix in those qualities and values. 
– Do you have any future plans? What's the one thing you really want to do?
This summer, I want to go back to Europe for a few weeks. My best friend, Rob, died in a climbing accident. Since then, we've been raising money in Rob's memory for a school in Uganda. This summer, I will join a trip which involves a group of 30 or 40 cyclists, all friends and family of Rob, who will travel from Prague to the U.K. to raise money for the school which is being built in Rob's memory. 
Academically, I will wait for the results of my applications for further studies in Canada and Australia before deciding where to go. In regard to my postgraduate studies, although I haven't yet settled on a thesis title, I would like to further study the environments in which I have gained experience and the relationships which shape the world. I believe these are fundamental to our future. In this sense, I would like to draw on what I have learnt whilst working at the Korean Polar Research Institute, as well as from being on expeditions, and look at these environments through the lens of the way in which anthropogenic activities are changing them and the subsequent impact that these changes will have on wider ecosystems and society itself.
My personal goal is to find a way to combine my enjoyment of the environment and adventures and visiting places with being able to produce some sort of benefit for society. I don't feel like going places just for the sake of going, but in order to do something to make a difference. 
– What does "challenge" and "adventure" mean to you?
That is a big question, as it involves many elements. One thing is a sense of achievement. By setting up challenges, going on an adventure and setting up a target, you have to find a way to achieve the target. If you are successful, you will feel a huge sense of achievement, and feel proud of yourself. 
Another element is the sense of freedom. To be able to visit new places and see new things gives you an amazing prospective on the world. You see how diverse, how many cultures and languages there are. 
The final point is that adventures, expeditions and travel are great ways to learn. You will never stop learning. If you go on an adventure, you will expose yourself to so many new situations and environments. You will also have to solve problems and in the process of completing adventures or solving problems, you will learn a whole host of new things. I think that educational or learning side of it plays a big part of why I enjoy adventures. 
By Yoon Sojung
Korea.net Staff Writer
arete@korea.kr