An air of spring is everywhere these days. 
A spring stroll around Seoul
An air of spring is everywhere these days. 
An air of spring is everywhere these days. 
The Yunjungno parkway in Yeouido is the best and most popular destination to appreciate cherry blossoms. It saw an endless flow of visitors during all of last week. This normally happens in mid-April, when the street is colored with snowy-white petals falling from the 1,600-some-odd trees that bloom on both sides of the street. If you want to escape the crowds, however, and are looking for a quiet, serene spot where you can appreciate the spring flowers, we suggest you take a look at one of the 140 spots recently recommended by the Seoul Metropolitan Government.
The list consists of 44 pathways in large city parks, 54 sidewalks along parkways, 35 paths along the waterside and, finally, some other streets and roads scattered across the city and planted with flowering trees. Added together, there are over 205 kilometers of walkways down which you can stroll. Anyone living in Seoul can find at least one of the paths within the vicinity of their home. It is being increasingly recognized among Seoulites that they can happily find unexpected hidden spots in the not-too-far distance.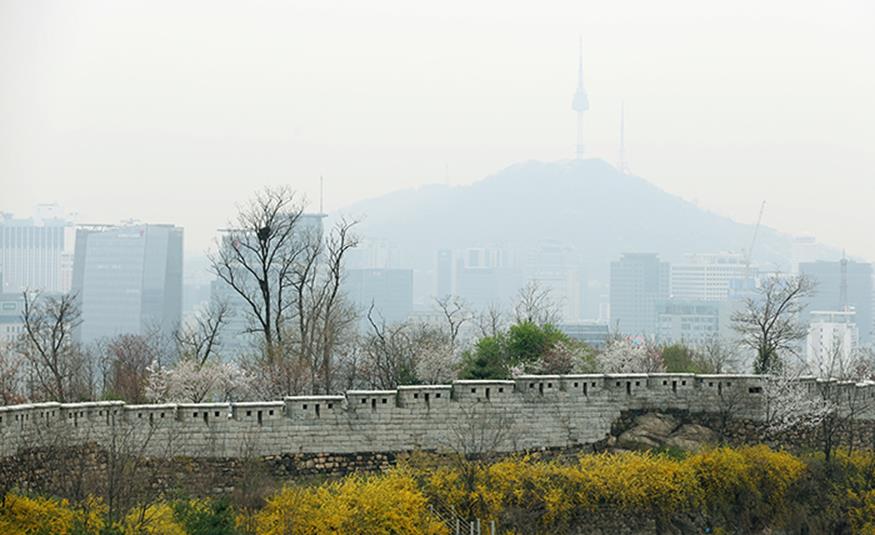 The Inwangsan Mountain Flower Trail stretches along the ridgeline and is frequented by people who want to both drive and walk. (photos: Jeon Han)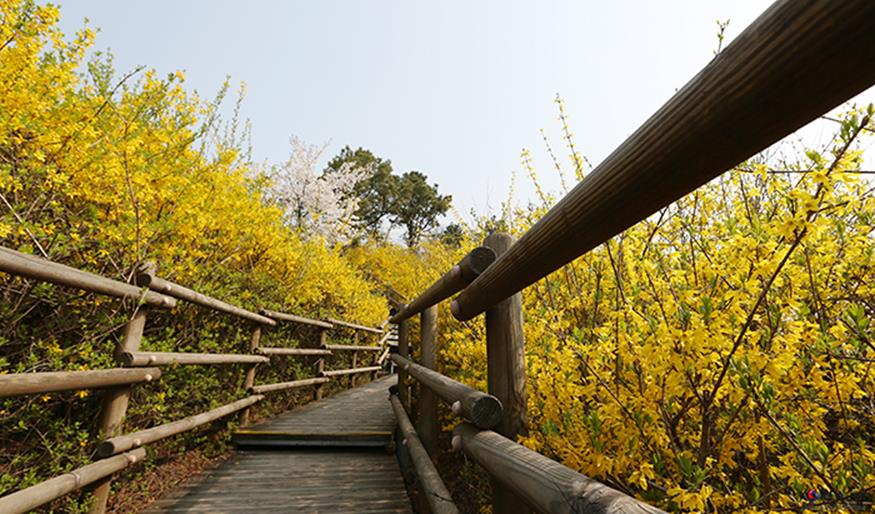 An annual forsythia festival takes place every March in Eungbongsan Mountain. (photo: Jeon Han)


At the north end of Jongno-gu District, central Seoul, sits the Inwangsan Mountain Flower Trail. The trail stretches from Sajik Park, near Gyeongbokgung Station (metro line No. 3), to the entry of the Bugak Skyway, passing through the Hwanghakjeong, a pavilion built during the late 19th century for archery practice. The trail is beloved by people who seek an escape from busy city life and who want to walk or drive through the serene atmosphere. The 1.2-kilometer trail has azaleas, forsythias and cherry blossoms all in one spot.
The Ansan Mountain Natural Park in Seodaemun-gu District is comparable to any of the other famous spots across the city in terms of its beauty and breathtaking views. Not only cherry blossoms, but royal azaleas and forsythias are in full bloom, starting at the entry to the mountain park. Its beauty has often been used as a backdrop for many soap opera scenes. In 2012, the location was featured in the soap opera "A Gentleman's Dignity," becoming a hot travel destination for picnic-goers. The trip can be made even more enriched with a visit to the Seodaemun Museum of Natural History, located very close to the park.
Another spot worth visiting is the Urban Neighborhood Park centered around Eungbongsan Mountain in Seongdong-gu District. Every year in March and April, an annual forsythia festival takes place here.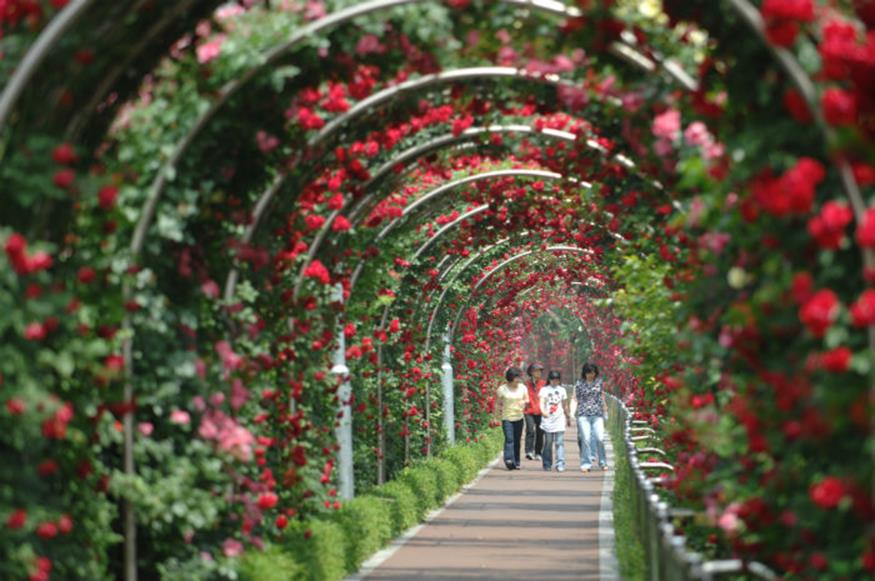 A rose tunnel can be found adjacent to the Jungnangcheon Stream. (photo courtesy of Seoul City)


If you are a resident of eastern Seoul, it is highly recommended that you stroll down the lovely and romantic walking trail covered by roses in Jungnang-gu District. The pergolas stretch for about 2.5 kilometers, from Mukdonggyo Bridge to Ewhagyo Bridge, and are covered with roses, decorative tropical timber and creeping vines. It exudes a very romantic atmosphere. 
Renovated and newly opened in 2010, the Jungnang Camping Forest, a former pear orchard, presents an awe-inspiring spectacle with its white pear blossoms in full bloom. Being more popular as a camping site than just a walkway, the Jungnang Forest is equipped with patches of green grass where visitors can sit and relax, outdoor tables where they can barbeque, power supplies for their amenities, and even a spa and shower facilities. The place is perfect for those who dream of a trip that they can enjoy in the heart of the city.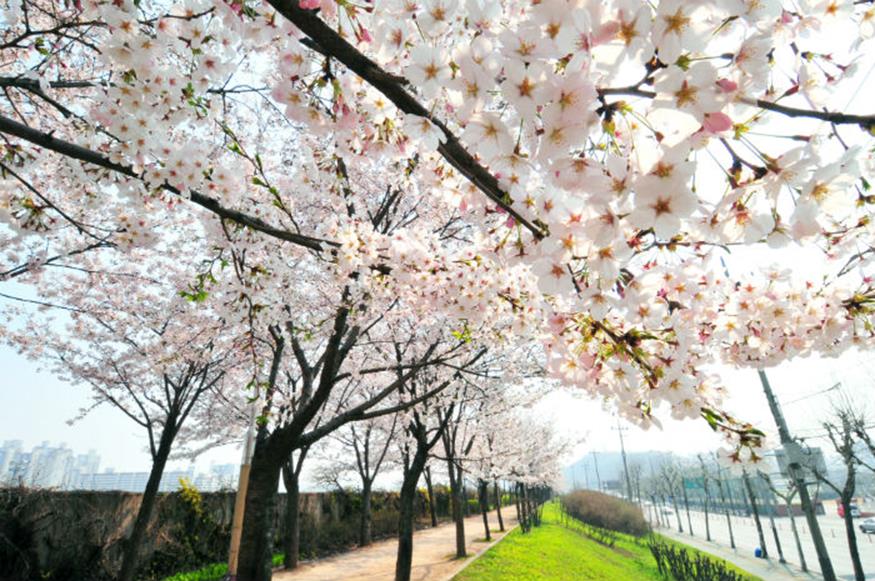 There are trails running along Anyangcheon Stream in Yangcheon-gu District. (photo courtesy of Seoul City)


In the western part of Seoul, the Anyangcheon Stream in Yangcheon-gu District is one of the more recommended fair weather spots. The 2 kilometers of walkway that stretches from Yanghwagyo Bridge to Ogeumgyo Bridge creates a picturesque landscape, with beautiful petals of cherry blossoms and apricot blossoms flying free in the air. In addition to cherry blossoms that have bloomed on the nearly 900 trees, some other native flowers, such as dicentras and pasque flowers, bring the site alive. The Anyangcheon trail is loved by people all year round, particularly families who take a brief walk or go for light exercise. Activities that people enjoy here range from bikes, roller-blades, hula-hoops and badminton through to harder ones that need proper skills, such as soccer, baseball and archery. 
For those who would like to see more varied types of flowers, the Changpowon Park in Seoul is the best option to consider. Opened in 2009, Changpowon offers visitors a chance to appreciate nearly 130 different types of flowers at the 15,000 square meter space. If you would like to visit an event or festival, you can opt for either the Yeoido Spring Flower Festival that is in progress at the moment, or the Million People Walking Festival at Namsan Mountain, a walking event with prizes for participation, slated to take place on April 19. 
More information can be found at the Seoul City website, or Seoul Parks website. 
By Lee Seung-ah
Korea.net Staff Writer