Have fun riding the bus with Tayo & friends
Four little buses have captured hearts around Gwanghwamun Square in central Seoul. Children and parents alike, including those who traveled a long way from Daegu or Busan, gathered along Sejong-ro, closed to pedestrian traffic, on April 6 to see the buses decorated as cute cartoons. 
The promotional buses are imitations of the four main characters from the popular cartoon "Tayo the Little Bus." There's Tayo, the blue bus No. 370, Gani, the red bus No. 9401, Rogi, the green bus No. 2016, and Lani, the yellow bus No. 2211. The decorated buses are part of a special event designed to teach children how to get on and off the bus using a T-money card, how to request a stop with the bell button, etiquette while riding the bus and basic traffic safety education.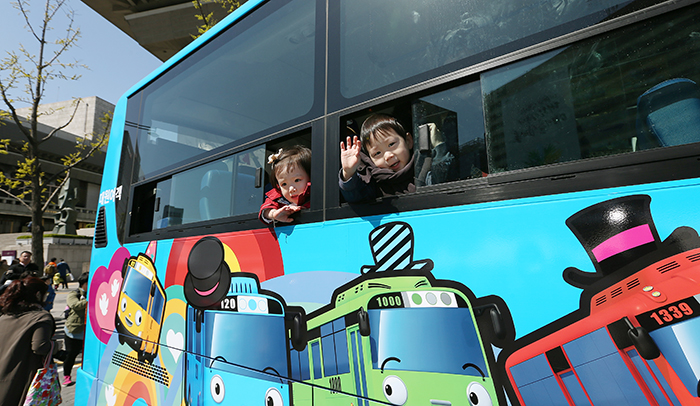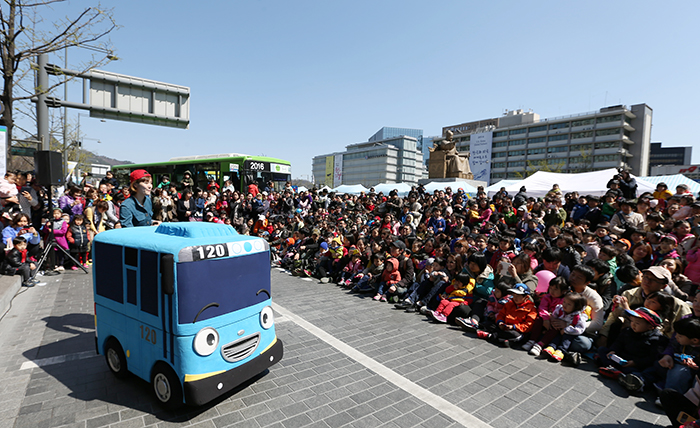 As many as 40,000 family members with children in tow, coming from all parts of the country, queued up to see the four cartoon buses. The children were able to get on the bus and sit in its seats, curious to see the inside of their favorite cartoon characters. Many of the families took photos with the buses and the kids had huge smiles on their faces when they received a balloon with Tayo on it. The Seoul Metropolitan Government began operating the special Tayo & friends buses on March 26. They will run until the end of April to mark Public Transport Day, which falls the fourth Wednesday of every month. Each of the four buses will operate around Seoul along its numbered route. 
Since beginning the educational campaign, the four buses have gotten a lot of attention nationwide. Many people asked online about the buses' time table and arrival information. Some people made a long trip across the country just to see, or ride, the buses. They even brought their children to the bus garage where Tayo starts its route, to get a good seat, so the bus can be filled with children even before it begins its route, having to pass by stops without stopping.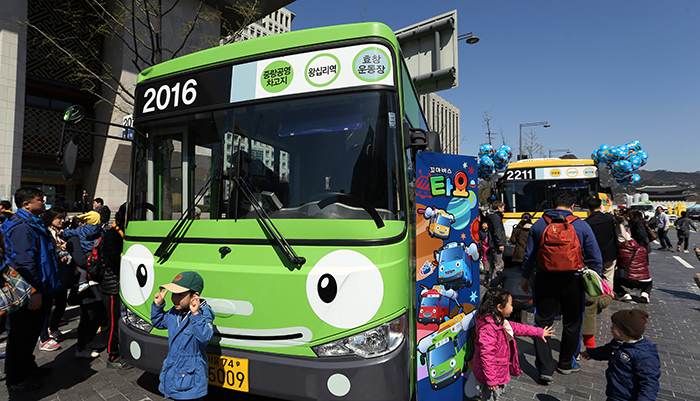 Reflecting the overwhelming popularity of Tayo and the bus campaign, the Seoul Metropolitan Government has extended the operation until Children's Day, May 5. The city also said it will increase the number of buses from four to 100. Some local government organizations are also now considering the introduction of Tayo buses. 
By Yoon Sojung
Korea.net Staff Writer 
arete@korea.kr