Theme parks woo people with flowers, festivals
All of Korea is being tinted with a symphony of spring colors. In cities and urban areas, amusement parks are one of the best places to appreciate the new season. With beautiful flowers and exciting festivals, theme parks attract tourists with the onset of more pleasant weather. Korea's three largest amusement parks — Everland, Seoulland and Lotte World — are filled with people enjoying the new season with their children, family members, sweethearts or friends.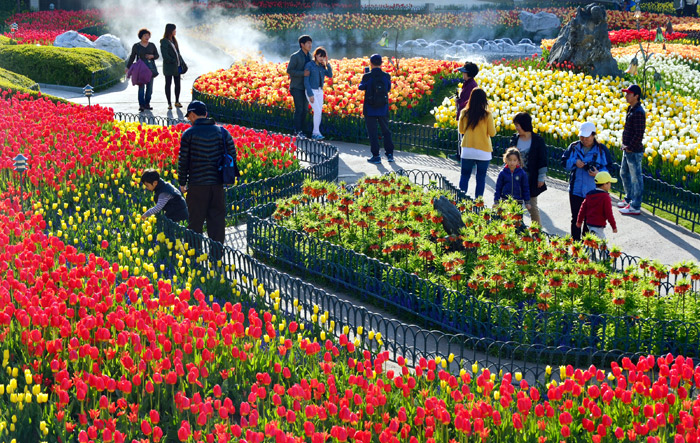 Fall in love with tulips at Everland 
Located in Yongin-si, Gyeonggi-do (Gyeonggi Province), Everland will host its annual tulip festival from March 21 to April 27. During the festival, which marks its 23rd year this year, as many as 1.2 million flowers, including 0.9 million tulips, come into bloom to welcome visitors. Some of the must-see places include Flower Market Street near the front gate and the Four Seasons Garden along the parade route. The Four Seasons Garden attracts many children with sculptures of Miffy, the rabbit-shaped cartoon character from the Netherlands. The garden is decorated with differently themed Miffy sculptures, such as "Miffy in a playground" and "Miffy visits the zoo." 
Other attractions at Everland include the parades. During the festival, 87 performers on ten parade floats will stage the Carnival Fantasy Parade. People can also watch a musical based on Dreamworks' movie "Madagascar."
Everland restarts its extended operating hours during the festival, after temporarily closing early during the winter. In the evening, it presents the "Dream of Laciun" fireworks show. The amusement park installed special lights for when it's open at night so that people can enjoy the romantic view and the beauty of the tulips in the evening. More information about Everland is available at its homepage, serviced in Korean, English, Japanese and both simplified and traditional Chinese. https://www.everland.com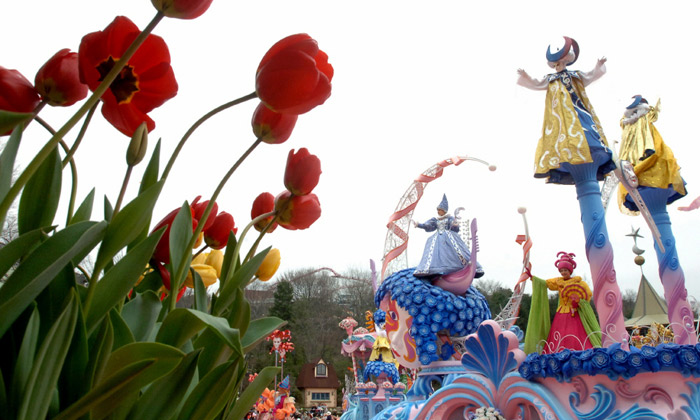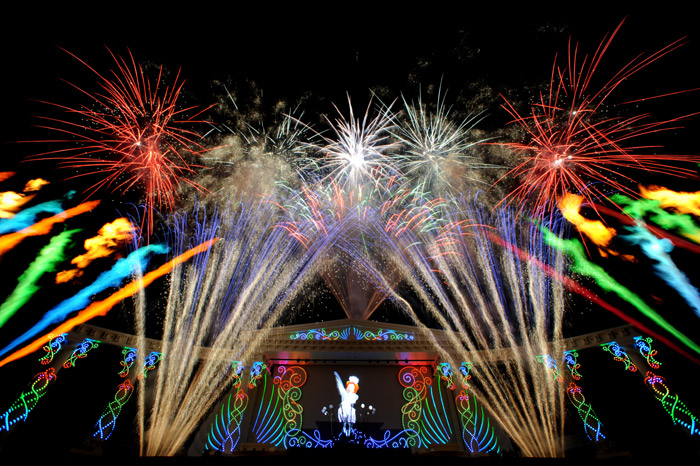 Cartoon characters add more fun at Seoulland 
For those who love cartoon characters, Seoulland is a great choice. Located in Gwacheon-si, Gyeonggi Province, Seoulland will host its "Animation Character Festival" from March 22 to June 8. After passing through the front gate, a path filled with tulips greets visitors. Other spring flowers, such as pansies and marigolds, form a flower-lined street for the visitors' delight. Sculptures of popular cartoon characters also decorate the walkway, creating great photo opportunities. 
Nearby 20 different cartoon characters and related toys are on display in the Special Exhibition Hall of Samchulli Hill near the front gate, encouraging the children's imagination. This hall is composed of both inside and outdoor play areas. Inside, kids can have fun in an online game area and play with blocks or darts. Particularly popular among children, kids can try on princess dresses in the Mimi House's doll room. They can also have fun taking photos with eight different cartoon characters such as the Canimals, can-shaped animals, Larva and Kambu.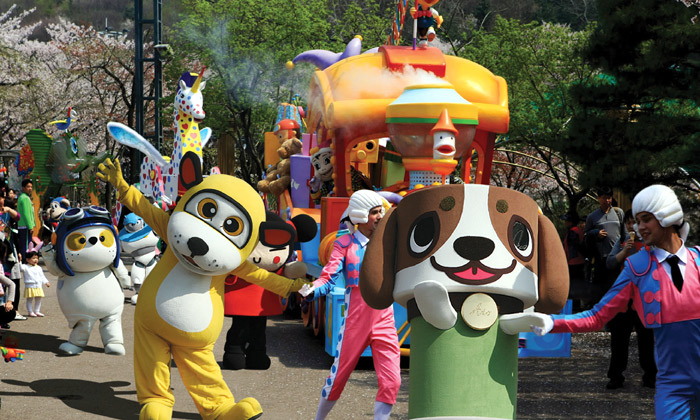 Twice per day, Seoulland will stage its "Spring Carnival Character Show" featuring popular cartoon characters such as racing cars Vroomiz and Kartrider and robot Arpo. In the evening, it stages the "Animal Kingdom" show, a performance set in the jungle where the animals overcome conflicts and build friendships. The highlight of the evening show is an acrobatic performance done 10 meters off the ground. Seoulland also allows young visitors to take part in its parade. Six children, aged from 5 to 10 who made a reservation in advance, can get on the parade car with other cartoon characters and become a member of the festival. More information about Seoulland is available at its homepage, serviced in Korean, English, Jpaanese and simplified Chinese. https://www.seoulland.co.kr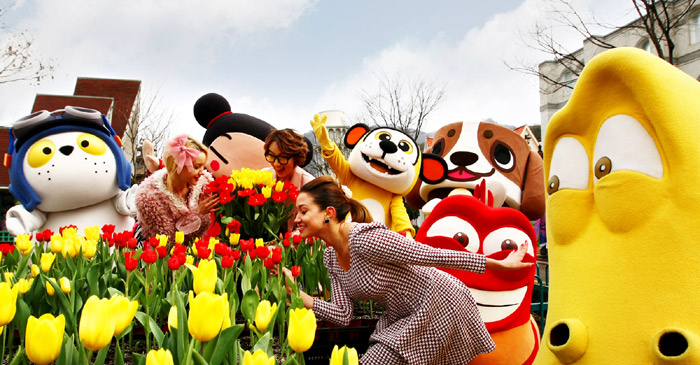 Mask Festival at Lotte World 
If you prefer staying indoors, or if the weather is not good, Lotte World will be a good choice. Located in Songpagu in Seoul, Lotte World is holding its "Mask Festival" from March 14 to June 1. The festival is modeled after the world-famous Venice Carnival, the largest festival in Italy. Its "Fantasy Mask Parade" features about 100 performers wearing fancy masks in various human or animal shapes, as well as fairy tale characters. They walk around the visitors while performing, with life-sized gondolas and gorgeously decorated carriages. 
For those who love fairy tales and dance, "Fun, Fun Alice" is a good performance to see. Based on "Alice in Wonderland," Alice, the white rabbit and twin brothers Tweedledee and Tweedledum put on an exciting dance performance. 
The musical "Mysterious Mask in a Fairy Tale Land" (unofficial translation) is presented at the Garden Stage. It features characters from well-known children's books, such as Dorothy from "The Wizard of Oz" and characters from "Pinocchio" and "Peter Pan." They go on an adventure together to find a mysterious mask which makes their dreams come true. The circus scene where Peter Pan flies over the stage always delights the audience.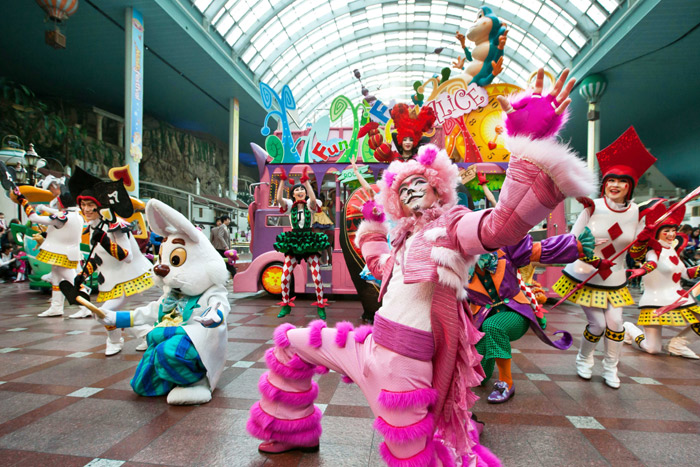 If you want to go outside to get some fresh air, go to Magic Island, adjacent to Lotte World. There, a recently refurbished roller coaster, Atlantis, just re-opened. Hopping into an eight-seat boat, people can enjoy the high speed of a roller coaster while cruising in and out of an ancient temple. For more information about Lotte World, visit its homepage, serviced in nine languages. https://www.lotteworld.com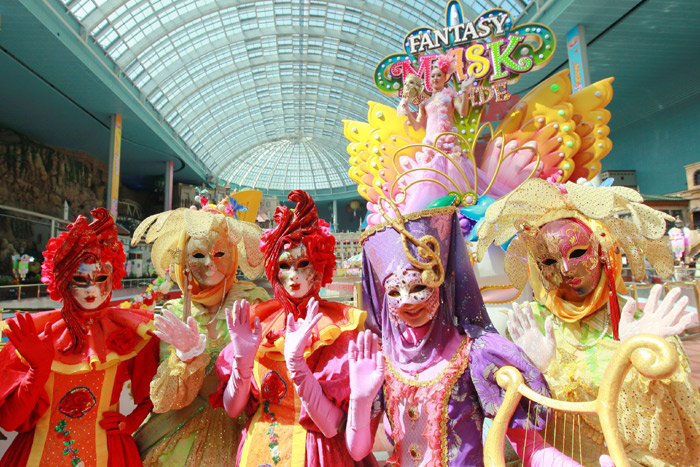 By Yoon Sojung
Korea.net Staff Writer
arete@korea.kr
Everland Tour