Jeju hosts world's 1st electric car expo
Jejudo Island is bustling with brand-new electric vehicles (EVs) and all the related technologies that will lead the future of green transportation. The island is currently hosting the first International Electric Vehicle EXPO, which will be held from March 15 to 21. Nearly 40 companies in the electric vehicle indusry and about 200 experts in the sector have gathered on the island for the event, amid growing interest in the environment and heightening regulations to protect our natural worldwide.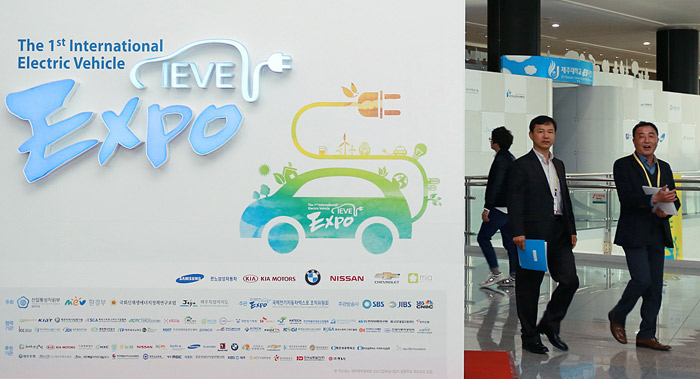 People area paying special attention to some of the new electric cars unveiled here for the first time. There are the Kia Soul EV, the BMW i3, the Nissan Leaf and France-based Mia Electric's Mia. Korean small- and medium-sized firms, such as Powerplaza and Powertechniques, introduced an electric pickup truck and Korea's CM Partners revealed its electric motorcycle.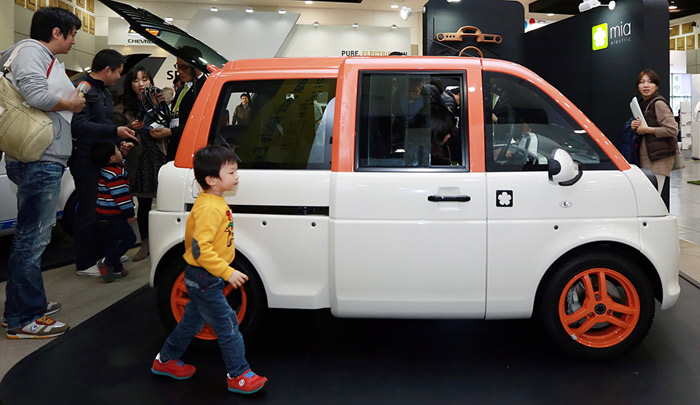 Kia displayed electric versions of its Ray and Soul. The Korean manufacturer has installed a new heat pump system to its brand-new Soul EV, which will launch in Korea next month. The system reuses waste heat which is made during the driving process and turns it into heat. Renault Samsung introduced an "eco driving function" to its SM3 Z.E. electric car. This function prevents excessive electricity consumption in case of sudden acceleration or sudden stops. An electric version of the Chevrolet Spark EV, by GM Korea, is equipped with active aero shutters which close at higher speeds to reduce drag and to reduce the amount of energy needed to propel the vehicle.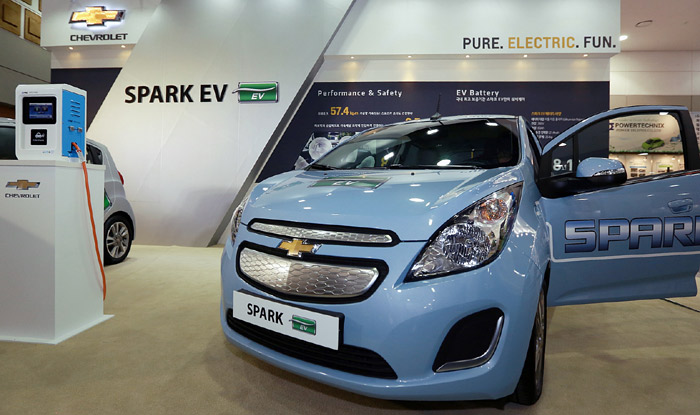 The BMW i3, which will launch in Korea this April, uses carbon fiber reinforced plastic (CFRP) on the car body and uses aluminium in its key parts to reduce weight. The German carmaker uses various technology to maximize energy efficiency. A fully charged BMW i3 can generate up to 170 horsepower and run at speeds of up to 150 kilometers per hour with a peak torque of 25.4 meter-kilograms. This means it takes only 7.2 seconds to reach 100 kilometers per hour. 
The Nissan Leaf is so far the best selling electric vehicle in the world, with total accumulated sales exceeding 100,000 units. The Leaf is a good example of how to solve the issue of recharching, which makes people reconsider buying electric cars. It takes only 30 minutes to get the vehicle charged if a high-speed charge system is used. It takes 4 hours to chage the vehicle in an ordinary household. 
Visitors to the expo are particularly intrested in test driving electric cars, staff at the expo said. Some people even signed contracts to purchase an electric car after driving their vehicle. The expo organizing committee said that this expo provides an opportunity to learn more about the latest trends in the world's electric vehicle market and helps form a network with experts and overseas firms across the electric vehicle industry. 
Expo visitors can also take part in sideline prgrams, such as the electric car parade and elecric car assemblying events. Experts and related companies in the electric vehicle industry will also participate in forums to discuss how to better commercialize electric vehicles.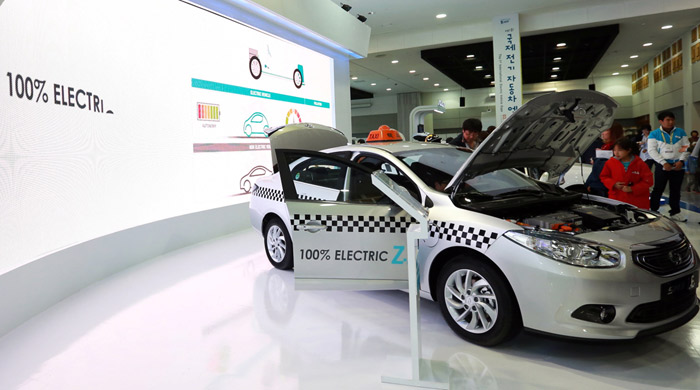 The Korean government has great interest in the environment and in environmental-friendly policies and the island province is a fitting location to host the world's first electric car expo. So far, 497 chargers are installed across the island, averaging one charger every 3.7 kilometers. The island has a circumference of 180 kilometers, making it suitable for electric cars. For this reason, Jeju Island has become the cetner of electric vehicles in Korea. Last year, the Ministry of Environment introduced 1,150 electric cars, including 500 allocated solely to the island, and provided KRW 15 million in support to those who bought an electric vehicle.Last September, Jeju Island introduced electric taxis, the Renault Samsung SM3 Z.E. Finally, the island plans to distribute a total of 500 electric vehicles to the private sector this year. 
By Yoon Sojung
Korea.net Staff Writer
arete@korea.kr