The Story of Jeonju Bibimbap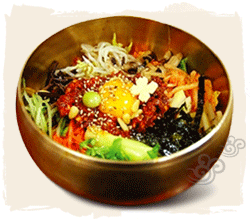 Jeonju Bibimbap is – Korea's best dish
Bibimbap is cited as one of the best dishes amongst three most popular dishes of the Chosun era. Now, bibimbap is one of the best-known Korean dishes internationally, the one most favored by foreigners. The bibimbap rice is cooked with fresh kongnamul then topped with thirty different vegetables along with ginkgo, a fried egg, pine nuts, chestnuts, walnuts and other ingredients. This is a whole foods dish offering a balance of proteins, vitamins, minerals, carbohydrates and fat. Bibimbap is a wellness food that contains the wisdom and philosophy of ancient Korea, now loved throughout the world.
Story of Jeonju Bibimbap – Originating from the royal table
There are many hypotheses regarding the origins of the bibimbap; from the royal table, a ritual food, the Donghak revolution, a farming season food or royal flight during war time; but the most reliable of these is the royal table origination. It was first served at the royal table but was then passed down and spread amongst the lower classes. According to records, people started to eat bibimbap in Jeonju two hundred years ago. Jeonju bibimbap owes its popularity to perfectly steamed rice topped with freshly-cut vegetables (10 different ingredients in Jeonju) combined with the excellent cooking skills of the local women.
Important Features of Jeonju Bibimbap
There is an old record saying that "Jeonju Bibimbap was a luxury for the mouth and only served upon the occasion of the Provincial Governor's visit or during Nongak performances." From this we can tell that Jeonju Bibimbap was served only for rich people of the high classes as a special treat. Also, the Jeonju Buseong Local Almanac records Bibimbap as the favorite dish for February, March and April, testifying that local Jeonju residents have cooked and enjoyed bibimbap for two hundred years.
30 Food Ingredients Required to Make Bibimbap
30 different ingredients are needed to create Jeonju Bibimbap.Some of the most important materials include Kongnamul, Hwangmukto, Gochujang (red pepper paste), raw beef and a special bean soy sauce.

Kongnamul Jeonju Kongnamul has long been known as one of ten flavors of Jeonju, and the beans are Seomoktae from Imsil, black colored beans with white lines, also known as mice eye beans, a metaphor for its coloration.

Hwangpomuk Mung beans 'muk' are cited as one of the best dishes in Jeonju, sprouted with water from Nokdupo spring, one of the 10 flavors in Jeonju. They are yellow in color, because they are dyed with gardenia seeds, hence the name Hwangpomuk (here, hwang means yellow).

Gochujang (red pepper paste) Jeonju Gochuchang is processed by traditional techniques, mixing and fermenting sweet rice with red pepper grains and adding fermented barley malt. It is said the bibimbap tastes the best when using three-year-old Gochuchang.

Raw Beef One can choose either raw beef or stir fried beef. According to an old book, Gyuhapchongseo, Jeonju is famous for beef stew made with cow cheek.
The Harmony of Five Colors and Five Flavors
All the ingredients required for bibimbap is are carefully chosen based on the Ying and Yang and Five Elements Principle, and they are in great harmony not only visually in appearance but also in taste.
Five Elements :   Tree / Fire / Earth / Gold / Water
Five Directions : South / East / West / Middle / North
Five Colors :    Green / Red / White / Yellow / Black
A Transition of Title, Bibimbap
Bibimbap was not always called bibimbap; its name has gone though numerous transitions. The basic meaning arose from the Korean world 'bibida', meaning 'mixing', because the dish requires the rice to be mixed well with its vegetable toppings.
Goldongjiban – 

Cited in the Dongguksesiki, written by Hong Seong-mo in 1849 (King Sunjo's reign). Gol meaning 'dizzy' and dong meaning 'bibimbap dong', and as a whole, golding means 'the thorough mixing of various items'.
Bubimbap – 

Cited in Siuijeonseo (writer unknown, but written at the end of the 1800s), circulated as a recipe book for the nobility.
Bubimbap – 

Cited in the Chosun Recipe Book first published in 1913 till 1939 with nine editions, written by Bang Sin-yeong.
Bibimbap – 

It's present name
Asiart Jeonju 
https://tour-eng.jeonju.go.kr/index.sko?menuCd=AB05001001000